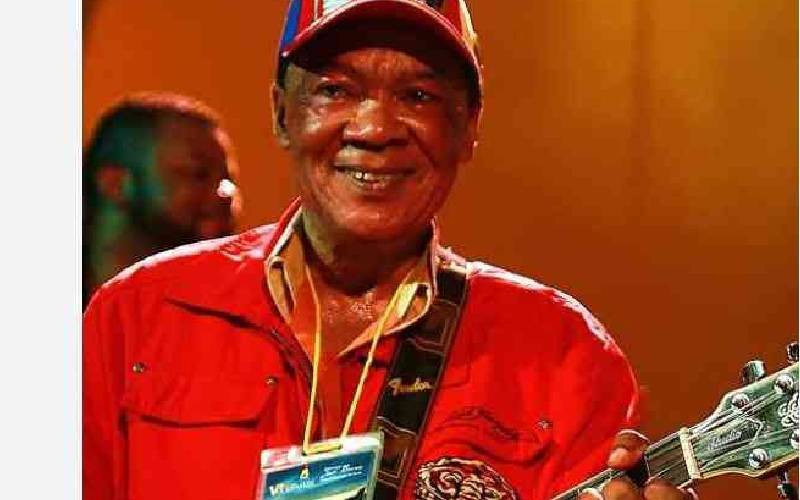 The death of Lokassa ya Mbongo has left a deep void in the world of rhumba rhythm guitarists.
He was one of the top rhythm guitarists in Congolese rhumba and benga music who could only be rivalled by Bopol Mansiamina who died two years ago.
Lokassa and Mansiamina were the top two Congolese rhythm guitarists in the rhumba world.
The duo was often hired when top global rhumba and Benga artistes required their services since any number they participated in was and is still a big hit.
Their fame and talent was unmatchable because the duo were composers, guitarists and singers sat the same time.
Mansiamina having died earlier left the room for Lokassa to shine but in the actual sense he (Lokassa) had retired from active music and stage shows on health grounds after he suffered from heart-related diseases leading to a stroke.
Lokassa, real name Lokassa Kasia Denis died in the US on March 14, according to Nairobi-based Congolese music promoter Tabu Osusa.
"I had a chat with (Syrian) Mbenza who confirmed it to me. The musician for a long time has suffered from heart related ailments," Osusa who has lived in the DRC for decades told The Sunday Standard.
Mbenza is a former Four Stars Band lead singer and guitarist based in Paris, France.
Born in Kinshasa (then Leopoldville), DRC (then Zaire) in 1946, Lokassa died at the age of 77.
He was a widely travelled musician in Africa, Europe and in the USA.
Throughout his life, he had performed with Congolese lead artistes like Tabu Ley of Afrisa International, Franco Luambo Luanzo Makiadi of TP-OK Jazz Band, Sam Mangwana of African All Stars, Bopol Mansiamina of Mode Success, Nyboma Mwandido and Syrian Mbenza of Four Stars Orchestra and Pepe Kalle Ya Mpanya of Empire Bakuba Orchestra, among the popular Congolese outfits.
All professional Lingala and Rhumba artistes in Africa and abroad had the pleasure to hire the services of Lokassa if not Mansiamina in great shows.
"The duo was equally respected and no guitarist has ever matched them as their qualities were rare and could not be matched in the continent and beyond," said Alloice Odhiambo, an ardent fan of TP-OK Jazz Band of Franco.
No Kenyan musician had the capacity to hire the services of the two.
"It is not because they didn't want to but it's because they were expensive to hire," added Odhiambo.
After several performances in Africa in his traditional base of Kinshasa in the 80s, Lokassa migrated to Abidjan, Ivory Coast and later Lomé in Togo and thereafter settled in Paris, France before he moved to US in the mid-90s where he lived until his death.
It is in Paris, where Lokassa composed and released many top selling albums. He started with Santa Isabella in 1986 as a solo artiste before he released Maria Jose/Monica album in 1987.
Lokassa is also reputed for having teamed up with the likes of Sam Mangwana of African All Stars to produce top albums like Issa, Dodo and Bonne Année in 1983 before he later joined Franco at TP-OK Jazz band for the track Tres Impoli.
Nairobi-based Congolese promoter Jans Nsana was full of praises for Lokassa and Mansiamina describing them as "the world's best rhumba rhythm guitarists who served the top artistes in the Francophone and Anglophone countries in the continent".
"They were serious in their businesses and sharp in their work and that is why they were hired by the most successful artistes in the continent," said Nsana who has interacted with the two.
At some point, Lokassa and Mansiamina competed against each other in the race for top honours in the lucrative multibillion music industry, but were at it together when they produced Manuela in 1982.
The death of Lokassa follows that of renowned songtress Tshala Mwana in December last year, which has left DRC orphaned following the death of their top giants after that of La poet Simarro Massiya of TP-OK Jazz Band some five years earlier.
Lokassa was a great friend of Mansiamina.
It is in Paris where the two artistes composed and released many top-selling albums that resulted in their popularity growth.
As Lokassa played for Four Stars and later Orchestra Soukous Stars, Mansiamina was always with Mode Success Orchestra, as the band leader.
On his part, Mansiamina had played with Orchestre Bamboula of Papa Noel and Madilu System before he (Madilu) joined TP-OK Jazz Band, Pepe Kalle of Empire Bakuba, Bozi Boziana and Wuta Mayi (then known as Blaise Pasco), with whom Bopol would work for decades.
As a back-up guitarist, Mansiamina played rhythm guitar for compatriot, Mpongo Love's Partager album in 1987 and three of its six songs (including the title track) and continued to work with her until her death in 1990.
Mpongo Love is fondly remembered for her vocals on the evergreen Ndaya.
His East African fans will recall his bass guitar backing on Samba Mapangala's Vunja Mifupa.
In 1988, the Four Stars Group toured Kenya with Lokassa in the same group for a series of shows that included Passi Jo of the sister Kass Kass Band.
Related Topics