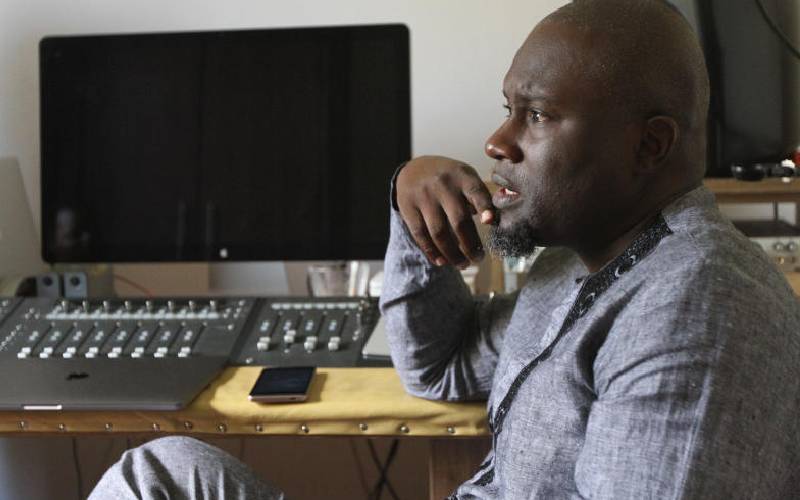 Baptist Church to form Hart in 1993. "My idol at the time was the legendary American producer Quincy Jones; seeing how he had played a pivotal role in creating the American music scene for decades, I was inspired to create different sounds that would equal the American RnB, Soul, Fusion and Hip Hop, yet with a local touch and identity.
That is why if you listen to my work with Kalamashaka, Hardstone, Gidi Gidi Maji Maji and Suzanna Owiyo among others, you will identify a different sound on each," says Josiah as he explains how he started his music production journey after moving to Sync Sound Studios when Hart was disbanded in 1995.
"I remember taking a demo to the then Tamasha Records, which was situated where Citizen TV is, and getting turned away after the AR (artists and repertoire) representative told me my music was a waste of time as it would never work in Kenya. I had the zeal to invent and this got me thinking of proving him and the world wrong by creating my dream Kenyan sound. Ironically, the gentleman later came to seek a job at my studio years later," says the producer.
Josiah recalls how challenging it was starting off. First, in his 20s, his parents wanted him to pursue a career in medicine. They would hear none of his passion for music. When he persisted, they had a fall out.
He moved into a servants' quarters with Odera and with little to spare for their basic needs, they would walk long distances to the studio for their recording sessions.
However, the direction Sync Sound Studios, the stable he worked with, was taking clashed with his vision. Sync Sound wanted to focus on creating media commercials, while Josiah wanted to focus on music.
First album
It was not until he discovered and recorded Njungiri Maina aka Hardstone that his idea began making sense to the skeptical directors and close associates.
Hardstone's 1997 hit Uhiki caught the attention of Germany-based Kelele Records just as had the stir up by Shadz O' Black, another emerging Kenyan group whose 1999 Serengeti Groove still resonates with Generation X.
Uhiki was off the Josiah-produced Nuting but de Stone – the first album by a new generation artiste.
The Uhiki track was a fusion of a kind. It was a mixture of reggae, ragga, RnB, with a touch of Kiswahili and Kikuyu lyrical phonetics all capped with Martin Gaye's Sexual healing rhythm. It sounded traditional Kenyan yet with an urban appeal.
Hardstone became the talk of town as the young and old embraced the new sound.
As international artistes such as Buju Banton and Chaka Demus and Pliers staged major extravaganzas in Kenya, Hardstone was cast into international limelight as he curtain-raised for them. This was the moment.
"At the time we were recording Hardstone's second album Ziwe Nkulu in 1997, he already was on his way to the US and come 2003, he released Hardstory, with Uhiki getting Putumayo World Music's attention as it made part of the African Groove compilation. I would say, that way, the godfather of Kenyan hip-hop I had created had taken Kenyan new age music to the world with later signings with Stone Island Entertainment (2010) and later in 2015 Atlantic Records coming calling," says Josiah.
Enter Kalamashaka
In came Kalamashaka, a Hip Hop group from Dandora slums.
"Even though Kalamashaka were from Dandora, their general outlook and how they rapped showed they understood the streets and were cool. These were the street savvy new kids on the block. You would get traces of the old Lost Boyz Hip Hop touch in their rap," says Josiah.
One day, a promoter from Tanzania came to Nairobi and explained how he had admired them as they were doing music similar to P Funk, who he was working with on Kiswahili Hip Hop. That is how we teamed up to push the new Kiswahili and Sheng kind of Hip Hop that can only be likened to the Jay Z, KRS and Nas middle class rap revolution in the US."
Before this, the only local sound Kenyans knew as their own was Bhenga. In the 70s, existing clubs such as Stardust in the Coast, were only known for residence bands, and not solo performing acts.
This is the only music the Voice of Kenya, now Kenya Broadcasting Corporation (KBC) played on its Kiswahili service, with a focus on Western music on its General Service station.
The new genres Josiah was creating had no place in local radio and TV. In the late 90s, River Road cartels ganged against the new shine to protect their music dominance of years.
As discos took over from bands, music bands started becoming unpopular in clubs. Change was looming.
Looking back, Josiah recalls how the late Tony Msalame, then a broadcaster with KBC, and John Obongo Junior shifted from the norm and pushed for the new Kenyan sound to be infused into the station's music programming.
"Technology was not advanced. The recording equipment we were using in studio was like working music on a Nokia 3310, where you had to fit all the eight tracks we could fit into a full song," says Josiah.
There was no internet… no YouTube, no tutorials… I was lucky that Emil Juma, my boss at the time, had studied Sound Technology and that way he taught me a lot about music production and sound technology."
As the late Kenyan producer Bruce Odhiambo was introducing Poxi Presha with his seismic Dholuo rap, Kalamashaka were performing in the European Union and making a permanent residence in Holland where they reunited with members of their offshoot group Ukoo Flani Mau Mau to release the album Kilio Cha Haki propelled by hits such as Fanya Mambo, Moto and Tafsiri Hii.
From K-South was a new Hip Hop head in the name of Abass Kubaff and Dandora, again, was the birth of Gidi Gidi Maji Maji, another one from Ted Josiah's then new Blu Zebra records.
In the mix also was Wicky Mosh, he of the Atoti fame. The year was 2002 and Josiah had just renamed his Audio Vault Studios, which he had launched after his departure from Sync.
After the exit of Kalamashaka from local scene, Josiah worked with Gidi Gidi (Joseph Oyoo) and Maji Maji (Julius Owino) on a new fusion of Swahili and Dholuo Hip Hop, whose niche remained a unique African rhythm of drums and strong bassline guitar. After about a year in studio, Josiah released their debut album Ismarwa in 2000.
"In 2002, we released Unbwogable, and that made Gidi Gidi Maji Maji the biggest name around. This was the song that was used as a political anthem in the 2002 elections that Mwai Kibaki won. Following the hype, Gidi Gidi Maji Maji got signed to Galo Records, with whom they released Many Faces in 2003.
"They toured US and Europe during that time when their popular hit Ting Badi Malo was appearing on the Rough Guide to the Music of Kenya compilation CD released by Rough Guides," says Josiah.
The Ogopa scare
"Down at Ogopa Deejays, Nameless (David Mathenge) had teamed up with Mr Lenny (Lenson Njuki) to release Juju, which turned out to be a big hit.
"At Blu Zebra, we all panicked because this looked like the Ogopa Deejays takeover plan from us. We came up with a counter plan and responded with the formation of Necessary Noise, consisting of Nazizi Hirji, Kevin Wyre and Bamzigi. In this new wake, the showbiz scene blew up and there was no turning back. The rest is history," says Josiah.
Surprisingly, Josiah never signed any contract with all these artistes who came to enjoy fame and fortune in a way no other Kenyan music star has.
"From Ogopa Deejays, Homeboyz and I, all leading entertainment stables that are credited for pioneering Kenyan 'showbiz' were born in South B at Our Lady of Mercy Catholic Church. Social halls were the place where talent could be discovered," says Josiah.
Now a laid-back music icon working on a few projects on the side, Josiah admits that working with politicians ruined his music production career.
"Never go to bed with a politician. After the Unbwogable 2002 wave, I embarked on working with ODM during the 2006 referendum and then it all went down.
"I tried to work with Didge on a new Jazz and Neo-soul vibe but I was getting bored. Everyone seemed to have blacklisted me. All the support I had faded. After the Tusker Project Fame recording, I left for Tanzania and in 2007 took off to UK. Everything had gotten rotten," says Josiah.
Related Topics