When Eliud Kipchoge is spending days training 23 kilometres away from his home in Eldoret, and cruising to phenomenal victories in World Marathon Majors, his wife Grace Sugut is running the show at home.
Like Kipchoge, Grace is reserved, but she does not shy away from explaining her role in taking care of the world's fastest marathon and the Greatest of All Time.
For nearly 17 years, Grace has been married to Kipchoge – the first human being to run a marathon under two hours at the INEOS 1:59 challenge, and recently capped it with the shattering of his own world record. The couple have three children Lynne, 15. Griffin, 12, and Gordon, 10.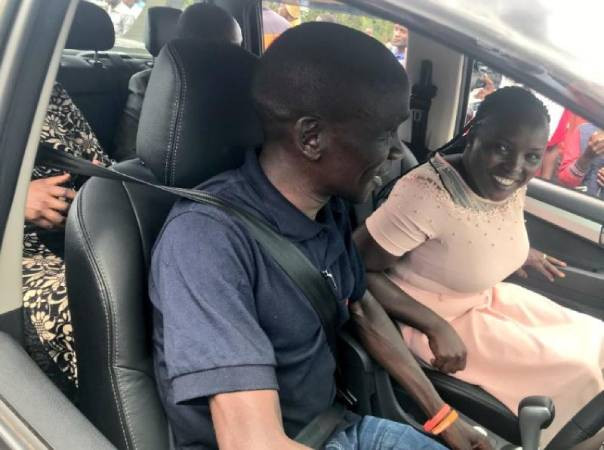 On Sunday September 25, Kipchoge ran a new world record 2:01:09 at the Berlin Marathon, chipping 30 seconds off the previous mark, which he set in 2018 on the same course.
And she has mastered his style of doing things, fitting into schedules and unwaveringly supporting him as he pushes limits.
Even as she supports Kipchoge in the running of numerous affairs ranging from farming to commercial interests, Grace is aware of the reality that she is married to a global icon.
In the background, Grace works round the clock, giving the icon time to solely focus on his training – mainly away from home at the Global Sports Camp in Kaptagat.
Proud wife
On rare occasions, especially when Kipchoge makes history, she comes out to hail her husband for outstanding performances. Together with her children, she often joins tens of friends and fans in watch parties in Eldoret town whenever Kipchoge is lining up in a big city marathon; rarely does he accompany him abroad, save for October 2019 when he travelled with him to Vienna for the INEOS 1:59 challenge.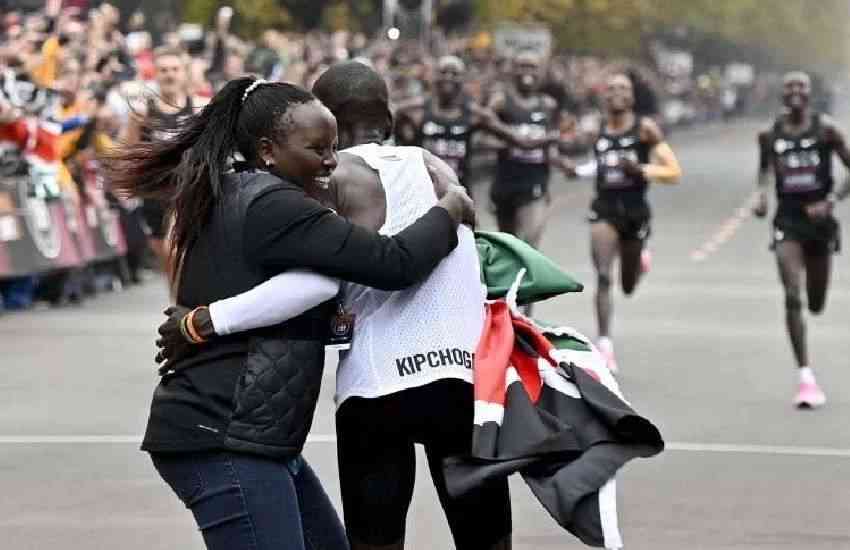 Grace also comes out to defend the two-time Olympic champion when on rare occasions, he performs below expectations. She simply calls him Eliud.
For instance, when Kipchoge finished eighth at the London Marathon in 2020, Grace came out strongly to defend his performance, agreeing with her husband that an ear blockage during the race slowed down his pace.
At the Sirikwa Hotel where she watched the race with a number of athletics fans and a number of Kenyan and foreign athletes as well as some athletes (in 2020), Grace was full of praises for her husband Kipchoge.
She said then: "The London race was good. I don't know what happened to Eliud but he did his best.
"I will give him (Kipchoge) a heroic welcome at home as I have done over the years when he won races and broke records. The London Marathon will not be the last race. I urge Kenyans to continue supporting him."
When Kipchoge takes a break to recover, for example after running the historic sub-two-hour marathon in 2019and athletics fans demand to hear from him on social media, Grace says, she had to share a photo session to assure her husband's fans that the legend was doing well and was spending time with the family.
Grace says she saw Kipchoge rising to the apex of athletics, in a journey characterized by a myriad of challenges.
Childhood sweethearts
Describing Kipchoge as a hard worker, Grace says they were destined for each other because she admired his focus. She saw him running as a budding junior athlete in school and delivering milk on bicycle, and that attracted her to the marathon world record holder.
"As a wife, I'm his supporter and a fan. I take care of his business and the farm while he is away running or training. We were schoolmates with Eliud from primary to high school and we have been married for several years," Grace says.
She acknowledges that giving Kipchoge adequate time to prepare for races as she takes care of the family's agricultural ventures, has been the biggest gift to him.
Besides taking care of the children, Grace takes charge of the family's maize farming, dairy and poultry ventures, ensuring that the businesses run seamlessly, with Kipchoge helping out whenever he is not training.
"When Eliud is home, I keep up with his schedule, ensuring he is ready for his engagements. I also make sure that his favourite meal of ugali, chapati and mursik (traditionally prepared milk) are served. The good thing is that he is modest," she explains.
Kipchoge inculcated the culture of reading during his free time, and Grace says she also had to put that into consideration, and give him time to flip through a book as he relaxes at home.
After reading a book, Grace says, together with the children, they join him in enjoying Formula 1 on Sundays when he takes time away from the training camp.
She says she prays for his triumph several times in a day, and days before he headlines a race, she fasts. "On Sunday, together with my husband and the children we go to Church because we pray regularly. When he is running on a Sunday, we go to Church early and after prayers, we join relatives, friends and fans to follow the race live on TV," Grace says.
She says she has supported her husband in his philanthropic activities.
Charity
In 2020, Kipchoge started the Eliud Kipchoge Foundation to support environmental and educational initiatives. He also supported athletes who were struggling with basic needs during the Covid-19 pandemic period.
Grace also says Kipchoge emphasizes that his children get top-class education, and the mother of three ensures that the kids work hard in their education, as he (Kipchoge) inspires them through splendid races.
"I help my husband where I can. At times we help the needy to the best of our ability," she says.
Kipchoge hailed his wife after racing 1:59:40 in Vienna, describing her as being part of his history.
He disclosed that his wife and three children had offered him immense support on his way to stardom.
"My wife and three children have given me a lot of support and I am glad that they flew in to witness the history. Through their support, they have also made history," he said, then.
"My wife and three children have given me a lot of support and I'm glad that they flew in to witness the history. I'm happy they came. They have also made history," he stated.
Related Topics