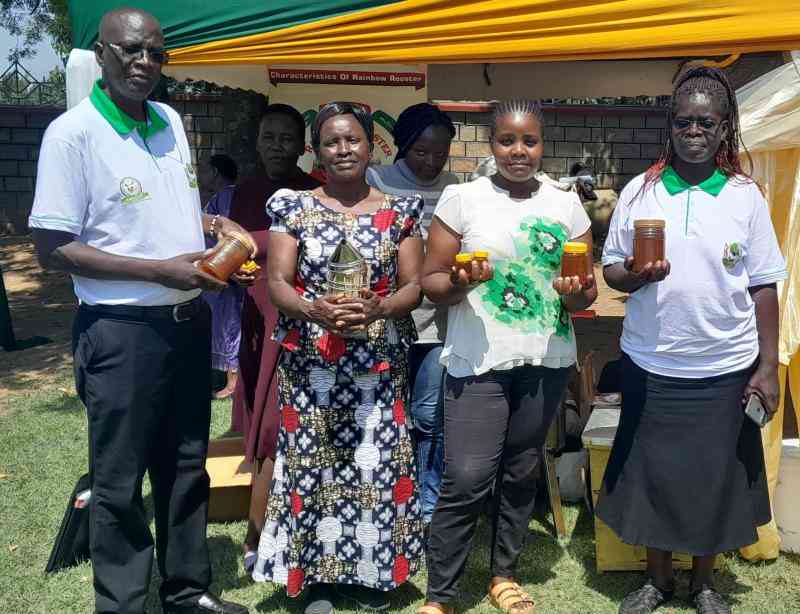 Linet Kibisu is a happy and content poultry farmer in Kakamega County. Having been in the business for more than three years, she has seen the good, bad and ugly.
But one of the best decisions she has made to stay in business is to be a member of a cooperative group, which she admits has numerous benefits.
Having seen the challenges of operating as an individual farmer, like facing the high cost of feeds and lacking bargaining power at the market, she was challenged to form Kakamega Poultryprenuers Cooperative Society, which comprises 60 poultry farmers.
Ms Kibisu says the sole reason they formed the group was to address the challenge of marketing.
"We wanted a direct link to ready markets for our birds and realised we needed numbers for stronger bargaining power. We came together, agreed to do joint production so that we can produce more birds and sell as a unit," says Ms Kibisu.
After several false starts, they gained their stability.
"After we got our act together, we started ordering a good number of birds weekly from breeders at a discounted rate of Sh90 for day-old chicks down from Sh100 and Sh105 as of January 2022," she says.
As a group, majority rear improved kienyeji chicken but farmers are at liberty to choose the breed they prefer. The choice include Kukuchic, Kuroiler, Kalro improved, Kenbrow, Rainbow rooster and Sasso. Another big benefit they gained as a group was accessing affordable feeds.
Significant progress
"We were able to negotiate with millers to give us feeds at discounted prices. We selected one of our members who was just starting his enterprise ( Kakfeeds) and from January last year, we have been buying feeds from him as a group at a discounted price," says Kibisu.
So far, Kibisu says they have managed to buy 928,000 day-old chicks as a group as of May this year at Sh2.6million and have sold more than 18,000 birds as individual members. And there is more.
"We also save money at our cooperative society and so far we have saved Sh386,000 as a group. Each of the 60 members every month contributes a chicken and Sh1,000," says Kibisu.
For sustainability, they plan to start formulating their own feeds to reduce production costs and make more profits.
The biggest news for them as a cooperative is that owing to the progress they have made as a society, Kakamega Poultryprenuers Cooperative Society is among the 18,844 poultry farmers who have been selected to be funded by the Kenya Livestock Commercialization Project (KeLCoP), whose main objective is to increase food production among poor households and enhance food security.
"The timing of the project is good. With the funding, we shall expand our poultry business and bring more women and youths on board. This will ensure that we operate in a complete value chain right away from producers to the marketing of our produce," says Ms Kibisu.
According to Kakamega County KeLCop project coordinator, Frandina Khavere, the aim of the project is to improve household food and nutrition security, increase incomes, create jobs and contribute to sustainable livelihoods of the rural population.
The beneficiaries will comprise the vulnerable, ultra-poor (landless and women-headed households), pastoralists and agro-pastoralists, young women and men, breeders of livestock, agro-vets and input suppliers.
Wealth creation
Khavere says the project will be implemented in four wards in the county namely, Lumakanda in Lugari sub-county, Isukha Central in Shinyalu sub-county, Kisa Central in Khwisero sub-county and Marama Central in Butere sub-county.
"The six-year project will be funded at a cost of at least Sh180 million translating to about Sh30.5 million annually. We will focus on three major value chains that include, dairy goat and poultry farming and beekeeping," says Khavere.
KeLCoP is jointly funded by the Kenyan government, International Fund for Agricultural Development (IFAD) and Heifer International among others.
It's being implemented by the Agriculture Ministry through the State Department of Livestock Development.
"We want to increase production of individual farmers from poor households. We shall identify markets for them across the county and ensure every person plays their role in each of the three value chains," says Khavere.
George Onunga, the KeLCop project monitoring and evaluation officer says they will also give grants to youths and women-led self-help groups and individual farmers. Besides Kakamega, the project is being implemented in nine other counties namely, Baringo, Siaya, Busia, Elgeyo Marakwet, Bungoma, Samburu, Marsabit, Trans Nzoia and Nakuru.
Related Topics