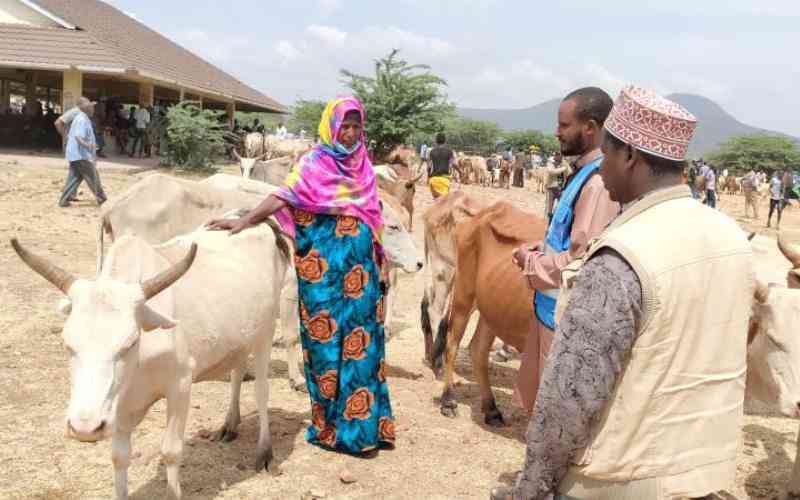 Times have been hard for pastoralists, and Habiba Jattani used to pray daily for a miracle to happen. The rains have been rare and feed for the cattle scarce. It has not rained for months, and the area was experiencing severe drought, a phenomenon linked to climate change. As a result, there was no food for locals or water and pasture for livestock.
Hundreds of livestock died of hunger and many pastoralists left the village in search of water and pasture for their animals. For Habiba who is frail with age, migrating with her livestock was out of the question.
"I had a family to look after, especially school-going children," Habiba tells The Smart Harvest at Isiolo Livestock Market where she had come to sell some of her livestock. But lucky for her, a few months earlier, she had invested in insurance for her livestock and it came in handy during this tough season.
"The caller, a woman was very brief, asking me to report to Takaful Insurance of Africa office, within Isiolo town," she recalls.
She had no clue what the caller wanted. However, she promised to visit the office the following morning. "I received some money as compensation for the livestock l had insured."
Habiba got Sh12,000 compensation which she used to buy food for her children and feed for her livestock.
How it started
Habiba shares that in 2016, she heard from a local radio how livestock insurance works, and how it can help herders get through the worst effects of drought. "I had heard claims that once you put your money in insurance, it becomes difficult to receive compensation. That, you are taken into circles till you give up," she said.
Habiba begrudgingly resolved to try her luck with Takaful Insurance of Africa. She insured two cows and some goats for Sh6,000.
Hassan Anil, Head of Business, Takaful Insurance of Africa recalls how hard it was convincing pastoralists to take up insurance when they first launched the Index-Based Livestock Takaful in 2014.
"Due to limited knowledge on the importance of insurance, getting pastoralists to take up the cover has been a slow process. But with time, we have seen a dramatic increase in those taking up insurance," said Anil.
They indemnify camel, cattle, goats and sheep. Anil said that since pastoralists are always on the move, their strategy is identifying leader of the movement, who then mobilises others.
Anil said Index Based Livestock protects against prolonged lack of pasture, only as a result of severe drought. The premiums are based on the sum insured, such as the amount of feed a cow can feed in this period of time. For instance, the cow is Sh2,640 while goats and sheep are around Sh262.
The year is divided into two, short and long rains. "You pay your premiums once for the whole year and then if there is a trigger you are paid."
Linus Kimutai, an expert in insurance and climate change underscores the importance of insurance as a game changer for pastoralists living in dry areas since the weather is increasingly becoming unpredictable.
Related Topics