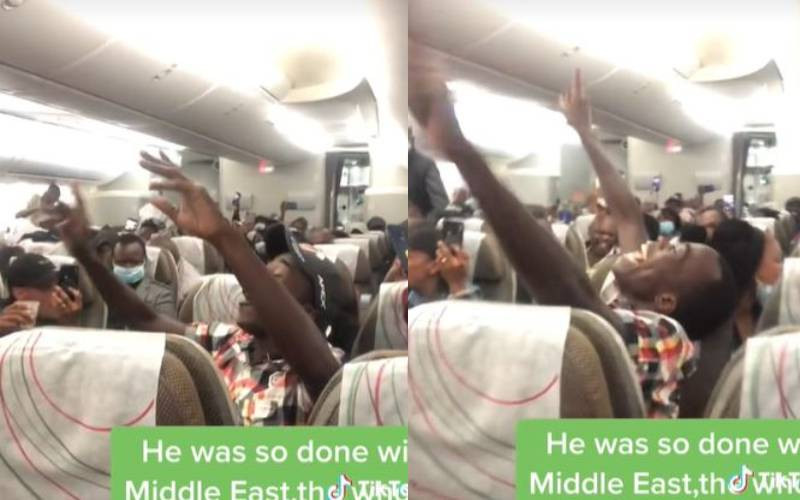 In a heart-wrenching video that has been doing rounds on social media, a Kenyan man was captured experiencing a range of emotions on a flight from the Middle East back to his homeland.
The undated video showcases the man's wild display of emotions as fellow passengers joined him in singing the popular gospel song "Nasema Asante" (which translates to "I Say Thank You" in English).
At the end of the short clip, the man could be heard saying he'd rather eat Sukuma Wiki but do so at his hometown. It is believed that his passionate reaction is a testament to the immense hardships he endured during his time abroad.
@samngigi39
#dubai??
#fyp
#kenyansinqatar????????
#kenyansinsaudia????????
#hypebeast
#kenyansingulf????????????
#UK
#kenyansinusa??
♬ original sound - samngigi
The unidentified man's outburst of joy and relief serves as a stark reminder of the harrowing conditions faced by many Kenyan migrant workers in countries like Saudi Arabia.
Kenyan migrant workers, particularly those in Saudi Arabia, have been victims of severe mistreatment, with reports of physical, mental, and sexual abuse repeatedly making headlines in recent years.
Saudi Arabia, notorious for its poor labor and human rights record, has been widely regarded as one of the most dangerous places to work in the world.
The abuse faced by Kenyan workers in the Middle East gained significant attention in 2022 when viral photos of a frail young Kenyan worker named Diana Chepkemoi emerged, accompanied by claims of employer abuse and neglect.
Public outrage and pressure eventually led to the repatriation of Diana and several other domestic workers facing similar plights in Saudi Arabia.
The issue of mistreatment of Kenyan domestic workers in the Gulf region has not subsided. Last year alone, Haki Africa, a pan-African human rights organization based in Mombasa, received over 51 complaints of abuse from Kenyan domestic workers in Saudi Arabia. Distressing videos and desperate pleas for help from distressed women further highlighted the urgent need for action.
Disturbingly, estimates by the International Trade Union Confederation reveal that over 2.1 million women employed in households across the Gulf region are at risk of exploitation. This alarming statistic underscores the magnitude of the problem faced by migrant workers.
According to a report by Kenya's Ministry of Foreign Affairs, at least 89 Kenyans, the majority of whom were domestic workers, lost their lives in Saudi Arabia between 2020 and 2021.
Shockingly, the Saudi Arabian authorities attributed these deaths to "cardiac arrest," leaving many questions unanswered and families devastated.
In response to these grim statistics, the Ministry of Foreign Affairs proposed a ban on the deployment of Kenyan domestic workers to Saudi Arabia until adequate protection measures were put in place.
However, Simon Chelugui, Kenya's Cabinet Secretary for Labour, rejected the calls for a ban, claiming that hundreds of thousands of Kenyans were employed in the Gulf state under what he termed as "favourable conditions."
Chelugui acknowledged the challenges faced by Kenyan migrant workers but insisted that negotiations for better labour agreements had taken place. He even expressed intentions to visit Saudi Arabia to address the pressing issues faced by Kenyan workers.
Related Topics