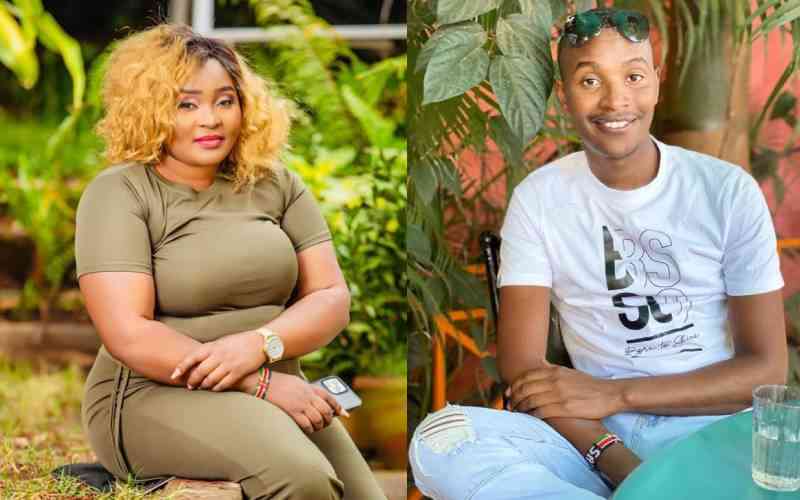 Edday Nderitu, the first wife of Mugithi star Samidoh, has responded to his recent claims that she cheated on him and he forgave her. Samidoh made these claims in an undated video, where he spoke about Edday's alleged infidelity.
In the video, Samidoh stated that Edday was his first love and that he chose to forgive her despite her cheating on him. He attributed his ability to forgive to the grace of God. When asked by the interviewer who broke his heart, he pointed to Edday, adding that he did not have any exes.
"Na ule mwenye alikuheart break?" the interviewer asked.
"Ni huyu tu nko na yeye. Sina ex mimi. I married my first love si wote tulisumbuana lakini tukaona badala ya kuenda kutafuta ingine nkarudi," Samidoh responded.
Edday has since laughed off Samidoh's claims, questioning whether any man would forgive an unfaithful woman.
"Is there a man who can stay with a woman after cheating?" Edday commented on the video which was uploaded on Facebook.
In a recent emotional social media post, she shared her pain and announced her decision to walk out of the marriage due to disrespect and manipulation from her husband. Eddah expressed that she couldn't raise her children in a polygamous marriage and warned Samidoh that she wouldn't tolerate it.
In the post, Eddah talked about the humble beginning of their marriage, where little was enough for them, but the last three years have been nothing but pain. She claimed that despite the disrespect, humiliation, and being trolled on social media, she remained faithful to Samidoh. Eddah accused him of making her look dumb and taking her silence for granted. She also claimed that she helped him nurture his talent and supported him through it all.
"It has been exactly 15 years of marriage full of ups and down, it was a humble beginning where little was enough for us, and for the last 3 years it has been nothing but pain, I have remained faithful to you regardless of disrespect, humiliation and being trolled on social media," wrote Eddah.
However, one thing Eddah couldn't stand was the thought of raising her kids in a polygamous setting, especially with a woman who was older than her by more than 10 years, and showed zero respect to her family. Eddah expressed her frustration that Samidoh had put her and her kids in an ocean of pain, and despite asking God every day to give her strength to pray for him, she had nothing to tell God about him now.
"I have asked God every day to give me strength to pray for you but today I have nothing to tell God about you, you have drag and put me and my kids in an ocean of pain may you remember this day," she wrote.
Edday's reaction was prompted by Samidoh and Karen Nyamu's recent public appearance together at a funeral in Murang'a County, following their dramatic breakup in December 2022.
Related Topics