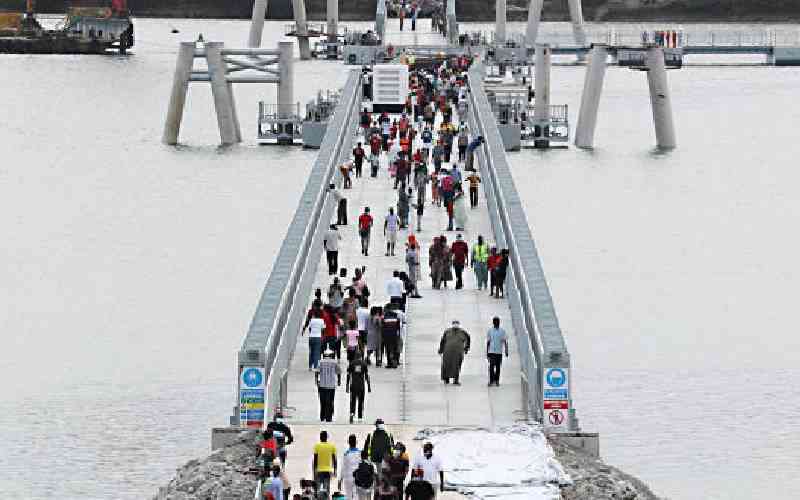 When former President Uhuru Kenyatta commissioned the Sh1.9 billion Likoni floating bridge on December 10 2020, many applauded.
The bridge cuts across the Kilindini shipping channel at Liwatoni in Mombasa.
Mombasa residents were elated since it offered an alternative route between the south mainland and Mombasa island for pedestrians.
But as pedestrians celebrated then, shipping lines and the Kenya Ports Authority (KPA) bore the brunt.
Mombasa instantly turned into a restricted seaport where ships had to wait for long hours until the bridge was disconnected for them to sail in or out.
Shipping lines have now welcomed the closure of the bridge - it was closed on July 1 this year - revealing that it had cost them millions.
The bridge used to be operated by KPA workers between 4 am and 8 am in the morning and 4 pm and 8 pm in the evening during which time ships could not enter or leave the port of Mombasa.
Ships coming or leaving the port used to be stopped for more than one hour so that the bridge can be connected for pedestrians to use.
It also took time for ships to be allowed to use the waterway once the bridge was disconnected resulting in delays of between eight to 12 hours a day.
Kenya Ship Agents Association (KSAA) executive officer Juma Tellah said the eight to 12 hours lost per day due to the operation of the bridge resulted in huge costs for shipping.
"The delay affected the whole cycle of how ship are scheduled in other ports where they arrived late. Because ships make money when they are in the high seas, Mombasa port had become costly for shipping," he explained.
According to KSAA, an average ship leaks up to $30,000 (Sh4.2 million) in 24 hours when it is lying idle. The port receives between 14 and 20 container vessels per week. Tellah expressed hope that the Sh28 billion Dongo Kundu fixed bridge near the port will open in March next year as scheduled and offer relief to vehicles that currently use Likoni ferries.
On Friday last week, Transport Cabinet Secretary Kipchumba Murkomen described the closed bridge as an economic disaster for the country
Murkomen said the bridge has been closed for good. On July 1, this year, KPA managing director William Ruto closed down the bridge and launched 24-hour port operations including night departure of oil tankers.
Conversely, closure of the bridge that had a lifespan of five years has caused a major headache to KPA authorities after the number of passengers at Likoni ferry channel rose from 300,000 a day to more than 350,000. The vehicular traffic also grew from an estimated 6,000 to 10,000 making it difficult to cross the channel during peak hours.
Hajji Masemo, KPA communications officer, said immediate measures now include improved management of traffic, the deployment of four ferries during peak hours at the channel and allocation of a ferry for passengers only to ease congestion.
KPA is also making arrangements to reinstate the Mtongwe ferry which is expected to serve up to 50,000 passengers a day.
But the long-term relief for passengers is expected in June next year when the Sh28 billion Dongo Kundu bridge across Mwache and Mteza creeks will be completed. KPA is also grappling with old ferries and aging ramps that need costly maintenance amid the increased traffic.
Related Topics