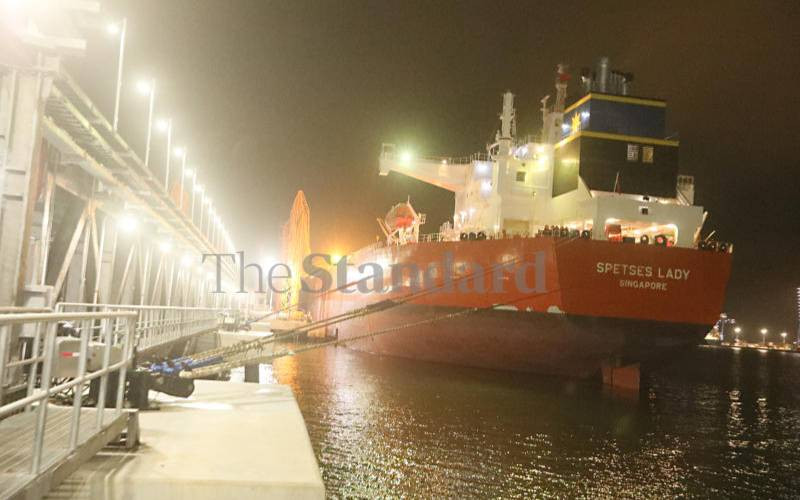 Since the founding of Kenya Ports Authority (KPA) in 1923, no fuel tanker has been piloted at night into or out of Mombasa Port.
That rare feat was achieved last Saturday night when a team of sailors piloted the MV Spetses Lady out of the new Kipevu Oil Terminal (KOT) into the high seas, nine nautical miles away.
That was the first night pilotage in Mombasa Port since KPA was formed 100 years ago.
The Kenyan sailors guided the petroleum tanker out before handing it over to foreign pilots who sailed away.
MV Spetses Lady had just discharged 105,000 metric tons of diesel.
According to KPA Managing Director William Ruto, part of the reason KPA could not pilot a fuel ship at night was concerns about safety.
The channel being narrow meant that some ships, especially fuel tankers many being more than 200 metres long, could block the gateway to the port.
There was also fear of an environmental disaster in case the huge ships ran aground along the channel like it so happened during the day in 1982.
However, over the last few years, KPA has dredged and widened the channel to an appropriate depth and width.
Modern navigation aids have also been installed. At the same time, the agency has acquired modern tugboats and trained its marine pilots on international practices.
Lighting at the oil terminal has been improved, while new pneumatic rubber and fenders have been installed.
The Kipevu Oil Terminal has been fitted with a berthing aid system that has made night pilotage possible.
"We have never had night pilotage services for petroleum tankers despite the service being available to other ships," said Dock Workers Union General Secretary Simon Sang.
Mr Ruto said KPA invested in infrastructure to reduce the risk to an acceptable level before it became necessary to start the night pilotage.
He noted that night pilotage will reduce turnaround time for ships which will in turn reduce demurrage costs.
"This will help in lowering the price of petroleum products because importers will not incur extra expenses like they do when ships delay at the port," said Ruto.
The MD explained that before the launch of night piloting, the policy was such that ships could only be piloted during the day.
Ruto explained Mombasa is now among the top five best performing ports in Africa and among the few with a modern oil terminus.
He averred that risk assessment was conducted successfully and night pilotage is here to stay.
"The governing rule is safety and protection of marine biodiversity. There is no best practice," said Ruto
He stressed that the provision of night pilotage services for petroleum vessels in any seaport is based on whether risk assessments had been conducted and information passed to ship agents and shipping lines.
Last year Mombasa handled 9.1 million metric tonnes of bulk liquid which accounted for 27 per cent of the total throughput.
Ruto explained that the growth of the liquid bulk to be handled at the port will depend on the growth of Kenya's GDP and Uganda oil production.
He, however, predicted that there will be a growth in demand by 5.4 per cent during this financial year adding that on average, 252 oil tankers call at Mombasa port every year.
He said most of them are afrimax tankers measuring 259 metres long with a DWT of 110,000 metric tonnes.
Ruto stressed that lack of night pilotage services was making importers incur expenses because even if a ship had completed discharging oil, it had to wait until the following day to be piloted out.
He said night pilotage of petroleum tankers at the port will reduce demurrage costs importers incur when ships are delayed.
He explained that the move could possibly, though marginally, lower the cost of fuel.
Related Topics