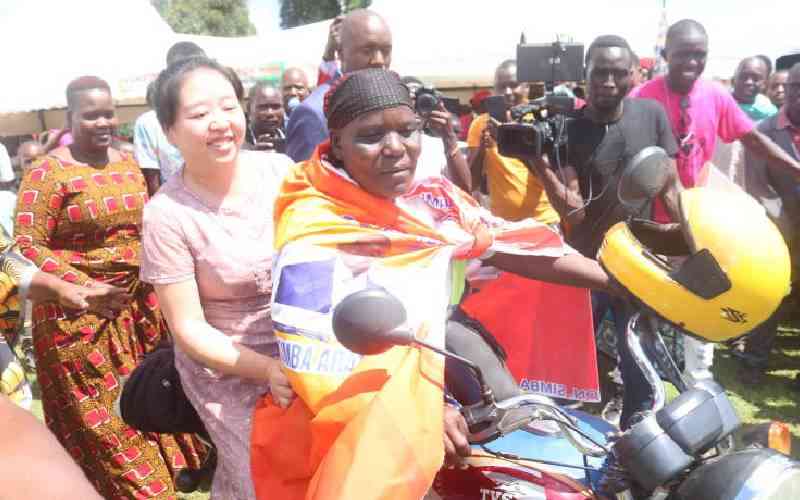 The number of motorcycles that Kenyans acquired last year dropped by 53 per cent, which analysts have attributed to multiple factors including tough economic times and higher import costs occasioned by the weakening of the shilling against the US dollar.
It is the first time that the number of newly registered motorcycles has dropped since 2016 while last year's decline is also the biggest on record.
The motorcycle industry has over the last 15 years registered a major growth driven by a favourable tax regime as well as high demand for their services, ferrying passengers in areas that are underserved by public service vehicles.
Parcel delivery services and passengers in urban areas trying to beat traffic congestion have also driven the popularity of the boda boda industry.
The number of newly registered motor and auto cycles declined by 53.8 per cent to 135,514 last year from 291,553 in 2021, according to new data by the Kenya National Bureau of Statistics (KNBS).
Also on the decline were three wheelers, also referred to as Tuktuks, which declined by 37 per cent. Combined, the number of tuktuks and motorcycles that Kenyans acquired last year dropped 53.5 per cent from 291,553 in 2021 to 135,514 in 2022.
"Newly registered three wheelers declined from 6,350 in 2021 to 4,001 in 2022, while motor and auto cycles declined from 285,203 to 131,513, over the same period," said the Economic Survey 2023 that KNBS published last week.
XN Iraki, associate professor at the University of Nairobi noted that a mix of factors may have led to the decline. Among these include the tough economic times, higher excise duty on motorbikes, the requirement to have third party insurance to cover pillion passengers introduced by the Finance Act 2022.
"Last year the excise tax on boda boda went up . But I think the key reason for the drop is compulsory third party insurance. This naturally sent lots of riders off the roads," said Prof Iraki.
"We also can't discount the economic hard times which made such acquisition hard. The weak shilling made imports expensive , including motor bikes . Add higher taxes and the laws of supply and demand come into play."
Iraki also noted that the boda boda industry could be nearing a saturation point. He however added that despite the drop, boda boda still have an edge in the market that they serve as there is yet to emerge a competitor to motorcycles.
The number of motorcycles on Kenyan roads has grown by rapidly since the President Mwai Kibaki's administration waived excise duty on imported motorcycles below 250cc in 2009. The move made motorcycles relatively affordable and young unemployed Kenyans started
creating their own employment in the transport sector.
This saw the number of motorcycles that Kenyans bought annually grow from 51,400 in 2008 to 117,266 in 2010. Since then, the number of newly registered motorcycles nearly tripled to 291,553 units in 2021 before nosediving last year to 135,500 units.
Motorbikes sold in Kenya are a mix of imports and locally assembled units.
Boda bodas have eased transport due to their degree of affordability, capability to beat traffic jams in urban areas and navigate areas not served by public transportation as well as in rural areas where matatus are intermittent.
They have also been credited for creation of thousands of jobs, offering riders, mostly young people, an opportunity to earn a living.
The Motorcycle Assemblers Association of Kenya has in past estimates said that over 99 percent of motorcycles are used for public transport or the boda boda business.
About 14.4 million people are riding them every day. The industry earns on average about Sh400 million in a day, that translates to Sh146 billion annually.
Despite easing movement for many, boda bodas have been blamed for a rise in traffic incidents some of which have been fatal, a result of reckless riding and untrained riders that are plying the trade.
According to the KNBS data, motor cyclists who died from road accidents last year accounted for more than a quarter of road accident victims.
According to the Economic Survey 2023, a total of 4,690 people lost their lives to road accidents in 2022, with 1,254 of them being motorcyclists. Another 445 people who died due to road accidents were pillion (motorcycle) passengers.
Related Topics