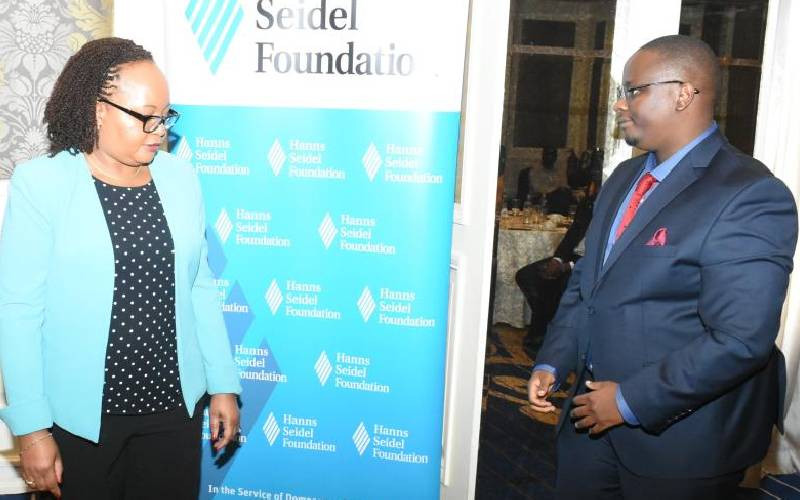 The Council of Governors –CoG is now banking on an online App to enhance public participation in devolved units.
Known as Badilico, the app seeks to give chance to everyone with a smartphone especially the youth and women to interact, learn and engage with political processes and participate in policy making and governance process in their counties.
CoG chairperson and Kirinyaga Governor Anne Waiguru said if adopted, the app is a game changer in digitalization of services and involving everyone.
She said the app will further revolutionise the current physical public participation process in the country.
''The app has a potential to bridge the gap between the government and governors bringing us closer to a future where every Kenyan feels connected to the decisions that affect their lives. It offers us a pat to achieving the transparency, accountability, participation and inclusiveness that our constitution envisions,'' she said.
She also said it will improve how governors and other county leaders engage citizens.
Article 10 of the Constitution of Kenya and section 115(1) of The County Government Act, provides for public involvement and engagement in making decisions affecting them.
Waiguru said the Badilico app holds the promise of making these constitutional demands tangible reality.
The governor said Badilico App recognizes the opportunity that a digital platform can offer to maximise inclusion as envisioned in the Constitution, to develop the solution.
Her sentiments were echoed by Ngata Muhoya, founder of the App who said its mission is rooted in the conviction that meaningful change begins with informed and engaged citizens.
''We recognise the issues of youth apathy, radicalisation and lack of economic opportunities that persist in our society. By providing a platform like Badilico, we aim to address these challenges and bridge the gap between youth and decision-makers," he said.
The app was financially and technically supported by Hanns Seidel Foundation and is available on Appstore for android users now with plans to onboard smartphone owners with iPhone operating system.
After downloading, one logs in and is ushered into the platform, save and goes to the notice board to know which meeting is on, select it and save their profiles.
''Users then chose their avatar, an icon or figure representing a particular person in a video game, internet forum, then ushered into the virtual townhall meeting and takes a seat,'' he said.
From here, they can interact with their representative directly who is sited in front on a podium.
Here, notifications are also send to the users online informing them of the key note address.
There are lounge areas where users can interact with each other and also invite other users online to join their discussions.
''There is also a toolbar on the far right with more than six actions a user may participate in,'' said Ngatia.
In the same platform, users can vote for various topics in the voting booth and the results displayed on the notice board and users receive notifications once published.
Once a user is done interacting with the platform, they can either quit or join another session with the middle button.
Related Topics