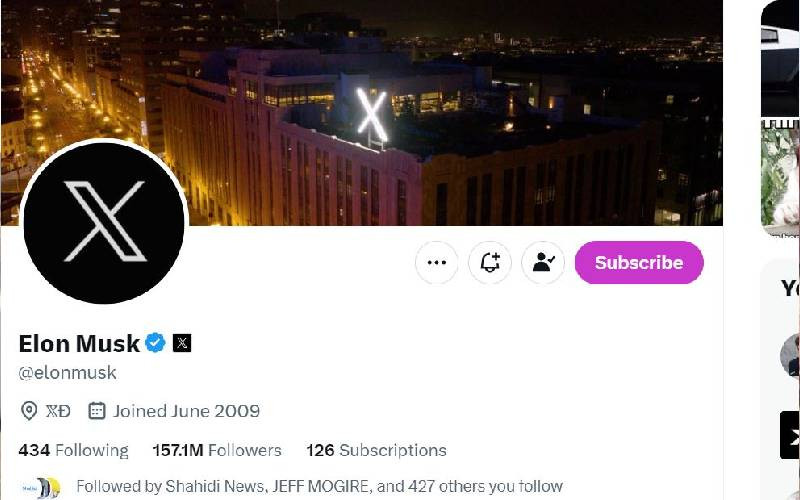 X Chief Executive Officer Elon Musk now says all users will have to pay subscription fee to access the platform.
The Monday announcement comes even as the firm, formerly known as Twitter, struggles to regain trust with advertisers.
Musk said the single most important reason for the move is to combat vast armies of bots that amplify hate speech.
He said that adding a subscription fee would make it much more difficult for bots to create accounts, because each bot would need to register a new credit card.
He said this while he was having a conversation with Israeli Prime Minister Benjamin Netanyahu during a live stream on X.
according to him, X plans to come out with a lower tier pricing than what it currently charges for its X Premium subscribers, which is around $8 (Sh1,200) per month.
The move to a subscription-based model is a significant one for X, which has been free to use for everyone since its launch in 2006 although some users have expressed concerns that it will make the platform less accessible and less diverse.
However, Musk defended the move saying it is necessary to ensure the long-term viability of the platform. He said the firm will continue to offer a free tier to users who cannot afford to pay.
Few social networks operate on subscriptions only, although more are experimenting with subscription products amid a weak ad market.
Data shows that adoption of premium X, a renamed subscription product that was formerly Twitter Blue, was slow, as of earlier this year.
Although Musk is a known risk-taker with a track record of successfully disrupting industries, the move to a subscription-based model could have a number of implications for X users.
It could lead to a decrease in the number of users on the platform because some users may be unwilling or unable to pay the monthly fee.
The move to a subscription-based model could also lead to a change in the demographics of X users because those who will be willing to pay for the platform would be more likely affluent and educated.
Related Topics