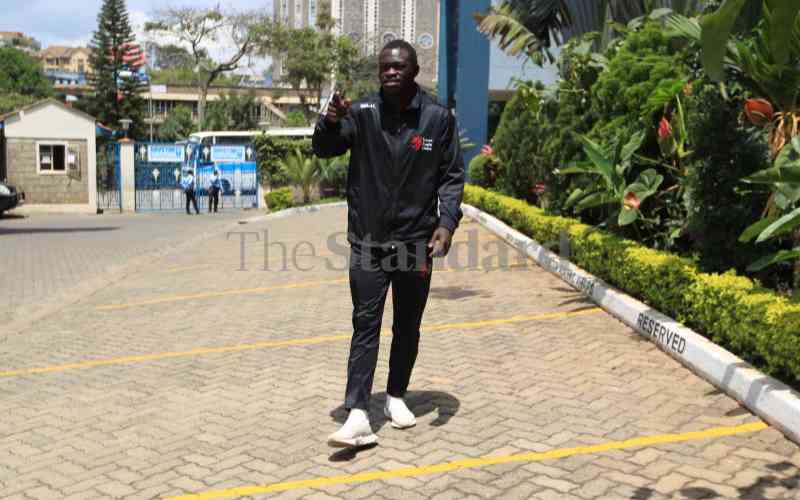 It's a common feature for most sports stars not to enjoy talking. Habitually, they prefer to articulate their communication with their feet, hands and all.
Prior to this interview with Daystar University's Falcons rugby player Patrick Odongo, yours truly was prepared for the questions to be answered almost in a monosyllabic way. That, within minutes of doing the introduction, we would be done faster before you'd finish saying mambo ni matatu, but no.
Odongo is calm. Eloquent. Smart. Fluent and articulate. His portrayal was a true testament that he'd make team of any sober tactician. No wonder his Shujaa head coach Kevin 'Bling' Wambua saw a gem in him.
Now 21, he is maturing into a multifaceted player. A real jewel. Look at his tackles; explosive, his sprints on the wings are nothing but electric, his decision-making is second to none.
With an explosive acceleration, he's been able to break through the opposition's defence like a dear.
Touching the tryline has now become so easy for the youngster. It's more of a hobby. A real human metronome.
His game is one of sophisticated skill, his movement is always instinctive, as if taken straight from a textbook.
Born 21 years ago, Odongo never liked rugby. His interest was in athletics. He's a sprint machine, he said.
But it wasn't until when he was approached by his rugby coach while at Agoro Sare (a school not known for rugby prowess) that the Shujaa player really took it seriously. Unlike most rugby players of yore, Odongo was never the biggest player around, but his speed was his top-secret.
"I didn't like rugby at first, because I feared getting injured. But one day, I was given the ball and told that my only task was to run with it. After making the try, which seemed easy, I was convinced that, this is my game," he said.
From then onwards, it's been his bread and butter.
He began his national team career proper with a dexterous display during last week's 2024 Paris Olympic Games qualifiers in Zimbabwe, where he bagged seven tries, including two in the final against the fancied South Africa.
"It was a memorable outing for me. To play against South Africa and give such a performance, was a dream come true. It's a day that I'll always remember," he added.
Shujaa defeated South Africa 17-12 in the final to be crowned African champions and punched an Olympics ticket too.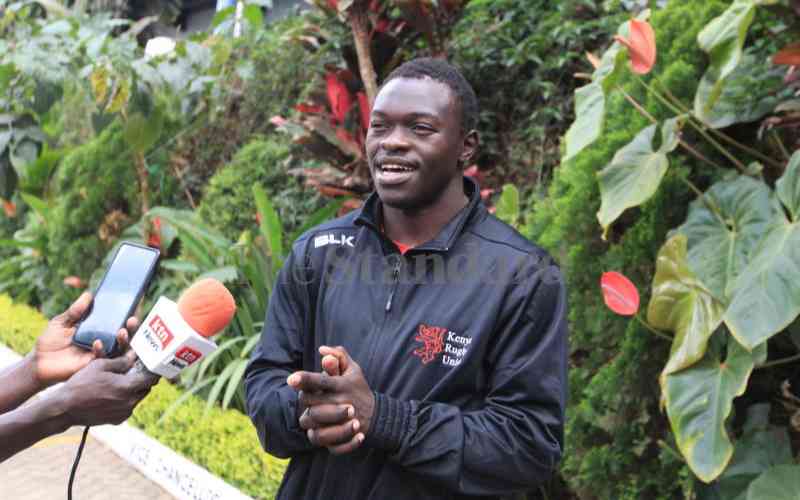 Shouldered by God, family and a burning ambition, Odongo has made it to the pinnacle of rugby in no time. But his only regret is that his mother, his top-ranking fan, (his other top fans are his father and brother), was not there to witness his exploits.
She died on September 9, barely a week before he was named in the travelling party to the qualifiers.
She was his confidant, his fortress, his shelter in the time of storm. She meant almost everything to him.
When the route in front of him suddenly seemed foggy, he would turn to one of the few people he trusted most, his mother and expediently, she would readily offer a solution. And like any submissive son, he listened.
"It was a tough moment for all of us. My father called me and he was sobbing. I knew that my mother, who had been unwell, is no more," he said, occasionally dabbing his eyes.
For coach Wambua, he delights in having given Odongo the chance to don the national team colours.
"Odongo is a talented player. I saw him sometime back and when I was appointed as the head coach, I knew I wanted him in my team. You can see how talented he is," said Wambua.
Kenya will face tough opponents at the Olympics, But Odongo is undeterred.
"We're going for nothing short of victory," he said. You could see the optimism in his eyes, he meant it.
About Odongo
Name: Patrick Odongo
Age: 21
Position: Winger
Institution: Daystar University
Club: Falcons
High School: Agoro Sare
Nickname: Odoche
Favourite meal: Chapati with meat
Hobbies: Travelling
Related Topics