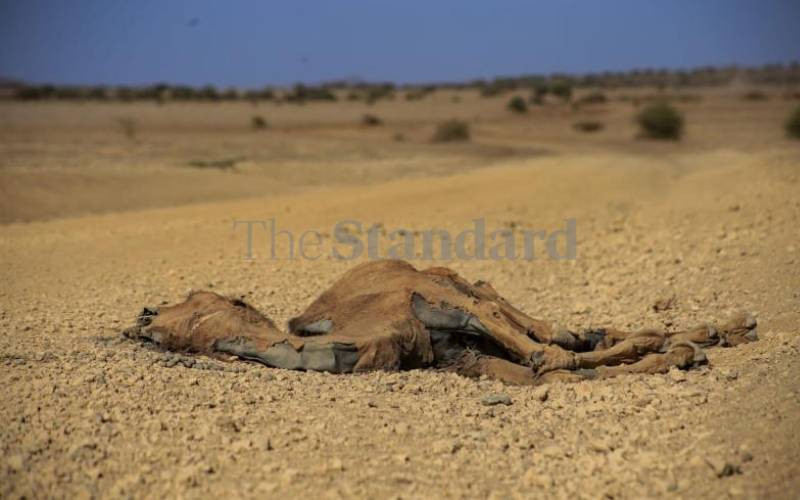 Close to three million livestock in Arid and Semi-Arid Land (ASAL) counties have died due to drought that has hit the country in the last four years.
According to the National Drought Management Authority (NDMA), 23 ASAL counties were the most affected, with fears that the deaths could rise in the coming days.
This came as the authority in its monthly report warned that the drought was getting worse in 20 of the 23 ASAL counties.
As the projected rains pounded parts of the country, the ASAL counties are yet to receive rain.
Most affected
The authority identified Marsabit (45 per cent), Kajiado, Isiolo, Samburu, Turkana, Wajir and Mandera as the most affected counties by livestock deaths.
As per the data, out of the total 52.8 million livestock in the ASAL counties, area residents lost 2.6 million due to the drought.
"The drought has worsened in 22 of the 23 ASAL counties due to the high temperatures and the failed rains," states the report.
Due to the prevailing situation, the authority said Marsabit and Turkana counties had slid into the emergency drought phase.
Kitui, Kajiado, Kilifi, Makueni, Mandera, Samburu, Tana River, Wajir, and Isiolo are in the alarm drought phase.
As per NDMA, Baringo, Garissa, Kwale, Laikipia, Lamu, Meru, Narok, Nyeri, Taita Taveta, West Pokot and Embu counties are in the alert drought phase.
"The people in need of assistance in the ASALs stand at 4.4 million while acute malnutrition stands at 970,214 for children aged 6 to 59 months and 142,179 pregnant and breastfeeding mothers," reads the report.
Livestock prices
The authority further said livestock prices in Embu, Kajiado, Kilifi, Laikipia, Marsabit, Meru, Samburu and Tana River counties had dropped sharply due to the drought.
"The current cattle prices are below normal in most counties compared to similar periods during a normal year," said the report.
Earlier, East African Community, Arid and Semi Arid Lands and Regional Development CS Rebecca Miano said the government had released an additional Sh2 billion to secure relief food and distribution in the affected counties.
She added that NDMA will provide livestock feed supplements and implement water-related interventions with funding from the National Drought Emergency Fund (NDEF) and the European Union.
Related Topics