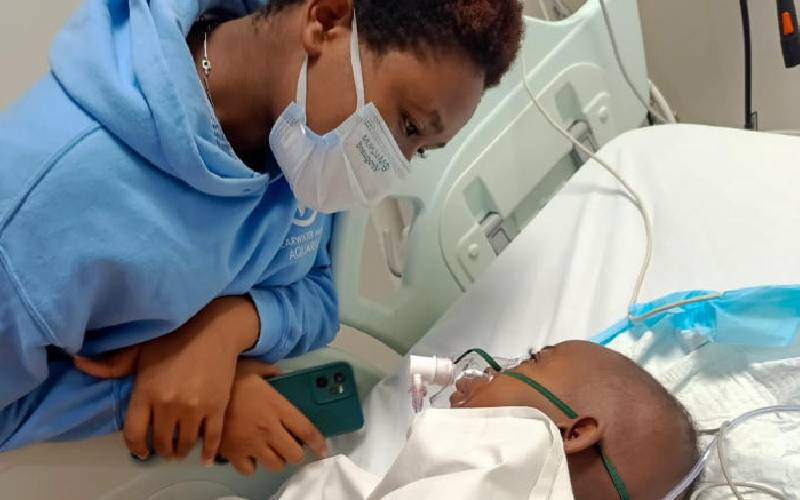 A police officer based in Sotik, Bomet County, is now stuck in India where she had taken her two children for treatment after they were diagnosed with sickle cell anaemia.
Monica Chepng'etich, a mother of three, has found herself stranded in a foreign country longer than she expected, with the recent change in hospital insurer for the police worsening her situation.
"Life is becoming unbearable for me here. I am suffering. Watching my two children agonising in a foreign country has seriously drained me emotionally and financially," said Chepng'etich.
Her 11-year-old second-born child, Bruce Barasa, was diagnosed with sickle cell anemia 11 months after he was born at Tenwek Mision Hospital and has fought it for the last ten years.
"It hit me hard when my third-born child Latiffa Chebet, who is now five years old, was diagnosed with the same condition two weeks after she was born," she added.
The single mother said since she delivered the two children, her life has revolved around health facilities.
"My life revolves around taking care of them in and out of hospitals. I have lost count of the blood transfusions done on them. Their education too has been disrupted," she said.
Their conditions have worsened, with recurring severe infections that saw baby Latiffa suffer a blood clot in the head which had to be operated on as an emergency.
After various forms of treatment at some of the best hospitals in the country, medics at Moi Teaching and Referral Hospital (MTRH) recommended that they undergo bone marrow transplants.
"I took some tests and was declared a viable donor for the bone marrow to the two children. This, however, could not be done in the country," she said.
Chepngetich and her family organised a fundraiser that got them Sh500,000 which she used to fly the children to India in August last year.
The children were admitted at Aster CMI Hospital in India and a series of blood tests conducted on them and their mother before conducting the bone marrow transplant.
Unfortunately, the transplant done on baby Bruce backfired and the operation had to be redone.
"He caught infections causing him pain in the stomach, chest, joints, headaches, passing blood-stained urine and vomiting. Doctors told me this was a complication as the body killed the new cells," she said.
As a result, the doctors treated the infections and conducted a reverse operation in November giving him back his bone marrow which helped his condition stabilise.
"The doctors have placed him under observation for the next three months with daily checkups," she said. For baby Latiffa, the transplant was conducted in December and she, too, is under observation.
Between August and December 2022, Chepngetich was lucky that the National Health Insurance Fund (NHIF) which covered Kenyan police officers footed the medical bills for her two children. The transplant operation had been quoted at Sh4 million for each child.
The family is however grappling with a new hurdle since the National Police Service (NPS) terminated the contract with NHIF effective December 31, 2022. NPS has since engaged a new service provider, CIC Insurance, which has however posed a challenge.
"The new insurer has no contract with the hospital where my children were being treated and paid for by NHIF. I'm now on my own in a foreign country with the support of a few family and colleagues," she said.
She said the situation has been worsened by the response of the two children to the treatment process that is fast draining her financial sources as Bruce has to undergo another operation at a cost of Sh4 million.
Mwaura Gaitho, one of her colleagues said online fundraisers for the children were recording reduced contributions as the treatment has taken longer and became costlier than they thought.
Related Topics