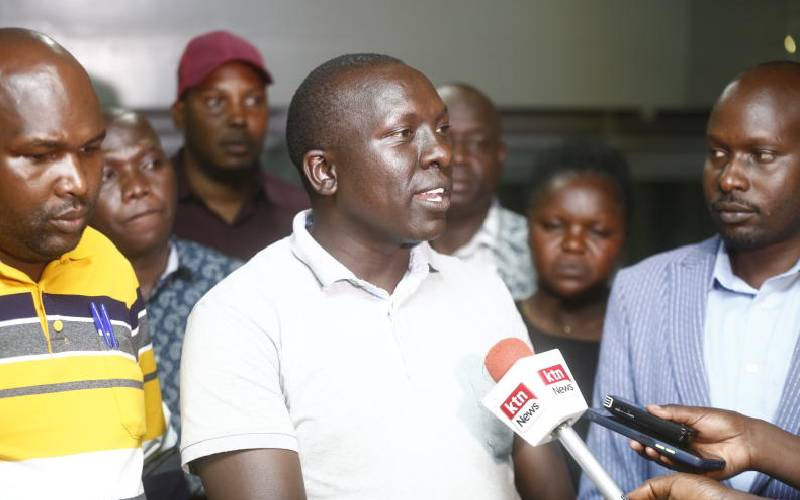 There was confusion at the Kericho County Assembly after the newly installed house Majority Leader and Kamasian ward representative, Philip Rono, allegedly resigned from the position just days after he was picked by United Democratic Alliance (UDA) members.
This happened as Speaker Patrick Mutai kicked out of the chambers a group of journalists who were at the Assembly to cover a special sitting convened on Friday, January 13 to deliberate a supplementary budget.
Mutai barked orders to the Serjeant-at-Arms and other orderlies to throw out the media in a bid to stop coverage of the leadership wrangles that have rocked the Assembly since the new house was constituted.
"We will call you once we are done with the sitting, leave the Assembly precincts right now. Serjeant-at-Arms do your work," said Mutai.
Pleas by Deputy Speaker Erick Mutai and nominated MCA Bavinna Serem to allow the press cover proceedings fell on deaf ears.
"I am the Speaker at this Assembly. I am the one who issues orders," said Mutai. Soon after, word went round that Mr Rono had stepped down from the Majority Leader position and had been replaced by Vincent Korir.
The Speaker allegedly told members that he had received a court order reinstating Korir as the Majority Leader, contrary to an earlier communication from UDA Secretary General Veronicah Maina, who wrote to the Assembly outlining the new leadership.
But Rono came out of the Assembly and denied that he had resigned, causing confusion.
"I have not resigned. I was shocked when the Speaker informed the house of the reinstatement of Vincent Korir as leader of majority. The move is strange to me," he said.
Korir was part of a group of MCAs who staged a coup in the house, replacing Kapsoit MCA Paul Chirchir, who was also replaced by Rono last weekend during a retreat for MCAs in Nakuru.
"We haven't seen any court documents indicating that the court ordered for an out-of-court settlement over the leadership contest allowing Londiani MCA Vincent Korir to be reinstated as the leader of majority," Rono told journalists later after the sitting.
Related Topics