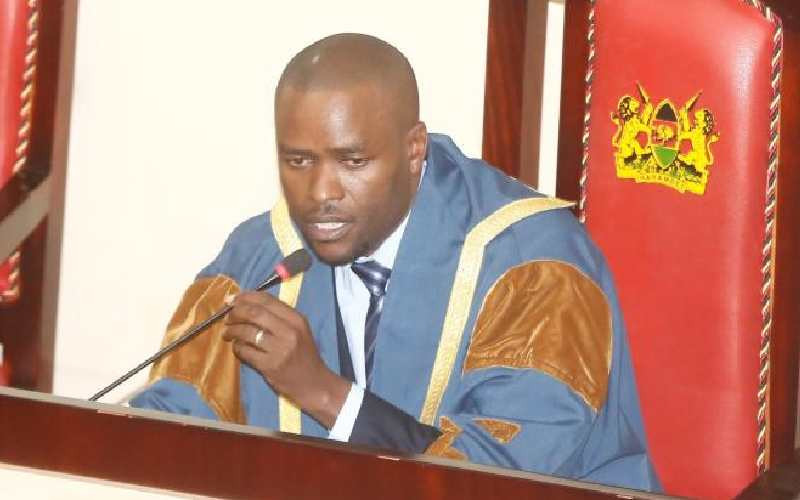 Becoming the Nakuru County Assembly speaker was never in the dreams of Mr Joel Karuri Maina.
He was a welder, making hardware items such as steel doors and windows on the streets of Naivasha.
Karuri, a trained journalist, was born to a humble family in Gituru village in Naivasha where he also attended Gituru Primary before joining Gitithia Secondary, a day school in Uplands.
"The community around my home had to hold a fundraiser for me to attend high school," says Karuri.
In an interview with The Standard, Karuri, who is Nakuru's third speaker, revealed how he missed out on pursuing higher education after high school despite scoring good grades.
"I became an untrained teacher which I juggled with welding to make an extra coin. I was then hired as a sales manager at a Naivasha pharmacy where I worked until 2007," he said.
The 39-year-old then enrolled in a certificate course on HIV Drugs Adherence and Behavioural Change counselling which landed him a job at a church-sponsored health centre in Kijabe.
"In 2010, I joined Ngong Sub District Hospital as a counsellor for HIV and Tuberculosis patients under AIDS, Population and Health Integrated Assistance (APHIAplus) until 2012," he said.
It was until 2012 that his urge for community service and the advent of devolution drove him into ditching counselling.
"I made up my mind to join politics. I resigned in September 2012 and got The National Alliance (TNA) ticket for Biashara Ward. I won the seat in 2013," he added. While this was a major milestone, it didn't send him to a comfort zone but triggered his thirst for higher education.
"I joined St Paul's University in 2015 to train as a journalist. I specialised in development communication," said Karuri.
He described his first term as a ward rep as tasking since he had to strike a balance between family, education, the electorate and various committees he was part of.
"I was a member of the Agriculture, ICT, Labour and Trade committees. I was lucky to be reelected in 2017 and became the chairperson of the Budget and Appropriations Committee," said Karuri.
His tenure as the chair of the Budget Committee was marked with push and pull between the assembly and the executive.
"Leadership is not about competition but working together for the end goal. What the people want is timely work done for them and commensurate to the resources availed," he said.
This year, Karuri took a risk to seek the speaker's seat. "I would call it a leap of faith. It wasn't given that the new ward reps would back my bid but they did overwhelmingly. Politics is not for the faint-hearted. It was like I had all my eggs in the same basket," said Karuri.
Out of 75 members in the second county assembly of Nakuru, only 14 made a comeback to the third assembly and participated in his election.
"It was a tough race but I believe the members saw a leader in me. They didn't look at my background but my strengths," he said.
He says his election as a speaker is not yet the climax of his journey in politics.
His predecessors are Susan Kihika, the first speaker in the county who is now Nakuru Governor and Maina Kairu who unsuccessfully vied for the Nakuru Town East MP seat.
"I want to work for the people while giving inspiration to those from humble backgrounds," he added.
Related Topics