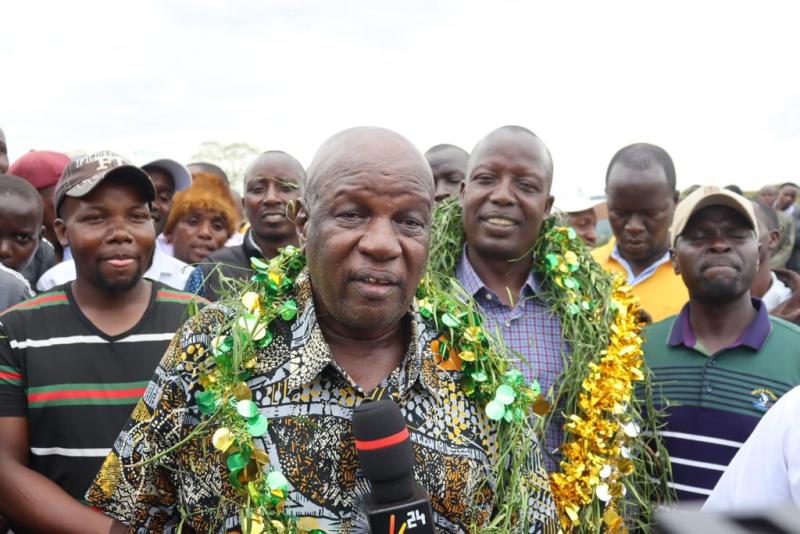 Despite a number of false starts in the political arena, Mr Raymond Chelulei never lost focus.
For Mr Chelulei, 71, constantly losing over 25 years was not going to stop him from eyeing an elective seat.
He won a UDA ticket for an MCA post in Nandi County.
Mr Chelulei was declared UDA nominee for Songhor-Soba ward in Tinderet constituency, beating 14 other contestants.
Getting a UDA ticket in Nandi raises his chances of victory in the August polls. If he wins, Mr Chelulei will most likely be the oldest MCA in the country. Nandi is famed for electing youthful leaders. The entry of Mr Chelulei, a career civil servant, will be a good blend of energy in the county leadership.
Governor Stephen Sang, 37, is the youngest in the country while Samson Cherargei is the youngest Senator as well as County Assembly Speaker Joshua Kiptoo. Ms Cynthia Muge, 27, who was elected MCA for Kilibwoni Ward in Nandi is also the country's youngest MCA and UDA nominee for Woman MP.
Mr Chelulei's political journey started in 1997, a few years after leaving his appointment as a board member in the Industrial Property Tribunal. He tried to battle it out with former long-serving Cabinet Minister Henry Kosgey for Tinderet.
Mr Kosgey who was riding on a Kanu ticket, then the ruling party, trounced Mr Chelulei who was running on then opposition party National Development Party (NDP) led by Mr Raila Odinga.
Since then, he has unsuccessfully participated in elections.
"This is what I have been aspiring for in my life. I have relentlessly attempted to be a leader and today, God has made it possible and granted me this position to serve humanity and my community," Mr Chelulei said after the results were announced.
He continued: "Age is not a factor. It is the performance that makes a leader. The elderly should not be perceived to be incompetent or lacking capacity to work for the electorate."
Riding on his slogan 'let the old man work', Mr Chelulei became a favourite against youthful contenders, some as young as his grandchildren.
He polled 3,404 votes with the second competitor Nixon Bii scoring 2,433. The incumbent Justine Chepnyango managed 1,400 votes.
Narrating his political journey, Mr Chelulei added: "In 2013, I returned to politics and vied for Tinderet constituency on the United Republican Party (URP), the popular in the region, but I didn't manage. I did not participate in the 2017 elections."
He then resorted to vie for the ward seat and won the UDA ticket, raising his chances for victory in August.
When he is not campaigning and away from the political scene, Mr Chelulei is a tea and coffee farmer living on the foot of Nandi escarpments. He said he had always been passionate about community development and education.
His goal is to eliminate poverty and illiteracy. Mr Chelulei said: "I grew up in a community where literacy was low. My ambition was to give back to society," he said.
Mr Chelulei adds: "I know I would be the oldest MCA in Nandi, but I have what it takes to be a legislator."
Related Topics