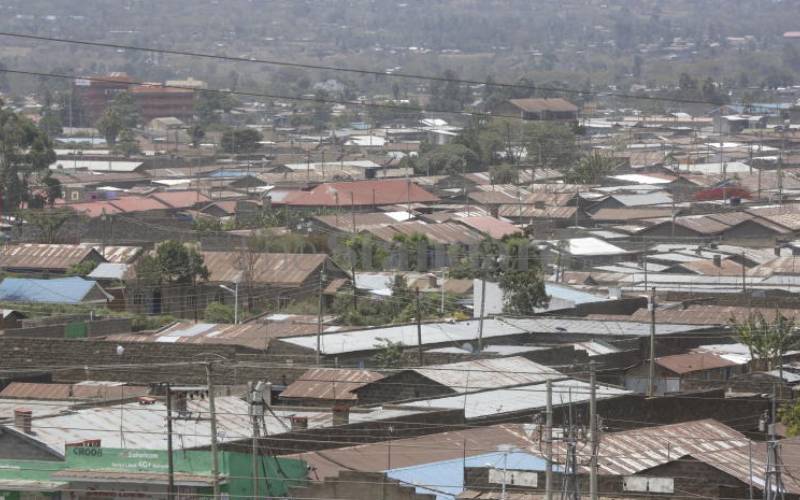 Most estates in Kenyan towns tell of a story. Their names reflect something deeper. Whether history, unique features or the famous faces, who once resided in these towns. And Nakuru town is no exception.
Here, the estates derive their names from famous tourist attraction sites, others depict scarcity and struggles that they 'faced' during the colonial era, while some, is due to their affluence nature.
Nakuru estate's names tell of the town's rich history and journey.
Flamingo is probably one of the famous once-affluent estates in Nakuru that once hosted civil servants. Many are now retired.
While it is one of the largest organised estates dating back to the precolonial period, its story is traced to Land Panya Estate, an estate that initially comprised mud houses.
Alex Njuguna, a resident, says that the arrival of railway lines in the 1900s attracted rural to urban migration, a situation that saw a number of Africans flocking to Nakuru town in search of employment.
"By then, Land Panya estate hosted houses where Africans lived. It was named Land Panya because of its poor conditions that attracted rats that lived in the houses. It was a low-class estate that depicted the poverty and struggles Africans were going through then. Land Panya was also known for illicit brews," Mr Njuguna said.
But due to the deplorable conditions in Land Panya then, the government launched a housing programme targeted at improving the living standards of the Africans and in 1964, Phase 1 of what would later become Flamingo Estate was launched.
It consisted of one-bedroomed 500 units of houses.
"Land Panya had no electricity, it had no water and sewer system," Catherine Wanjiku, 70, said.
When the houses were completed, those living in Land Panya were moved into the new houses.
Housing units in Flamingo would soon be expanded to host more of those who did not fit in during the first phase, which saw the development of Kimathi Estate, the last of the organised housing units during the colonial government. The rent has also risen over the years from Sh200 to the current Sh3,500.
Initially, Flamingo Estate was to be named after President Jomo Kenyatta, but he opted for the estate to be named after Nakuru's major attraction-the flamingos of Lake Nakuru.
"This is the last of the organised developments by the Council then," Nakuru Governor Lee Kinyanjui said.
Then there are London and Hilton estates in Nakuru, which might not have lived to the name of the places they are named after.
London, according to a resident Hanna Wairimu, was named after the British white settlers from London, who constructed Nakuru GK Prisons.
Unlike Flamingo and Kimathi estates, where the county government controlled most of the rental houses, London was subdivided into plots and sold. It consists of landowners and those renting the houses.
"At some point, there was a proposal to change the name London and rename it Menengai, but it never worked. London had stuck in the mind of the people," Wairimu says.
And while London enjoys the serenity of good amenities, its immediate neighbourhood-Hilton, is a far cry.
Hilton is situated on the hilly side neighboring London. It too does not live up to its name.
"In Hilton, life is easier. We shift through the waste dumped at Gioto dumpsite and get food easily. The hustle in the duping site is better than manual jobs because, here, we can get food from waste and even charcoal. Personally, I do not also pay rent because I live alongside the dumpsite," Esther Nyokabi said.
Most of the land in Nakuru's Hilton is mostly rocky as a result of the larva that solidified after the eruption in Menengai Crater. Hilton is situated on the highest point of Nakuru town, bordering the Menengai crater.
Unlike London where plots were initially sold for Sh3, 500 when it was subdivided, plots in Hilton were sold for Sh15, 000.
But one cannot talk of Nakuru without mentioning its famed affluent estate- Milimani.
Enjoying the serenity on the highest point bordering Menengai Crater on the opposite end from where Hilton is located, Milimani is well-planned. It has its own by-laws that even control high-rise buildings. Most of the well-off people live here in a well-knit community.
"It is actually a much-organised community. This is where most business communities, decisions makers live. They are not a snobbish community but a very interactive community," Governor Kinyanjui said.
For one to acquire land in Milimani, one has to part with between Sh15 million and Sh20 million for an acre.
And while most of the names of places do not depict their famed names in Nakuru, some are named after occurrences and stories they are associated with.
Mzee Wanyama, a bustling small centre earned its name in such a coincidental occurrence.
As the story goes, an old man, who lived close by alighted from a Matatu in the evening. The man, returning home from a hard day's work, had carried meat which he lost on his way home.
When he got home, he realised the meat was missing and walked back to the centre asking around if someone had come across his meat. He never got back his meat, and as the story goes, this became the talk at the centre for days, earning the centre its name.
Kwa Ronda, one of the largest sprawling slums in Nakuru too, got its name from a European woman said to have been a renowned sisal farmer. The sisal farmer's name was Rhoda and she employed a number of locals in the area.
"Rhoda used to employ a number of people in the area. A number of locals however twisted the name to Rhonda to fit the local dialect and soon started saying 'naenda Kwa Rhonda'. With time, Kwa Rhonda got its name," Paul Chege said.
And while Ponda Mali depicts a posh place where residents 'only sit as they enjoy their wealth' with fewer hassles, Ponda Mali is the opposite, it is one of the slums that hosts some of the busiest hustlers.
"Ponda Mali is that place everyone lives a day at a time. It is a slum area but people seem to be happy there," George Maina, a resident said.
Kwa Mrogi, is another popular place where a renowned witchdoctor used to live. The witchdoctor was feared and respected.
As historians say, the witchdoctor was so ruthless that nobody wanted to inhabit the place and it took so long for the area to be developed. The area was renamed after Mrogi, the witchdoctor.
Kivumbini and Kisulisuli share almost the same history-the areas are famed for whirlwinds and dust. Kivumbini is dusty just as Kusulisuli.
Manyani, the estate that borders Lake Nakuru National Park, is famed for stray baboons which are famous for causing mischief.
Others are Section 58, which was named after the Police Dog Training Unit, and enjoys State House privileges due to its proximity to the area, and Kabachia and Mama Ngina estates built in the 1970s.
Related Topics