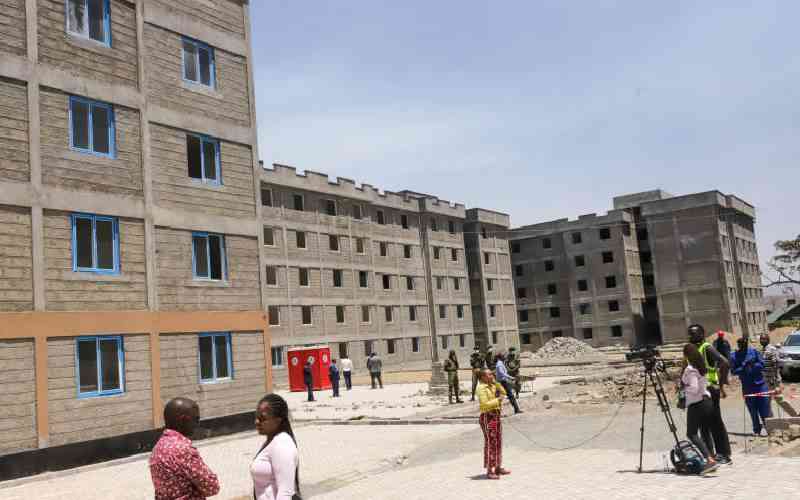 The government and players in the private sector continue to look for ways to boost affordable housing options in the country as rents increase nationwide amid biting shortage of new housing units.
Plans are afoot by the government in conjunction with the Nairobi County government and other agencies to set aside 3,000 acres for construction of between 400,000 and 500,000 housing units.
According to the World Bank Kenya still suffers a huge housing deficit.
Housing demand is estimated at 250,000 houses annually. With a supply of only 50,000 new houses annually, there is an 80 per cent annual housing deficit.
"The Government of Kenya could rely on the private sector to provide financing for affordable housing, with government actively supporting the sector by creating the right environment for lenders and developers," says the World Bank.
"Such support can come in the form of working with the private sector to attract financing through financing instruments, improving access to land, providing basic infrastructure, and improving the efficiency of accelerating mortgage registration and title transfers."
Last week, Co-operative Bank of Kenya (Co-op Bank) stepped up a plan for the financing of home loans under the state-backed affordable loans plan which seeks to increase house ownership amongst workers earning less than Sh150,000 a month.
This is after Co-op Bank received a Sh549 million cash injection from the Kenya Mortgage Refinancing Company (KMRC) to kick-start the affordable home loans product.
Under the deal Co-op Bank will issue mortgage products of half a million shillings upto a maximum of Sh6 million at fixed interest rates of 9.9 per cent with repayment periods of upto 15 years.
The single-digit lending rate coupled with the long repayment period means that Kenyans now have a realistic opportunity to achieve a 'rent-to-own' system where the same amount that it costs to rent a house will be equivalent to amounts required for monthly mortgage payments, Co-op Bank says.
The loans will be charged at a much lower than average market rate that averaged 11.3 per cent as at December 2021, according to Central Bank of Kenya (CBK) data.
About 88 per cent of mortgage loans were on variable interest rates in 2021, compared to 80.2 per cent in 2020.
"The affordable mortgage has been made possible from a Sh549 million initial disbursement from the KMRC which Co-op Bank will top-up with counterpart funding to create a significant kitty for on-lending to customers," said Co-op Bank Kenya director in charge of corporate and institutional banking, Jackie Waithaka.
To ensure that the affordable mortgage benefits the intended users, only those Kenyans earning not more than Sh150,000 a month are eligible, with the maximum loan amount capped at Sh6 million.
"This partnership between KMRC and Co-op Bank is the first major attempt at making mortgages available to the majority, and may be a game-changer towards realizing the long-held goal of affordable housing in Kenya," said Waithaka.
KMRC, a joint venture between the Treasury and private lenders, was formed to de-risk home loans for workers earning up to Sh150,000 a month as part of the government's plan to facilitate affordable home ownership.
The mortgage refinance firm, which got permit to formally start operations in September 2020, offers funds to banks and Saccos for onward lending to homeowners.
The average mortgage loan size increased from Sh8.6 million in 2020, to Sh9.2 million in 2021.
The value of mortgage loans outstanding was Sh245.1 billion in December 2021, as compared to Sh232.7 billion in December 2020.
This represented an increase of Sh12.4 billion or 5.3 percent due to higher values of mortgages granted in 2021.
There were 26,723 mortgage loans in the market in December 2021, down from 26,971 in December 2020 however. This was a decrease of 248 mortgages or 0.9 percent on account of full repayments said CBK.
Related Topics