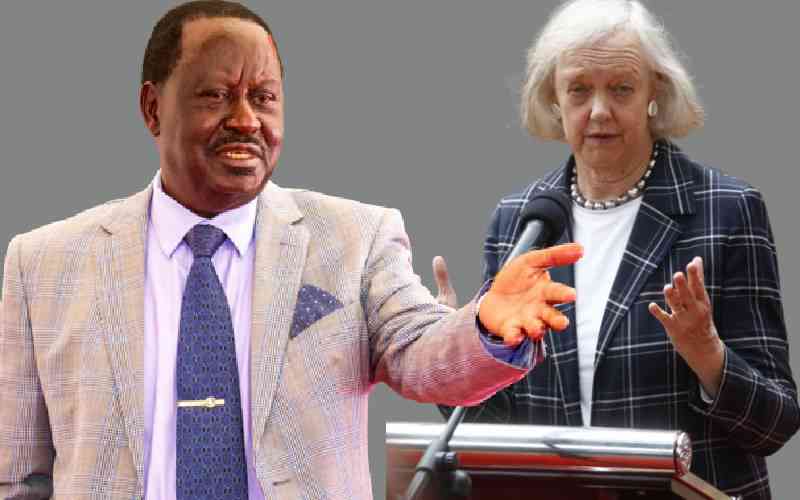 How times change! It would have been inconceivable to imagine Raila Odinga, the famed father of democracy, attacking a United States envoy for applauding the conduct of a general election in Kenya. But the tide has changed.
Raila's criticism of Ambassador Meg Whitman for endorsing last year's elections as "the freest, fairest and most credible" has divided many but likely surprised few. The Azimio leader has had a complex relationship with the Western nation, which has evolved and is characterised as a mix of cooperation, criticism, and occasional disappointment.
In recent months, Raila has railed at the US at the slightest hint of interfering in Kenya's internal affairs, especially after the superpower's opposition to anti-government protests.
Raila has accused Washington of pursuing business interests at the expense of Kenya's democracy, even claiming that the US "installed" President William Ruto as Head of State.
The former prime minister insists that he was rigged out of victory and has accused the US of employing double standards on democracy, terming last year's election outcome "unacceptable" in a functioning democracy.
This is a dramatic turn of events for Kenya whose pro-reform activists looked up to America as the bastion of hope and a safe haven for those running away from State agents.
So loathed were US envoys such as the nyama choma-loving Smith Hempstone that he was derisively described by Kanu operatives as rogue ambassador, a tag he would use to label his memoirs. The former Washington Times editor turned diplomat titled his memoirs: Rogue Ambassador: An African Memoir, after a stint in Nairobi in the 1990s.
Fast forward to the devolution conference in Eldoret on Thursday: "We want to tell a rogue ambassador 'Leave Kenyans alone'... Kenya is not the US. Kenya is not a colony of the United States. Keep your mouth shut while you are here. Otherwise, we'll call for your recall to your country."
At the height of the struggle for a new Constitution, which anchored devolution, every time the government was told to uphold the Constitution by the opposition leaning diplomatic missions, its staunchest defenders would snap back that Kenya was a sovereign state.
Raila was responding to the US ambassador's speech at the same forum on Wednesday.
"Kenya held what many analysts and commentators say was the freest, fairest and most credible election in Kenyan history... The election was observed by local and international election organisations and the results were upheld by the Kenyan Supreme Court," said Whitman, who yesterday attended President William Ruto's meeting with US Senator Chris Coons.
Raila has also held meetings with the US senator prior to the engagements with Ruto, culminating in the freshest attempt at bipartisan talks.
"At State House, Nairobi, held talks with US Senator Chris Coons who appreciated Kenya as one of the most vibrant democracies in the world," Ruto tweeted after the meeting.
Raila, who has never shied from speaking his mind, would disagree with Ruto's assertion on the vibrancy of Kenya's democracy and hence his remarks about Whitman, perhaps the harshest to a US official in recent years, which came days after he met Coons. Raila had described Coons as "a friend", a term he uses to refer to the US.
Raila's ties with the US are ever so apparent during election years. In recent years, the opposition leader has made trips to the US, meeting government officials and addressing think tanks and the Kenyan diaspora, championing his strategy to enhance ties between the two nations, even as he sold his candidacy. He toured the US in April last year as a presidential candidate. Slightly over a decade ago, when Raila and former President Uhuru Kenyatta were headed for their first presidential face-off, there was little doubt that Raila was the US's preferred successor of former President Mwai Kibaki.
Uhuru's indictment by the International Criminal Court (ICC) for crimes against humanity did not earn him favour with the US, which never admitted to supporting either candidate.
"Choices have consequences," Assistant Secretary of State Johnnie Carson said when asked about the prospect of having crime against humanity suspects (Uhuru and Ruto) leading Kenya.
In his autobiography For the Record, Defence Cabinet Secretary Aden Duale claims that Ruto revealed to him that Raila was the West's - the US included - preferred candidate.
"When we sat with Ruto, he had international sources who had explained to him that the ICC was being pushed by foreign powers to get Raila to power," Duale writes of the US, the United Kingdom, France and Germany, among other nations.
"With knowledge about geopolitics, the president and his deputy had two aces up their sleeve. If the West was persecuting them, they could face East... China was happy to stick it up to the West that had for years dominated the lending to Kenya," Duale adds in his book.
Indeed, the former president portrayed Raila as a puppet of the West before the two closed ranks in 2018, with Uhuru at one time hurling profanities at Raila for his affinity with the West.
The former premier has always reached out to Big Brother whenever he felt the government was clamping down on the rights of Kenyans, such as when Uhuru's administration would violently deal with opposition protests. Raila's Azimio la Umoja-One Kenya has made similar appeals recently amid incidents of police brutality against protesters that have led to the deaths of several persons.
But the support seems to be shifting in Ruto's favour as the US seeks trade and investment partnerships in Africa. Historian Macharia Munene argued that Raila is concerned about the new developments that threaten to sideline him.
"Raila is in a corner and he is reacting in an angry way to the new support shown to Ruto. He is frustrated that by supporting Ruto, the Americans won't question the excesses of his presidency," said the university lecturer.
National Assembly Majority Leader Kimani Ichung'wah defended Whitman's remarks, in a tweet that suggested that Raila should put his election loss behind him.
"Now Raila Odinga relax. The US ambassador is simply stating the obvious that the elections of 2022 were transparent and fair. Stop threatening her, you can't recall her from nowhere, Baba. Live with the truth of losing an election and focus on 2027 now," said Ichung'wah.
Prof Munene argued that Raila would not "accept that he lost" as doing so hurts his political relevance.
"As long as Raila makes noise he will be relevant for 2027, and he will be a to candidate them... There is nothing wrong with what the ambassador said because the US has been saying so," Prof Munene stated, adding that US interference was "not a new thing".
The US has been hailed for backing pro-democracy reforms in Kenya and Africa, funding electoral processes and civil society groups.
Homa Bay Senator Moses Kajwang' said he read a shifting policy from foreign envoys.
"We think there is a dangerous trend that is coming up where our foreign partners are more concerned about supply-chain diversification and the continuity of business, rather than life in the jurisdictions they operate," Kajwang' said.
"We felt hurt when the US ambassador is dancing and praising democracy in Kenya when such rights (picketing) are being criminalised," Siaya Senator Oburu Oginga said Thursday.
"Elections, taxes and corruption and taxes are existential questions in Kenya today. It is only a visitor in Jerusalem who can discuss them in such a casual manner. The US government is not a visitor in Nairobi, and we can only hope that these unfortunate remarks were personal and were inspired by the envoy's... corporate instincts of pleasing the buyer to close a deal," said Kitui Senator Enock Wambua.
But Belgut MP Nelson Koech, who chairs the National Assembly Defence and Foreign Relations Committee, said: "Raila Odinga's undiplomatic and unpalatable attacks on the US Ambassador for simply saying the truth about the state of the last election should tell the international community the kind of man we are dealing with."
"Ambassador Whitman is simply reiterating what all the International Election Observer Missions reports said and what we have been saying all along: the last election was the freest, fairest and most transparent in the history of Kenya as a democracy."
Related Topics