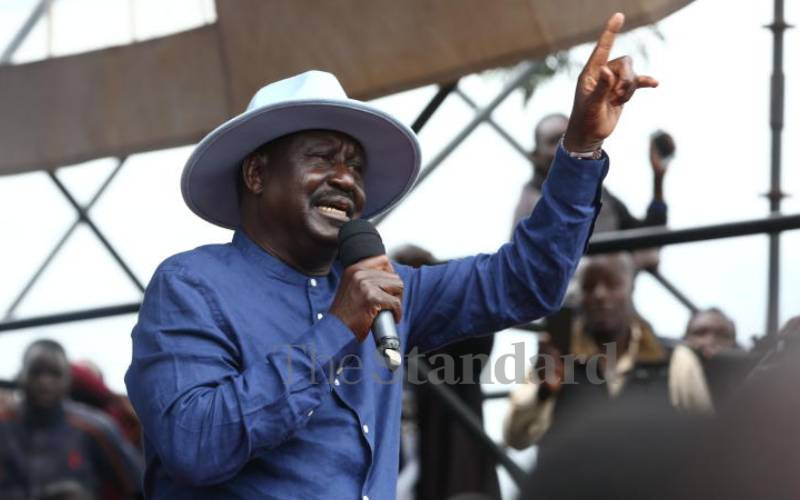 Since the election last August, Raila Odinga has been keeping President William Ruto on edge, capitalising on every mistake made by the government.
On Wednesday, the leader of Azimio la Umoja-One Kenya issued an ultimatum to the Kenya Kwanza Alliance administration regarding the controversial Finance Bill 2023, which is set to expire tomorrow.
Raila urged the president to abandon the tax measures that the opposition has deemed "punitive," warning of the people's anger if the bill continues to be pushed amidst financial difficulties.
Some of the contentious issues that Azimio opposes include the proposed three per cent Housing Fund levy and the 16 per cent value-added tax (VAT) on fuel, along with other controversial taxes targeting digital content creators and more.
"They are aggravating the situation," Raila said on Wednesday, suggesting that Kenyans would suffer even more if the bill were to take effect.
Under pressure from attendees at a function he presided over at the Jaramogi Oginga Odinga Foundation in Nairobi, many of whom demanded a return to opposition protests against the high cost of living, the former prime minister announced the ultimatum, promising to "sound the trumpet soon."
Street demonstrations
"We will inform you of our next course of action," Raila declared, words that have historically signaled a return to street demonstrations.
Yesterday, Nairobi Senator Edwin Sifuna revealed Azimio's plans if Ruto fails to heed the opposition's demands.
"The people will guide us on what happens thereafter," he said.
Jubilee Secretary General, Jeremiah Kioni, said Azimio has a concrete plan that will be unveiled on Tuesday, given that President Ruto's side has shown no interest in honouring any of the demands, including reducing the cost of living.
"They are only interested in undermining democracy by continuously plotting to weaken multiparty systems by poaching leaders to boost their numbers. The unpopularity that UDA is facing in just eight months is equivalent to what Kanu earned in 24 years. They are attempting to entrench themselves, but it's of no use," added Kioni.
He declined to share the details of their plan but insisted that there will be no further negotiations because the government seems determined to subject Kenyans to further suffering by increasing taxes when they can't even afford basic necessities.
While some observers believe that Raila is making a political mistake by failing to clearly outline his ultimate goal, his inner circle claims that he is maintaining and strengthening his opposition machinery to launch a fresh assault against Ruto's regime.
They say that the new plans will be revealed on Tuesday after the deadline he gave Kenya Kwanza to withdraw the Finance Bill 2023 expires. Last week, the ODM leader gave Ruto's administration until tomorrow to withdraw the Bill or face unspecified actions.
Political goal
On Saturday, several of Raila's allies stated that their political goal, as outlined in the demands they presented to the Bipartisan committee, remains unchanged.
They also claimed that the ODM leader is preparing for a major offensive against the Finance Bill 2023 and aims to leverage the strong political support he has gained from other Kenyans opposed to the Bill to push back against Ruto's regime.
Raila's allies believe that the public's opposition to the controversial Bill has only strengthened his support base and given him a platform to launch an "unstoppable storm" to rectify the political mess created by Kenya Kwanza.
"Raila does not make mistakes. He does not take political gambles and has prepared everything necessary to ensure we fight against the threats of the Finance Bill 2023 and electoral fraud," said an MP who is part of Raila's inner circle.
Karachuonyo MP Adipo Okuome, a member of the Finance Committee in the National Assembly, said the instructions they received from their party leader are clear. They want the Bill to fail.
"Our objective is to ensure that the Finance Bill fails in order to rescue Kenyans from excessive taxation," he said. They believe that if the Bill fails, it will give the ODM leader a significant boost to initiate additional actions to increase pressure on Ruto's regime and strengthen the opposition, while he continues to seek answers regarding his unsuccessful fifth presidential bid.
According to Suna West MP Peter Masara, the opposition is not gambling with its activities.
"Our agenda is intact. We are pushing it until we rescue Kenyans," he said.
In Nyanza, the ODM lawmakers have embarked on a campaign to build grassroots support to strengthen ODM party as well as build a wave of public discontent against the Finance Bill.
Yesterday, the team was in Kasipul in Homa Bay where they drummed up support for Raila's ideologies and claimed he is on track to rescue Kenyans from the tough times the new regime has pushed them into.
Calls for review
National Assembly Minority Leader Opiyo Wandayi and MPs Ong'ondo Were (Kasipul), Lilian Gogo (Rangwe), Adipo Okuome (Karachuonyo), Tom Kajwang (Ruaraka), Rosa Buyu (Kisumu West), and Homa Bay Senator Moses Kajwang have expressed their view that the Bill should be reviewed and formulated in a manner that is acceptable to Kenyans.
Wandayi said many Kenyans have rejected the bill, and therefore, it should be withdrawn to allow for the amendment of the controversial sections.
"There is no reason to waste time with the Finance Bill 2023 when it has been rejected by many Kenyans. The National Treasury should withdraw the Bill and remove the controversial taxes," Wandayi said.
The Ugunja MP conveyed to the government that if the Bill is not withdrawn, there is no justification for presenting the 2023/24 financial year budget in parliament.
"The Finance Bill 2023 is an integral part of the budget, and its rejection affects the budget. Let it be withdrawn so that it can be reintroduced to the National Assembly in a form that is acceptable to Kenyans. However, if the financial year budget Bill is not withdrawn and the contentious issues are not addressed, there is no reason to present the 2023/24 budget," Wandayi said.
Senator Kajwang urged MPs to reject the Bill in order to alleviate the economic burden faced by Kenyans.
Endorsed demonstrations
"The Finance Bill is going to make life difficult for Kenyans and should be completely rejected," Kajwang' said. During all Azimio rallies, their supporters endorsed demonstrations.
A series of protests earlier this year compelled the president to seek a truce, leading to bipartisan talks that have since nearly collapsed.
During that time, Ruto and Raila faced immense pressure from religious and civil society groups to pursue dialogue.
For months, Azimio has capitalised on the high cost of living. The Finance Bill has now become another weapon in their arsenal, and they rely on the growing opposition to the proposed law to keep Ruto on his toes.
"We want our MPs to take a stand and oppose the bill. We will keep track of those who support it and those who oppose it to identify the traitors," Raila said.
On Tuesday, a meeting of the Azimio parliamentary group resolved to reject the bill and demanded its withdrawal as a condition for resuming the failed talks.
[Report by Brian Otieno, Harold Odhiambo, Anne Atieno and James Omoro]
Related Topics