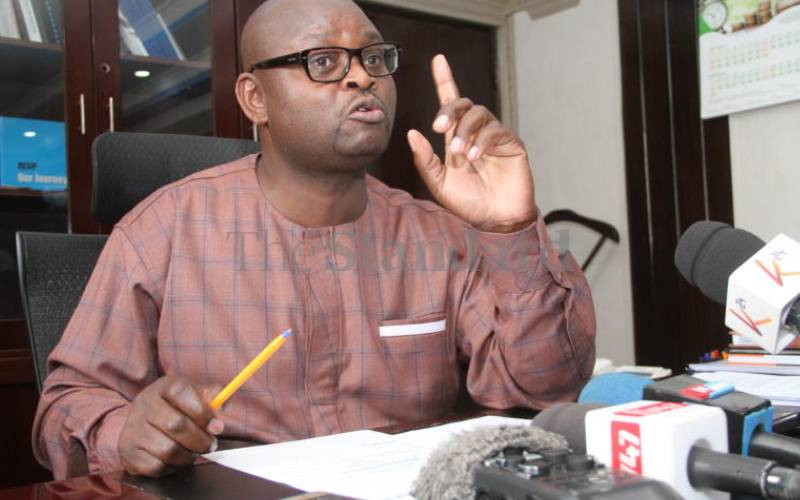 Kenya Nurses Union of Nurses (KNUN) secretary general Seth Panyako feels it is time politicians with substance leave major political parties in the country that, according to him, stand for nothing other than soothing party leaders' egos.
The former UDA vice chairman, who last week announced his dropping from the post to chart his own path, said Kenyans have been taken for a ride as parties stand for no ideology.
"We are living in interesting times, people come up with parties, and if you go against their selfish agenda, they kick you out without a care," he said.
"I am socially and politically out of UDA after President William Ruto, who is the party's boss, called and read me the riot act ordering me out for going against the proposals on housing levy and increase of VAT on fuel. I would have expected a more formal process of whipping a party official."
Panyako revealed the call came last Friday at about 7.15 pm while he was in Nairobi waiting to board a flight to Kakamega to visit his kin, check on his businesses and attend a funeral of a fellow politician.
It is at the funeral of the politician, Amisi Omuganda, Maendeleo Party Leader, that he announced to the mourners and the nation that he had resigned from UDA after it went against its campaign promises.
Panyako, who vied for the Malava MP seat on a UDA ticket in the last election and came a close second to Malulu Injendi (ANC), said he would not rejoin ODM on whose ticket he unsuccessfully vied to become Kakamega senator in 2017.
Then he also came a close second behind Cleophas Malala, whom he claims was a bad influence around the president.
"I recall when the President called, he said people, including my brother Malala, were piling pressure on him (Ruto) to kick me out of the party. There are also some five people whom I call cartels around him that I feel are misleading the president," he said.
"Being the first call after we kept talking frequently before he was sworn in, I was so shocked. I realised how things had drifted apart. To cut it short, I just told him that I would resign."
Related Topics