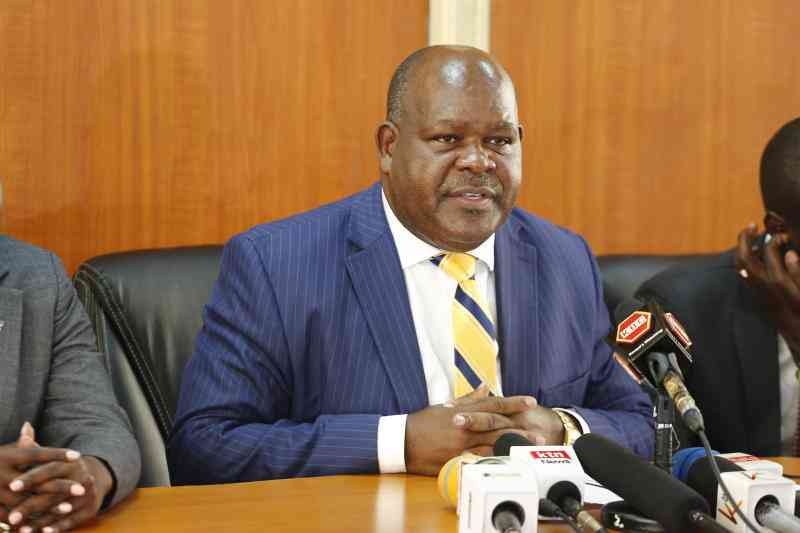 The Kenya Kwanza bipartisan talks team has extended an olive branch to their counterparts in the Azimio Coalition and invited them for talks next week.
In a letter seen by The Standard, the bipartisan committee co-chair George Murugara asked Azimio's Otiende Amollo that they meet and jointly agree on more pertinent issues, since they are now reading from different scripts, following Azimio's letter to Kenya Kwanza notifying them of suspending the talks indefinitely.
"We need to meet and harmonize the two versions of the drafts as is the practice of the talks before we co-sign and send them to the addresses," Murugara said, in response to Azimio's letters.
"I now propose a meeting for the two of us on Tuesday, June 6 at 9.00 am at a mutually agreed venue," the co-chair wrote.
Murugara, in a press statement on May 31, 2023, said he will not be used to violate the Constitution.
The co-chair who was responding to claims by Amollo said that his decision to decline to sign the letters issued by Azimio was 'deliberate.'
The Tharaka Nithi MP stated that the Azimio bipartisan team wanted to enjoin them in "committing a fundamental violation of the constitution."
"Amollo's letters sent to me last night (May 30) had a few but very fundamental changes which had altered the request to directives of the two independent bodies. This is why I declined to sign the letters. It came to us as a surprise that our colleagues wanted to enjoin us to commit a violation of the very Constitution we seek to defend," said Murugara.
On Wednesday, May 31, Azimio announced that they had withdrawn from the bipartisan talks due to non-compliance from Kenya Kwanza.
Azimio claimed that the Kenya Kwanza side had failed to co-sign and submit letters that had been addressed to the Independent Electoral and Boundaries Commission (IEBC).
Azimio wanted to compel IEBC CEO Marjan Hussein Marjan to provide information regarding the preservation of electoral materials, the 2022 presidential election servers, and the data contained within.
Murugara now says that IEBC is an independent institution and it cannot be subjected to directions and orders from any person or entity.
He is however open to discussing the letters further with a view of 'agreeing on a suitable wording' and has invited Otiende for a meeting on Tuesday, June 6.
Related Topics