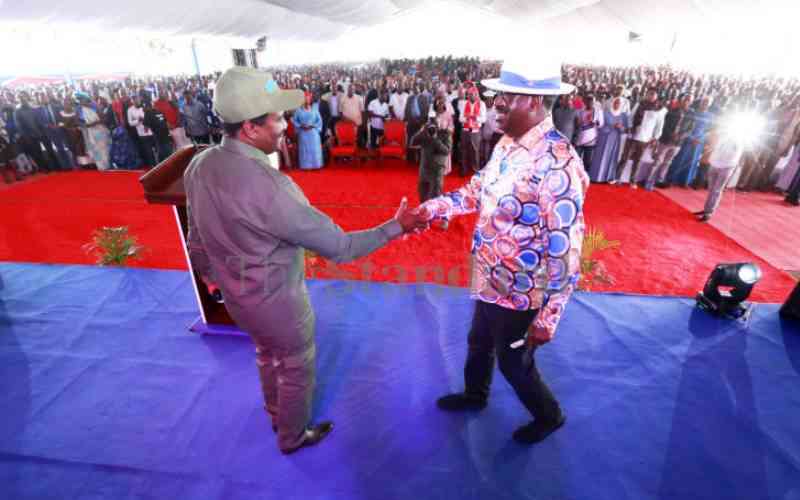 Years of playing supporting cast could pay off for Kalonzo Musyoka, a man the opposition is grooming for a stab at the presidency in 2027.
The Saturday Standard has authoritatively learnt of the succession plans in Azimio la Umoja-One Kenya, which place Kalonzo as the most likely challenger of President William Ruto in the next polls.
The former vice-president has supported Azimio leader Raila Odinga in his last three unsuccessful presidential bids, twice as a running mate and once, last year, as a hopeful for the Chief Minister position.
Azimio's strategy is to ripen Kalonzo by increasing his prominence in a bid to portray him as the next face of the struggle against oppression.
In recent weeks, the Wiper leader has played a leading role in Azimio's affairs, hosting some of the coalition's meetings and reading their joint statements.
Raila and Narc Kenya leader Martha Karua, who flew Azimio's ticket last August, are also maintaining a prominent role in the coalition.
Friday's Wiper prayer meeting in Kalonzo's Yatta farm, which brought together heavyweights within Azimio, appeared to indicate the direction the coalition would take.
To firm up the Azimio ticket, the coalition is mulling over having a running mate from Western Kenya, with a mix of experienced and young politicians considered for various factors, as the opposition outfit seeks to lock its traditional strongholds.
"Such a ticket would be unbeatable," said a high-ranking source, who sought anonymity.
The source told The Saturday Standard of the budding plans: "Kalonzo is our only candidate."
For the longest time, politicians from Ukambani have urged Raila to pass the baton to Kalonzo citing his loyalty to him. Such calls have been termed premature given the next polls are over four years away.
"Azimio is focused on addressing pending issues of electoral injustice. Talk about 2027 is a distraction which we are not ready to embrace," said Vihiga Senator Godfrey Osotsi.
During Friday's meeting, Machakos Senator Agnes Kavindu asked the former prime minister to endorse Kalonzo for the presidential bid.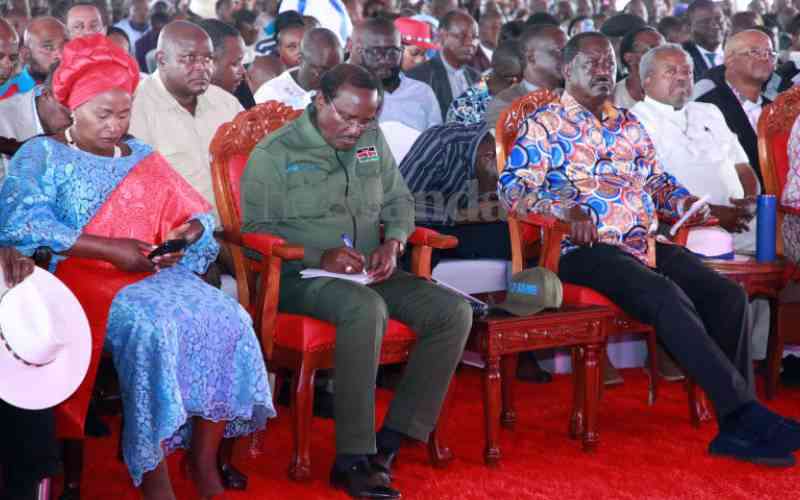 "Hold Kalonzo's hand as he has held yours," she told Raila. "I know when the time comes, Raila will do what is right and will declare Kalonzo tosha!"
Kitui Senator Enoch Wambua said leaders from Ukambani should back Kalonzo as he gears up to try his luck.
"In 2013, 2017 and 2022, Kalonzo walked with you. But before we talk about 2027, we must first conclude 2022... I have a problem with people who say Raila should 'give' Kalonzo the ticket. The presidency is not something to be given. You fight for it and we must be ready to fight," the Senate deputy minority leader said.
Remarks from various leaders in Friday's meeting showed that the Azimio leadership appreciated Kalonzo's part in the coalition.
"We are strong as Azimio because of the strength of Wiper and we are here to thank you for that... the Azimio vehicle is steady because Wiper is steady," said former Defence Cabinet Secretary Eugene Wamalwa, who is also part of the succession matrix.
"At the critical moment when a decision had to be made to save this country... you shelved your ambitions and supported my party leader Raila Odinga," said Nairobi Senator Edwin Sifuna.
The opposition is banking on Ruto's blunders, the growing discontent over the high cost of living and the president's push for unpopular tax measures to gain more support.
Azimio is encouraged by the widespread dissent over the Finance Bill 2023 that seeks to increase a raft of taxes and plans to take the fight to the president when it is brought before Parliament. The coalition plans to push for a roll-call vote on the Bill aimed at exposing those who will support it.
"We will push for MPs to vote for the Finance Bill by name. We want to know the enemies of the people," Kalonzo, the host, said.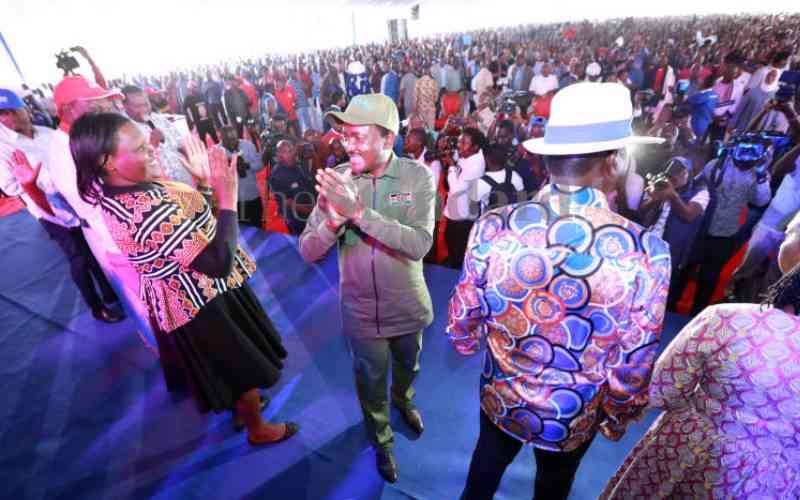 The leaders also reiterated their calls for secession, protesting what they termed "imbalance" in government appointments.
Raila claimed glaring cases of tribalism and nepotism that had grown rampant in Ruto's administration, a scenario he said offended the rights of Kenyans and the constitution.
In an apparent reference to Deputy President Rigathi Gachagua, who recently claimed Kenya Kwanza government was a shareholding of those who voted for the coalition, Raila said Kenyans will stop at nothing in fighting for their right to fairness and equity.
"We demand that Ruto immediately begins the process of correcting the imbalance in the appointments of all public positions in the country or we will call for self-determination," said Raila.
The former Prime Minister declared Azimio will fight to the last man to ensure all Kenyans irrespective of how they voted are treated fairly and in accordance with the constitution.
"They have been claiming that Kenya is a company where some hold majority shares, others minority and some none. If we have no shares in our own country, what business do we have in Kenya?" posed Raila.
The ODM leader claimed President Ruto had run amok by dishing out State appointments to only members of his ethnic community.
"Kenya has 45 tribes. But if you read the Kenya Gazette every week, you are treated to names from one ethnic region. We are telling Ruto that no one is in Kenya at somebody's invitation," he said.
"We have given you one week to denounce the remarks [by Deputy President Rigathi]. Otherwise, we shall write to the United Nations seeking self-determination," Raila declared amid cheers.
Related Topics