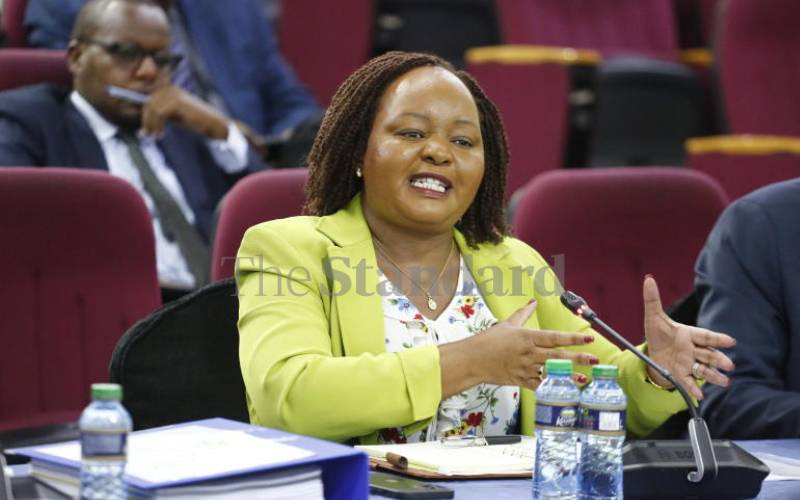 Senators put Council of Governors chairperson Anne Waiguru to task for being unusually silent over failure by the National Treasury to disburse funds to counties.
The Kirinyaga governor appeared before the Senate Public Accounts Committee in Nairobi on Thursday and had a rough time explaining her role as CoG chairperson at a time the 47 counties have not received their allocation of equitable revenue running into billions for the last three months.
Committee chairman Moses Kajwang (Homa Bay), senators Edwin Sifuna (Nairobi), Richard Onyonka (Kisii), Mwenda Gataya (Tharaka Nithi), Samson Cherargei (Nandi), Fatuma Dullo (Isiolo) and Mariam Omar (Nominated) wondered why Waiguru is not championing the counties' interests.
Kajwang asked the governor why the council has left senators to push for counties to receive their monies on time and for allocations to be increased.
"It is absurd that while senators are accused of crying more than the bereaved, the CoG chairperson seems more apologetic to the Kenya Kwanza administration that has failed to disburse funds to the counties," he said.
Sifuna noted that the Commission on Revenue Allocation had set Sh425 billion as funds to be disbursed to the counties while CoG wanted Sh407 billion yet National Treasury wanted to disburse Sh385 billion and asked Waiguru to state exactly what the counties wanted since most governors were silent on the matter.
The Nairobi senator said data from the Central Bank does not show that the national government was broke and challenged the governor to show evidence that the country was straining financially. He noted that despite the government pledge to scrap Sh300 billion in expenditure, it had increased expenditure in other activities.
"We would like to know why the CoG chair has not raised a voice over the financial challenges faced by all counties," said Sifuna.
In response, Waiguru denied that CoG was silent as counties suffered and aside from addressing the media on daily basis they were engaging the National Treasury.
She told the committee that the council agreed with the Commission on Revenue Allocation that counties should get Sh425 billion equitable revenue share and that the Sh407 billion they are pushing for was a negotiated minimum figure bearing in mind the financial constraints faced by the government.
"I would like to inform this committee that in my position as the Council of Governors chairperson, I champion the interests of all counties irrespective of the political persuasion of respective governors, at the council we do not dwell on party positions but interests of counties," said Waiguru.
She said counties received their equitable share revenue for January early this week and they expect allocation for February before the end of this month.
Waiguru acknowledged that counties have salary arrears and are not meeting revenue targets.
Related Topics