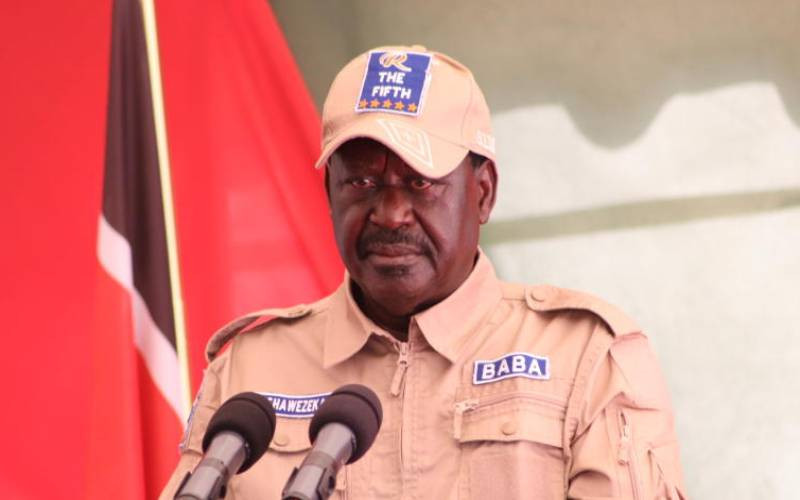 Azimio la Umoja- One Kenya leader Raila Odinga has said mass action will now take place two times a week - Monday and Thursday. This will be effective from next week.
Speaking in Nairobi on Tuesday, March 21, a day after the Monday protests, Odinga says he will not relent until the Government addresses the issues that he believes concern Kenyans. He cited the cost of living, electoral justice, inclusivity in government, and the dismissal of civil servants.
"We will not relent until the Kenya Kwanza government understands that the people are hurting and that their suffering must be at the centre of our priorities as a nation. We will push on until the cost of food, fuel, and electricity comes down," said Odinga.
Conduct of the police
Odinga alleged an attempt on his life and that of Kalonzo Musyoka during yesterday's mass protests in Nairobi, claiming the coalition had formed a team to examine the conduct of the police during the protests.
He said that during the demonstrations on Monday, their cars were shot at, but they escaped unharmed.
"There was an attempt on the lives of both Raila Odinga and Kalonzo Musyoka. Our cars were shot at but luckily, we were unharmed. We remain horrified and disgusted by the response of the police," Odinga said.
The opposition leader said that Azimio will file charges against individual police officers who harassed protesters.
"We have put together a team of legal experts to determine the conduct and orders given by the police commanders to the officers on the street that led to the brutality meted out on Monday."
However, Raila commended some police officers who restrained their actions and showed respect for the rights of Kenyans.
"We reiterate to all our patriotic Kenyans that this struggle is just starting. We are not looking back and will not be intimidated. No retreat no surrender," said Odinga.
He at the same time called on Kenyans to boycott services of Safaricom, KCB, and Radio Africa, alleging that the corporates had become facilitators of what he termed a 'brutal regime'.
"The corporates have become the enemies of the people and are benefiting from the blood and tears of Kenyans," he added.
Related Topics