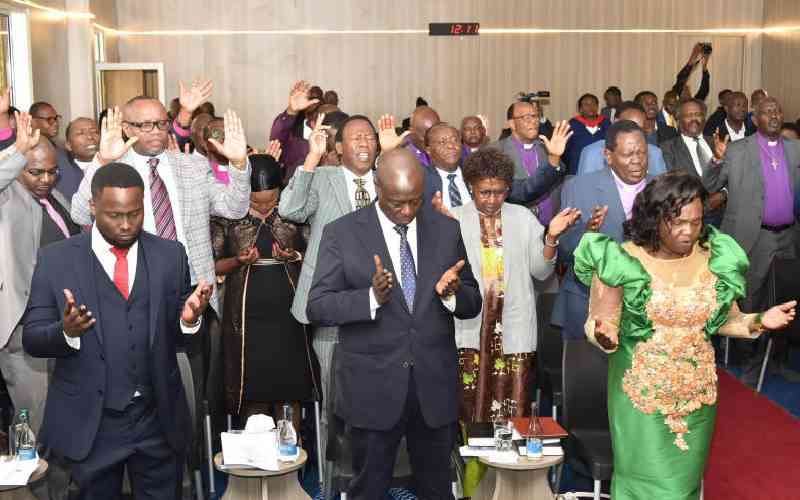 One thing has been certain in Kenya since September 13 last year - President William Ruto will be in a church somewhere on a Sunday.
Any criticism of Ruto and his strategy of campaigning - that he was using the church as a method of acquiring power, has quickly been dispelled with the commitment that the president has shown to his faith while in office.
During campaigns by Kenya Kwanza and Azimio, faith matter came to the fore, mainly due to the clever political messaging from Ruto.
It seemed there was a coalition that trusted in God - his own; who supported the church, and there were the others who relied on the deep state and were against the church - Azimio.
In office, Ruto has doubled down on his Christian belief, inviting pastors to anoint and cleanse offices, conducting services on State House lawns, or across the country, praying for soldiers and receiving gifts of Bibles.
Religion and politics have always gone together in Kenya; Ruto made it the core of his campaign and government, thanks to an equally adhered spouse Rachel and deputy Rigathi Gachagua and his spouse, Pastor Dorcas.
"I was worried that church leaders had been cowed after being told that the church does not matter and when the word of God was mocked by those trusting in the deep state, but today I am happy that the church has come back to the centre of politics," he said last week during a prayer event at Nyayo National Stadium.
Religious groups have been at home in State House as they have been on the pulpits. He wasn't just bringing the church closer for the spiritual growth, but for the social, economic and healthy wellbeing of the country.
Over the past three weeks, President Ruto has met three different religious groups at State House.
He met with His Beatitude Pope Theodoros ll, The Greek Orthodox Patriach of Alexandria and All Africa. In that meeting, Ruto commended the church for the role it has played in development projects.
"Faith organisations including the Orthodox Church have gone beyond pastoral work and shown a commitment to development issues in Kenya and Africa that have made a real impact our country," he said.
A week earlier, Ruto commended the religious organisations for their provision of social services when he sat down with Anglican Archbishop Jackson ole Sapit, Mombasa Catholic Archbishop Martin Kivuva, Bishop Robert Lang'at of the Africa Gospel Church and PCEA Moderator Thigu Mutahi.
Ruto noted that, away from the government, churches contributed significantly to the provision of health and education.
The President said: "The institutions provide 40 per cent healthcare in Kenya and must be core in our plan and roll out of the Universal Health Care programme."
Ruto gave the government's commitments to working with the institutions to deliver efficient and cost-effective health services as well as relevant education.
And a few days before that, Ruto, in the company of ranking members of the Seventh Day Adventist Church, Education Cabinet Secretary Ezekiel Machogu, Principal Secretary Raymond Omollo, and former Chief Justice David Maraga held talks with Pastor Ted Wilson, the President of the SDA Church.
"We acknowledge the contribution of the church in the moral formation of the nation, the social and economic empowerment of the people through vast investments in healthcare, education and other social services," he said.
Waikwa Wanyoike, a lawyer, argued on Twitter that while Ruto had a right to worship, he should not use the taxpayer funding to facilitate his own rights.
"But Ruto does not have the right or a constitutional leeway to use State resources or the stature of his public office to facilitate his right to worship or give the nation a skewed religious character - which is what he has been doing," he said.
Some clergy have warned that the State runs the risk of being captured by the church, should it be true that Ruto entered into agreements with evangelical church leaders and made concessions in exchange for their support.
"You remember those days when senior bishops would be given exemptions to import cars; some people got into business and that's why it is always good to follow the law because it equalizes people," Rev Canon Sammy Wainaina. Provost, All Saints Cathedral Nairobi, said.
But it isn't Ruto alone who has transformed the church into a political arena. Opposition leaders drew the criticism of Christian faithful when they called for a prayer for the electoral agency, IEBC.
Retired Presbyterian Church of East Africa minister Timothy Njoya encouraged the church to resist the attempt to turn it into a battleground between President Ruto and Azimio leader Raila Odinga.
"Churches are for correcting politics, not Ruto-Raila battlefields," he said.
But anxiety is creeping up to a section of Kenyans who worry about what Ruto's evangelicalism and his relationship with the church will portend to politics and religion.
Provost Wainaina argues that extreme expressions of religiosity will hurt the very religion that Ruto claims to practise by drawing more people away from it.
Wainaina said during an appearance on Citizen TV in the middle of the week that much of the world had suffered because of religious fanaticism, and it was incumbent upon Ruto's Christian supporters to empathise with other religions.
"If we had a Muslim president and they spoke the way of our political leaders have spoken in their rally, how would Christians feel? If you'd feel pained be careful," he said.
He was reacting to remarks during the rally at Nyayo Stadium on Tuesday which he said should not come from leaders who ought to be symbols of unity for the country.
"It is incumbent on our president and his deputy to know there is religious excessiveness and this one will not engender Christianity. It will actually diminish Christianity as people will become disillusioned about matters of faith," he said.
Wandia Njoya, a scholar and political commentator, writing for The Elephant, argued that Ruto's mainstreaming of religion presented an ambiguous political moment and encouraged the critics to observe first.
It is her view, that the new prominence of religion in the public sphere was a good development because religion is a knowledge resource that can bring together people of diverse backgrounds, especially the oppressed who are denied access to institutions.
Since 2010, she said, political discourse from the public sphere has been dominated by constitutionalism, which generally hands over politics to lawyers.
"Religion, on the other hand, allows ordinary people access to political conversations. Rather than close that door because Ruto has taken advantage of that space, we need to open the door even wider for ordinary Kenyans to bring the riches of their knowledge to politics," she wrote.
She added: "Therefore, critics need to be patient, learn to deal with the ambiguity of the current political moment, and let Kenyans figure out what Ruto's religion means politically and theologically. This situation is new for us and we need to figure it out as well."
Related Topics