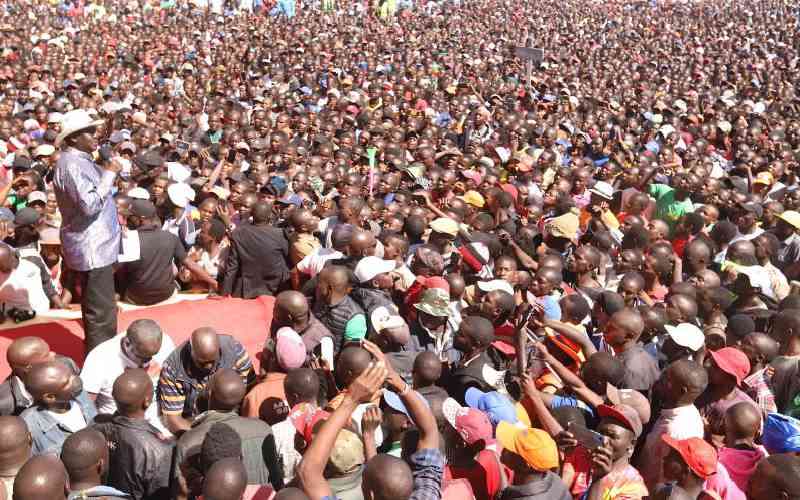 Opposition leader Raila Odinga has faced off with three Kenyan presidents and got his reward in each duel. Although the veteran opposition leader has unsuccessfully contested the presidency five times, he has mastered the art of remaining politically relevant on the national arena for over two and a half decades.
He has also been a thorn in the flesh of the administrations of former Presidents Daniel arap Moi, Mwai Kibaki and Uhuru Kenyatta, forcing the three to accommodate him despite initially not seeing eye to eye.
In all instances, he has come out with something, starting with a merger with Moi, a coalition with Kibaki and the famous handshake with Uhuru, although he has played down talk that the handshake benefited him or his ODM party, given he did not earn a share of government.
The Azimio la Umoja-One Kenya coalition party leader jetted into the country yesterday, back from a tour of Nigeria that saw him champion electoral reforms on the continent. He is scheduled to hold a rally at the Kamukunji Grounds in Kibra today, the latest in a series of engagements aimed at keeping President William Ruto on his toes.
On the eve of Raila's rally, a section of youth affiliated with him launched a movement to agitate for the respect of democracy and lowering the cost of living at YMCA in Shauri Moyo.
"There is need for the government to intervene and arrest the soaring cost of living and an end to ever growing list of taxes levied on Kenyans," said Kenya University Student Organisation President Anthony Manyara, as they criticised recent actions by Ruto's administration.
The movement, which comprises youth and university leaders, rekindles past movements that Raila has used to further his course, such as the National Resistance Movement in the wake of the 2017 election, which called for a boycott of select products.
It also evokes memories of the second liberation struggle of the 1980s and early 1990s that was mainly propelled by the youth and vibrant university leaders who agitated for more democratic space.
Raila's ODM party, too, evolved from a movement against the proposed Constitution famous as the Wako Draft, which was defeated in a 2005 referendum.
In some way, the new movement allows Raila to maintain pressure on the government from multiple ends. Whether or not Ruto caves like three of his predecessors will be decided by time.
When Raila lost the August 2022 elections to President Ruto, he appeared to have slowed down on political activities and his supporters were unsure of his next move. However, two months later, Baba was back.
The former Prime Minister heightened his onslaught on the Ruto regime after the Supreme Court upheld Ruto's win dismissing a petition challenging the election, putting the government to task over failure to deliver on various election campaign promises.
In October, a decision by the Cabinet to lift the ban on Genetically Modified Organisms a magical opportunity to rally Kenyans against the government, saying it had failed to deliver on its campaign promises.
"Since conclusion of the 2022 election circle, we have done our best to give Ruto time and space to heal and unite our land. We have given so much space that Kenyans think we have given up the fight. unfortunately, Ruto seems to think we have surrendered," Raila said then.
Recently, Raila has raised the tempo a notch high, addressing public rallies where he has declared that his election victory was stolen by Kenya Kwanza Alliance with the assistance of some former Independent Electoral and Boundaries Commission (IEBC) officials.
He has sensationally claimed that an IEBC whistleblower has provided evidence showing he won the election with more than two million votes and has called on the United Nations and the Commonwealth to audit the results.
"Only the United Nations and the Commonwealth can investigate the August 2022 electoral process which denied Kenyans an opportunity to have the President of their choice in office. The Directorate of Criminal Investigation is only keen to hoodwink Kenyans," said Raila.
President Ruto has been forced to respond to Raila, accusing influential individuals who have been evading payment of taxes of sponsoring his (Raila's) rallies vowing that the government will insist on having all Kenyans pay up.
During an address to Members of National Assembly in Mombasa on Monday, Ruto said the government will not exempt anyone from paying taxes, adding they were aware that entities that benefited from unjust tax arrangements in past regimes were behind Raila's rallies.
He warned the powerful individuals that even if they sponsor meetings across the country, they should also meet their tax obligations like other ordinary citizens.
"We must all pay our taxes and it does not matter how many rallies those behind Azimio meetings are going to sponsor. We cannot have those who are in power exempting themselves from paying taxes while those who cannot do that, pay their taxes," said Ruto.
He claimed that Raila was pushing towards a handshake with him, but the opposition leader has denied these claims.
According to Narok Senator Ledama ole Kina, Raila has a solid plan and he has proved over the years that rivals can ignore him at their own peril.
"Raila Odinga has been in the political scene long enough and has seen several regimes come and go. What makes people in the current regime think they can dismiss him just like that? They have seen nothing yet," said Ledama.
Kitui Senator Enoch Wambua said that to a very great extent Raila has set the pace and tempo of the country's politics.
"I believe a lot still goes for him and he shall continue to play a lead role in our political engagements going into the future," said Wambua.
Political analyst Barrack Muluka does not, however, think the Azimio leader's political antics will wash this time round since the battleground has changed with different combatants and the armories are different.
"You don't fight the last war, both the style and substance of engagement must demonstrate growth and movement, for you cannot do in the digital age the same things you did in the stone age and expect to go far," said Dr Muluka.
Tharaka Nithi Senator Mwenda Gataya is also convinced that there is nothing new about what Raila is doing.
"The only thing we are missing as leadership is engaging him publicly. The best way to deplete Raila is to give him a black out as leadership," he said.
Kirinyaga Senator James Murango said that the Azimio leader has not gained any political lifeline but he has driven himself to a political dead end and made himself another unemployed politician.
"Unfortunately, unemployed politicians can only become political conmen or political criminals. It is a shame that a man whom it took 60 years to make it has been fooled to fight somebody's battles in 30 minutes," said Murango.
Although he was floored, the opposition leader kept Uhuru on his toes during his first term in office and subsequently after the 2017 election whose results were nullified by the Supreme Court and a repeat election ordered. Raila boycotted the exercise saying he could not trust the IEBC.
"We are not going to participate in the repeat presidential election since the IEBC has not demonstrated that it is ready to make changes to its personnel and operations to ensure that illegalities and irregularities that led to the nullification of the election are rectified," said the ODM leader.
He staged demonstrations against Uhuru's government and later swore himself as the People's President at Uhuru Park.
The March 2018 handshake between Uhuru and Raila changed the political landscape with the two leaders working closely together as Ruto, then the Deputy President, made it clear that he had not been consulted.
The working relationship between the two saw Nyanza region gain through the revival of several stalled projects as Uhuru involved his foe-turned-friend in many government activities.
Political pundits doubted the new working relationship but they were proved wrong when the former President endorsed the Azimio leader as his preferred successor in 2022 to the disadvantage of Ruto.
"Raila Odinga is the best candidate to take over from me as President since he has the necessary experience and reforms credentials that will take this nation to the next level. I kindly ask all Kenyans of goodwill to vote for him during the August 2022 General Election," said Uhuru.
After the 1997 presidential election, very few Kenyans could have imagined that late President Moi will work with the opposition leader who had served as the longest detainee during his administration.
Raila opposed Moi's government which earned him several stints in detention and at one point he fled the country in 1991 only to come back and contest in the 1992 General Election where he was elected as the Langata MP on a Ford Kenya party ticket.
President Moi went ahead to appoint Raila as one of his ministers after they entered a cooperation agreement which later culminated in him being made Kanu secretary general.
Raila however led a mass walkout from Kanu after Moi made it clear that Uhuru was his preferred successor to the chagrin of Cabinet Ministers George Saitoti and Kalonzo Musyoka.
A section of disgruntled Kanu leaders joined Raila in forming the Liberal Democratic Party which worked with National Alliance Party to form the National Rainbow Coalition that propelled Kibaki to power in 2002.
The ODM leader changed the political equation in the country during the 2022 elections when he endorsed Kibaki for President at Uhuru Park which propelled the long serving politician to be elected as the third President defeating Uhuru who was the system's preferred candidate.
They fell out shortly after the election with allegations that Kibaki had reneged on an agreement on the composition of Cabinet in which Raila was to be appointed Prime Minister with his key allies also left out as little known politicians became beneficiaries.
Politicians allied to Kibaki and the ODM leader engaged in a war of words with their differences playing out during the 2005 constitutional referendum where the former President supported it symbolised by the banana while the former Prime Minister opposed it symbolised by an orange.
Raila led team managed to convince Kenyans to oppose the proposed changes which forced Kibaki to reconstitute his government kicking out Cabinet Ministers who opposed constitutional reforms after which they went ahead to form the Orange Democratic Movement (ODM).
The two went ahead to compete in the disputed 2007 General Election which led to post- election violence that resulted in the loss of more than 1,000 lives and property worth billions of shillings destroyed. Kibaki was declared the winner even as Raila insisted that he won that election.
The conflict in Kenya forced the international community to intervene with former United Nations Secretary General Koffi Annan and former Tanzania President Jakaya Kikwete playing a crucial role in having Kibaki and Raila working together forming a coalition government.
"The Koffi Annan led peace talks managed to bring normalcy to a country facing the possibility of tearing apart, our grand coalition government enabled us to serve Kenyans well where I was given room to exercise my duties as Prime Minister without interference," said Raila.
Related Topics