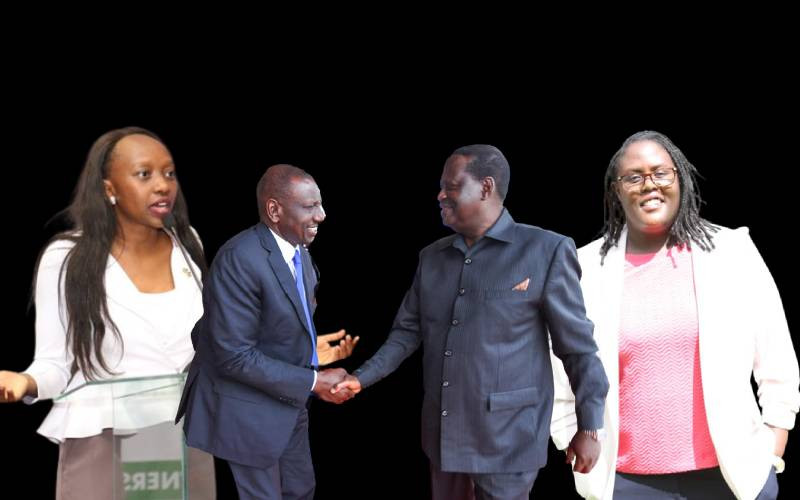 The recent actions of two women from prominent political families have pointed to their desire to follow in the footsteps of their fathers.
With big shoes to fill and decades of history-making to live up to, President William Ruto's daughter Charlene and opposition leader Raila Odinga's daughter Winnie have immersed themselves into the murky world of politics and are taking up roles with the aid of their forbearers.
Charlene recently kicked up a storm on the interwebs after she introduced her delegation in Tanzania as members of staff at the Office of the First Daughter.
She was addressing delegates at the 2022 YouLead Summit held at the East African Community headquarters in Arusha, Tanzania.
Despite her utterances attracting the ire of Kenyans who were convinced her programmes are being funded by the State, it confirmed her innate desire to take up after her father who clinched the presidency on his first try.
"The Office of the First Daughter is a private entity. It is neither a constitutional office nor is it being funded by Kenyan taxpayers. It purely facilitates the activities and programmes run by myself," Charlene would clarify later in a statement.
Youth for Kanu
Her engagements in the past two months have also betrayed her deliberate ploy to emerge as a youth leader- taking a cue from her father who made his debut in politics through the infamous Youth for Kanu 1992 (YK92).
That lobby group campaigned for late President Daniel Moi in the 1992 General Election after the repeal of Section 2(a).
She has been meeting with governors, ministers from other countries, MCAs and students from universities and secondary schools.
A fact check establishes that she has had over 40 engagements in and out of the country since October 13. Reports indicate that of these, 13 were held in Ghana and Morocco while 24 have been in 12 different counties in Kenya.
Between October and December, she met with nine governors, five deputy governors, four county speakers, one Member of Parliament and a number of MCAs.
She has also met with students from different schools, two groups of community leaders as well as an ambassador.
During the electioneering period preceding the August 9 polls, Charlene was spotted in the company of youthful leaders as they traversed the country campaigning for the Ruto-led United Democratic Alliance (UDA) party.
"It is very possible that Charlene is positioning herself to run for political office in the near future and as soon as 2027," said political analyst Tom Mboya.
"What is evident is that as the daughter of the Head of State she is positioning herself to leverage on opportunities that may arise down the road."
Then there is Winnie Odinga, the fourth and last child in the Raila Odinga family.
Politically active family
Just like her father, she was born into a politically active family and hers is a duty to further the family's legacy.
Having graduated with a political science degree in 2013 just at the age of 23, she has over the years politically re-invented herself buoyed by her father's achievements.
Raila, who is regarded as a father figure in the fight for democracy in Kenyan democracy, was one of the ardent supporters of multi-partyism in the early 90s.
He would serve time in prison for these activities on several occasions, including one stint lasting six years.
Timing is critical
After his last imprisonment, he would go on to work his way up the Kenyan political ladder, forming and combining numerous political parties, and running for president multiple times.
Despite never winning the presidency, he made history as Kenya's second Prime Minister.
Winnie was a key cog in the Azimio la Umoja one Kenya coalition party under which her father Raila contested the presidency.
She worked in the secretariat and was in charge of operations and communications.
"I made sure that everything concerning our candidate ran smoothly," Winnie said in a television interview a month after the August 9 General Election.
"We had T-shirts out on time, proper messaging and we involved the youth."
Thanks to political interactions, Winnie has also worked with five heads of State from the African continent where she has offered services in communication, strategic consulting, branding and marketing, production and analytics.
Some of her presidential clients include former President Uhuru Kenyatta, Samia Suluhu and her predecessor John Magufuli, Félix Tshisekedi (DRC), Alassane Ouattara (Ivory Coast), and Hakainde Hichilema (Zambia).
Mboya said that having grown up in the political circles, it comes as no surprise that Winnie is taking up after her father, following her election to East Africa Legislative Assembly.
Mboya said that the timing is critical as Kenya is currently undergoing a transition from old to youthful leadership.
"If both Charlene and Winnie have political ambitions it is their right to pursue them regardless of what the critics might say," said Mboya.
They seem to be following the blueprint laid out for them by their fathers and are definitely positioning themselves for one element in public service or not."
Related Topics