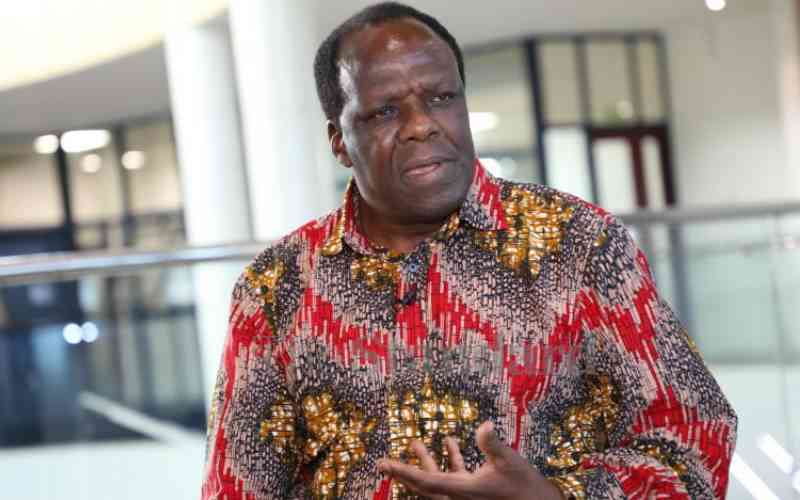 Former Kakamega Governor Wycliffe Oparanya has called attacks on President William Ruto's administration 'premature', even as he reiterated his commitment to the ODM.
The Azimio executive chair said there was nothing wrong with ODM elected leaders meeting President William Ruto in his first media interview after serving two terms as governor.
The Azimio key leader, who handed over 10 of Kakamega's 12 constituencies to ODM, said he was aware that two MPs from the party, Benard Shinali (Ikolomani) and Titus Khamala (Lurambi), met Ruto at State House to advocate for development in their respective constituencies.
He said such was "in order," and that he would do the same if he were an MP.
"It's also too early to tell if this means they've moved camp from Azimio."
Attacks on Ruto's government, Oparanya said at his Mabole home in Butere constituency, were "premature" because the government was still in its early stages.
"Attacking him at this time is inappropriate. I believe we (Azimio) should begin putting his government in check after he fully constitutes his government," he said, insisting he would be part of Azimio's attack team.
"After 20 years of active politics, I am currently politically dormant. I'm taking a two to three-year break to tie up loose ends before returning. At the same time, I will ensure ODM remains active and vibrant on the ground."
He said he couldn't leave a party he helped create after being among its "most devoted" supporters.
In an unexpected twist, Oparanya blamed government agents and a vernacular radio station broadcasting outside of western Kenya for spreading the rumour that he had resigned.
"I have never had an interview with the radio station, but it kept updating the news to my quitting, saying I pronounced myself against Raila and ODM during a burial mass of a leader who has not yet been buried," he said.
"I challenged my friends who called to provide tangible proof that I had quit, but none could. It's ridiculous because I'm constantly speaking with Raila and other Azimio principals such as Martha Karua and Kalonzo Musyoka."
The ODM deputy party leader believes the rumour started when he expressed concern about Mulembe leaders being mistreated in Azimio.
"We believe we deserve a good number of seats in both houses, even if we are in the opposition," he said.
"The truth is that we have a majority of Mulembe Nation leaders in Azimio, and that is not reflected in the positions. Another issue I raised was Azimio legislators' failure to elect a Mulembe son, Justus Kizito, to the East African Legislative Assembly.
"These issues have caused dissatisfaction among Mulembe Nation leaders."
The two-term Butere MP and Kakamega governor said he will run for president in 2027 and that if his boss Raila Odinga does not support him, he will face him in the party primaries for the position.
He also slammed Ruto for "sponsoring" the removal of four IEBC commissioners Juliana Cherera, Francis Wanderi, Irene Masit, and Justus Nyang'aya, who are accused of abuse of office during the last election.
He advised that the best he could have done is to move on as "evicting the four to place your people in the slots can cause anarchy".
Related Topics