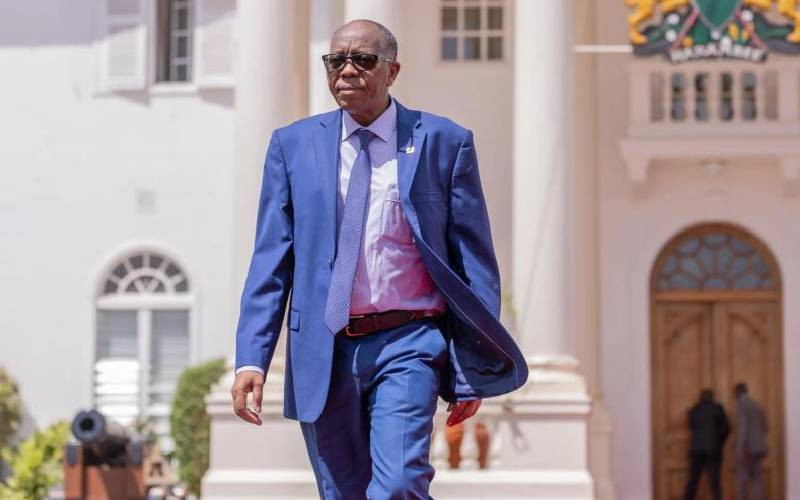 For the last 10 years, Joseph Kinyua has been at the heart of nearly every major government decision.
And as he exits the public service after an illustrious career spanning over four decades, he will be remembered more for many of the decisions, some contentious, that he made towards the end of President Uhuru Kenyatta's reign.
For example, working under the auspices of the National Security Advisory Committee (NSAC), Kinyua was accused of trying to interfere with the August 9 presidential election outcome through some of the affidavits presented in court on the presidential election petition.
Kinyua denied this.
Earlier, Dr Kinyua was again in the eye of the storm in a tussle between the Government and the Vice Chancellor of Kenyatta University over the former's compulsory acquisition of the college's 410 acres of land which the State said it planned to put into noteworthy purposes including setting up international health facilities. Lawyer Ahmednassir Abdullahi's argument in court that Kinyua had no authority to initiate or carry out activities for compulsory acquisition of public land, sums up Kinyua's enigmatic role as the Head of Public Service for President Uhuru Kenyatta for 10 years since 2013.
His decisions were sometimes questioned given the basis upon which his office was set up. Some like Okiya Omtatah, now Senator for Busia County, told the court, the position did not exist in the Constitution. As a result, added Omtatah, Kinyua had no power to exempt chief executive officers of State corporations from the 60-year retirement age and the six-year term limit.
Few understood the exact role of Kinyua's office, even fewer understood its occupant. Yet, the President's power oozed through this soft-spoken economist. He was a man of few words. Potent words. His signature in any circular was feared and revered, even by Cabinet Secretaries, just as that of the President. His word was the President's word.
The word could be reprimanding his superiors, or even in the case of the then Deputy President William Ruto, allegedly refusing to grant the Government's second-in-command permission to leave the country. In August 2021, the then DP's Communication Secretary David Mugonyi said Ruto and his team had arrived at Wilson Airport ready for a trip to Uganda but were advised to seek clearance from Kinyua.
"When he got to the airport, he (Ruto) was asked to seek clearance from Kinyua. We are surprised. This has never happened in the last nine years," said Mugonyi at the time.
No wonder some people have described him as the most powerful unelected official. But Gerrishon Ikiara, the former Permanent Secretary for Transport in President Mwai Kibaki's government, has a different view.
"He was not powerful. He only implemented what the President wanted," said Ikiara noting that often times Kinyua had the president's ear.
As the Head of Public Service who, at first doubled up as the Chief of Staff before it was hived off and given to Nzioka Waita, Kinyua took instructions directly from the President. He ran the Cabinet Office which communicated executive decisions, handled the critical docket of supervision and coordination of ministries and departments. All this while, the 70-year maintained a critical link with the public. Officially, he was the Secretary to the Cabinet. But the truth is that he was the Secretary to the President.
"He didn't want to come off as a yes-man, and so he would occasionally advice the President on a number of policy issues", said Ikiara.
Yet his advice to the head of State had to be delivered diplomatically, lest it be interpreted as though he was contradicting his boss. Mr Kinyua does not seem to have left with a long face. It's not just complex economic issues such as fiscal consolidation that Kinyua knows well. As it emerged at State House recently when Ruto struggled to remember the name of someone he had appointed, Kinyua is also a repository of such mundane things as names of public servants. After all, he is the Secretary to the Cabinet.
Of course, being former President Uhuru Kenyatta's confidante, the bad blood between his boss and his deputy might blot what would otherwise have been an illustrious career. But the friction, if it is there, did not look palpable when Kinyua oversaw the swearing in of his successor on Thursday.
"I thank you ... and your predecessors for according me the privilege to serve in four successive administrations and in yours as well. It has been a profound honour and a humbling journey," Dr Kinyua told President Ruto.
Dr Ruto too had nice words for Kinyua for ensuring that there was a smooth transition after the August elections.
"Mr Kinyua has made this transition seamless. He has worked with me to make sure Kenya gives an example of what transition looks like," said President Ruto.
Unlike some of Uhuru's 'political orphans', leaving the trappings of power was Kinyua's wish. As far as back as 2016, the former Permanent Secretary at the National Treasury wanted out. But his boss needed him around for a little longer, at least until after the 2017 elections, Uhuru is said to have told Kinyua, whom he retained for another five years. But having been a public servant for 42 years- probably the longest serving public servant after the current chairperson of Kenya Revenue Authority Ambassador Francis Muthaura- it was time to hang his boots.
After a stint as an assistant lecturer at The University of Nairobi in 1978, Kinyua joined the Central Bank of Kenya as a chief economist two years later.
Bar for a short stint at the International Monetary Fund (IMF) in Washington, USA, Kinyua has been a career civil servant. Before Uhuru handpicked him as his head of public service, he was the Permanent Secretary at the National Treasury in the late President Mwai Kibaki's government. He also served in the ministries of planning and agriculture in the same position.
But this office, which has been retained by President Ruto by appointing Felix Koskei, has not always had it easy. Kinyua, sources at State House told The Sunday Standard in an earlier interview, is "a workaholic and incorruptible, and has remained frugal- not one to waste State resources. Even as his colleagues immersed themselves in flamboyance, he surrenders his government vehicles on Fridays and uses his private cars on weekends."
On being accused of occupying an office that was not in the Constitution, Kinyua said the supreme law empowers the president to establish an office in the public service with recommendation from the Public Service Commission. Omtatah had also accused Kinyua of usurping the powers of PSC by issuing the circular that sought to exempt heads of parastatals from retiring at the age of 60 years and the six-year term limit.
Kinyua responded by noting that the roles of the Head of Public Service and that of PSC were different. Those who know Kinyua talk of a man that is calm, decisive and highly experienced.
"He is a very honest man, very polite. He is somebody you can trust with an assignment. He will do it professionally," says Ikiara who worked with Kinyua both at the University of Nairobi and government.
Related Topics