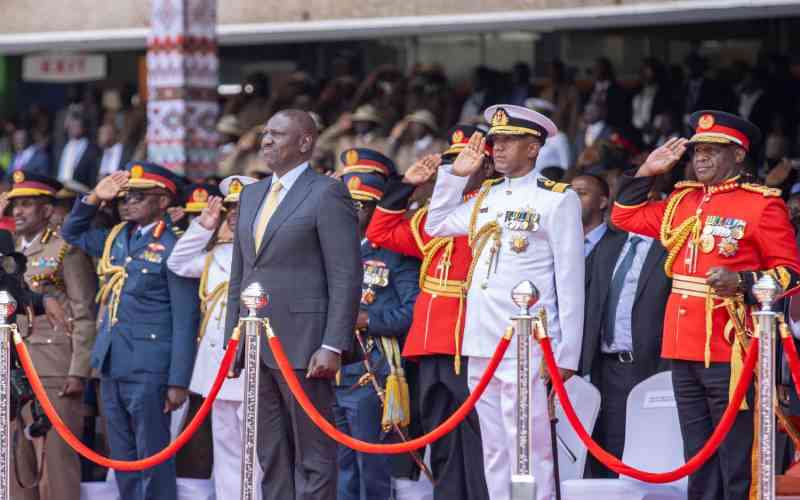 For roughly 10 seconds that President William Ruto held up the ceremonial inauguration sword, he took time to bask in the adulation of the 60,000-strong and rapt crowd.
The Kasarani Stadium "skies" simultaneously opened up, giving way to confetti showers as Ruto's face lit up with a beaming smile, momentarily negating all troubles that had gone into making yesterday a reality.
This was a culmination of 30 years. It was a climax for a journey that had started with a greenhorn political activist, who was now holding the symbolic sword, declaring to the world that he is now the Commander-in-Chief of the Kenya Defence Forces (KDF). Just four months shy of his 55th birthday, the village boy is now the fifth President of Kenya.
Looking on was his immediate former boss and outgoing Commander-in-Chief President Uhuru Kenyatta whose body language told of a happy man eager to handover the reins.
Immediately after Uhuru handed over the instruments of power - the Constitution and ceremonial sword - his aide de camp swiftly glided behind him and stood behind the new president. And the power handover was complete. Days of hard campaigns and anxiety were over. Only then did President Ruto take the seat as Head of State.
The mood inside the stadium was jubilant. Supporters donning the yellow, green and black colours of the ruling United Democratic Alliance (UDA) party and carrying miniature national flags filled the stadium terraces and cheered wildly as the new president was sworn into office and received a 21-gun salute.
Thousands had arrived as early as 5am and waited outside. Some overwhelmed police and streamed in. Helmeted security forces kept vigil at all the stadium's entrances.
Instead of volleys of teargas to contain the charged crowd outside, security forces used batons atop horses.
Prior to the swearing-in ceremony, the military band, Maroon Commandos, belted out classics that kept the over 20 invited African heads of states entertained. The thousands in the terraces swayed with the music. Many more followed proceedings outside the stadium.
The heads of state and government had travelled from Uganda, Somalia, Tanzania, Rwanda, Seychelles, Burundi, Malawi, Guinea Bissau, Comoros, DRC, Congo Brazaville, Sierra Leone, Zimbabwe, South Sudan, Mozambique, Sahrawi, Djibouti and Ethiopia, among others.
Delegations from South Africa, United States, Iran, Nigeria, Egypt, Gambia, and India were also in attendance. Others were the African Union Commission, East African Community (EAC) and Intergovernmental Authority on Development (IGAD).
And at exactly 11:45am, the coordinated arrival of President-elect William Ruto, later followed by outgoing President Uhuru Kenyatta set the stage for transition of power.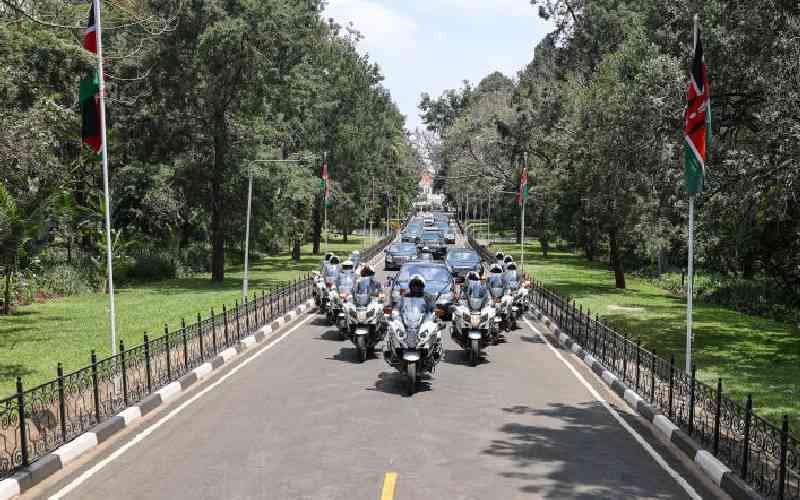 As Ruto entered the parked stadium a few minutes after his Deputy Rigathi Gachagua, Uhuru left State House and got to the venue 15 minutes later. In a single file and accompanied by their spouses, they shook hands with the guests and exchanged pleasantries.
And when Chief Justice Martha Koome stood up to set the stage for Ruto's swearing-in, her invocation of the fifth president's name sent the crowd wild.
"I, William Samoei Ruto, do swear that I will be faithful and bear true allegiance to the Republic of Kenya; that I will obey, preserve, protect and defend this Constitution of Kenya as by law established and all other laws of the Republic, and that I will protect and uphold the sovereignty, integrity, and dignity of the people of Kenya, so help me God," Ruto said with his hand on a bible that had twice been used to swear in President Kenyatta in 2013 and 2017.
"Standing here today is testimony that there is a God in heaven," President Ruto said after the oath.
In his speech, Dr Ruto spoke of Kenya's mature democracy and promised a myriad economic interventions to spur development and lower the cost of living.
They include lowering cost of fertiliser, job creation and establishment of the Hustler's Fund, among others.
Ruto then boarded the ceremonial Land Rover where he gave his first lap of honour, heralding more to come in his five-year tenure.
Earlier, Gachagua prophesied of a new regime that will not victimise its people and one that will give equal opportunities to all.
He had earlier lit up the stadium with laughter after he wrongly read his oath, necessitating a second take.
"Kindly repeat after me... let's take it again Mr Deputy President," repeatedly said Chief Registrar of the Judiciary Anne Amadi.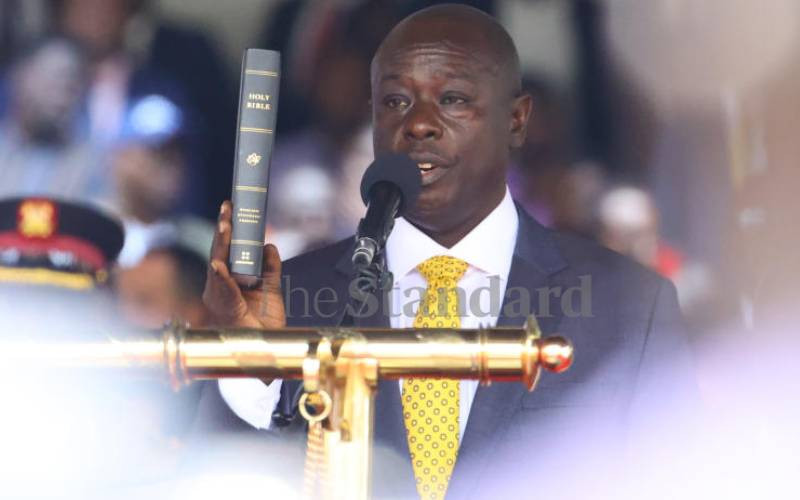 Then there was hoisting of Ruto's yellow standard as Uhuru's was lowered. Ruto's was yellow in colour and bore the image of a wheelbarrow - the icon of his UDA party.
Those in attendance expressed mixed reactions. "The minute you lower the cost of fertiliser for both maize and tea, which are staple Kenyan crops, then you have undoubtedly set the country on an economic recovery path. I'm happy that the president has his priorities right," said Mugo wa Kamau, a farmer.
Leon Gichana was most pleased by Ruto's pledge to establish the Hustler's Fund. He was, however, displeased by Deputy President Gachagua's "combative address".
"I feel that DP Gachagua is yet to transition from the campaign mindset to understanding that he is now in power. He should now stop political attacks," he said.
Mercy Cherono said, "As a nation, we thank Uhuru for the 10 years of leadership. We are however hopeful that Ruto will outperform the former president."
Related Topics