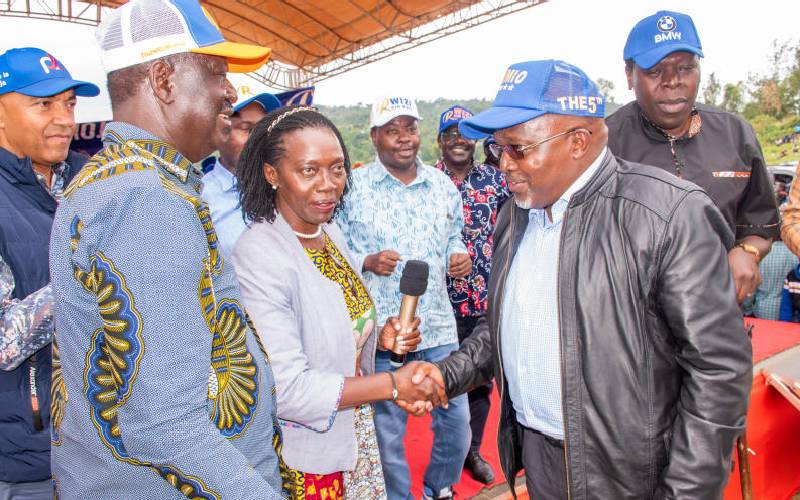 Former Cabinet Minister Kipruto arap Kirwa says he had no option but to quit Deputy President William Ruto's UDA party.
In an interview with The Sunday Standard, Kirwa claims lack of consultation in decision-making and micromanagement of party processes, prompted him to leave.
Kirwa claimed the National Executive Council (NEC) was sidelined in making key decisions that fell within its mandate.
"We could be summoned in the evening for a breakfast meeting in Karen where names would be read out, proposed and endorsed, yet the task of undertaking that process should have been done by the council," says Kirwa.
He also questions selection of the elections board, a team that was to be interviewed and selected by NEC.
"We were called one morning for breakfast and in the midst members of the election board were introduced and after breakfast we passed a resolution," says Kirwa.
While he does not doubt the capacity of the board members whom he describes as "good Kenyans", Kirwa, 65, says he was rattled by the manner in which they were appointed.
At that point, Kirwa, who has been in different political sides with the DP in the last four elections, admits to not raising the issue with his boss. He says he thought the decision could have been made due to time constraints or other emergency factors.
Next came the nomination of candidates in his home county of Trans Nzoia.
Kirwa regrets that some "busy bodies" took charge of the process and picked candidates in Cherangany and Saboti among other areas without consultation.
"My word could not have been final but it could at least have had a bearing on the decision, but they ignored me," he says.
At that point, the former minister began realising that he may not have a role to play in the young party.
Kirwa also takes issue with the manner in which the running mate for the UDA governor candidate in Trans Nzoia Chris Wamalwa was made.
In that county, there exists a silent agreement honoured since 2013, that the governor comes from the Luhya community, the senator from Sabaot and deputy governor from Nandi.
A number of candidates were interviewed and ranked by Nandi elders in a process Kirwa says was transparent and above board.
Some splinter group allegedly dashed with the name of the candidate who emerged third to a top leader within the coalition and was "endorsed" for deputy governor slot.
"I raised the issue and told them this may become a point of departure but again I was ignored," he says.
UDA secretary general Veronica Maina said Kirwa had an opportunity of raising his issues internally, and now that he had left he should not concentrate on UDA affairs but instead pay attention Azimio where he moved to.
"As a party, we feel bad when we lose a member, Kirwa... it is unfortunate that he left. He had the opportunity to bring up his issues at the party structures, the issue of claiming that the party has no democracy is vague because democracy does not operate in a vacuum," said Ms Maina.
Maina said that to be in whatever party was a conscious decision that one makes and once they make that choice, they should abide by it and make peace with it.
The last straw for Kirwa was the picking of Rigathi Gachagua as Ruto's running mate, after opinion polls, according to the former minister, showed he was not among the top three.
When a vote was taken by over 30 MPs, only five picked Gachagua while 27 voted in favour of Tharaka Nithi Senator Kindiki Kithure as running mate.
He argues that in any democracy, a ticket should be balanced for the two candidates to complement each other "the two are almost of similar in character".
Kirwa describes Ruto and Gachagua as go-getters but argues that in politics it is not what you get but about building consensus with people and other leaders.
He says he became concerned, not because he feared that they may lose the election, but he just wanted to be on the right side of politics, because the country is bigger than, Ruto or Raila or himself and other politicians.
The following day, as if to confirm his fears, Raila unveilled Narc Kenya leader, Martha Karua, "a seasoned politician with gravitas and a person I had worked with for 15 years" as his running mate.
"I said should I just keep quiet but after some consultation I realised the conflict inside me was going to affect my ability to perform and that is why on that Sunday, I decided to join the Raila team," Kirwa says.
Kirwa was born in the Butiama region of Tanzania in 1957, but his family relocated to Trans Nzoia, in 1972.
A trained teacher, he taught in several schools before he resigned to try his hand at politics after Cherangany MP Masinde Muliro lost his seat through a petition.
He was elected in the by-election held in 1989 after he was endorsed by President Daniel arap Moi instead of the petitioner Philip Rotich.
Although he was seen as a government project introduced to frustrate Muliro, he quickly endeared himself to the electorate and worked closely with fellow MPs Kijana Wamalwa, Wafula Wabuge, George Kapten and Noah Wekesa in Trans Nzoia District.
He served as the MP for Cherangany for approximately two decades and also became assistant minister for Agriculture during Moi's tenure.
He joined President Kibaki's Narc government in 2002 where he served as the Minister for Agriculture until 2007 when he lost the elections to ODM's Joshua Kuttuny.
He holds two master's degrees and is pursuing a PhD in international studies.
Some serious allegations have been raised about your departure from UDA?
Yes I have been made aware of a post on a Facebook account under my name and picture, accusing the party of selling nomination tickets and citing it as one of the reasons I quit.
It is fake because I don't have a Facebook account.
They are saying UDA sold tickets and that there were no nominations?
I'm not aware of anybody selling tickets and the people pushing that narrative are just mischievous.
The account has my name and photo, but they erroneously say I hold a Commander of the Burning Spear (CBS) medal, yet I have the Elder of the Golden Heart (EGH), which is higher.
Did you quit because of personal reasons?
I left the party because my conscience and principles could not have allowed me to continue when it appeared I was not needed.
Why didn't you raise the issues with other principles like Musalia Mudavadi or Moses Wetang'ula if Ruto was not listening to you?
I could have been accused of being malicious. Because of protocol, I could not have gone to the other leaders because he was my party leader. And since I come from Trans Nzoia, they could have accused me of spreading "fitina" among his Luhya friends.
Would you say ANC and Ford Kenya created a big impact when they joined?
I believe there are no small or big parties and that is why I was so excited when ANC and Ford Kenya joined UDA late last year.
Now that you have left, how do you rate Mudavadi and Wetangula's future?
I sympathize with Musalia because he is a man of tremendous reputation because I don't know how his future will be. He is a faithful man whose word is his deed. Wetang'ula is a shrewd player, and a survivor who can bolt out or negotiate his position in any situation.
You have known Ruto for many years. Are the issues you are raising surprising?
The deputy president is no stranger to me, because he was in YK in 1992 with the likes of Cyrus Jirongo and Fred Amayo among others, when I was an assistant minister.
I remember him visiting my office to ask for support because he wanted to vie for the Eldoret North parliamentary seat in 1997.
We used to have good consultations and even worked briefly together in the UDM party and joined the Muungano wa Mageuzi reforms movement.
What is the future of UDA?
It will be a strong contender because of the principle of bottom up which is directed at improving the welfare of the common man.
However, I fear that the party we believed could reduce ethnic tensions and hostility will either dissipate or run into problems unless institutions are strengthened to manage it better.
What makes you comfortable in Azimio?
The team I worked with during President Kibaki's first term among them Karua and Dr Mukhisa Kituyi are all there making me feel at home.
Karua's influence was enormous not because she is a woman but because she is a leader of integrity and a performer. Somebody who has stood her ground for the betterment of the country.
What would you say to critics from Rift Valley who are saying Kirwa is a sellout?
They are entitled to their opinion, but coming from the same community does not stop me from seeing certain trends that are dangerous.
Related Topics