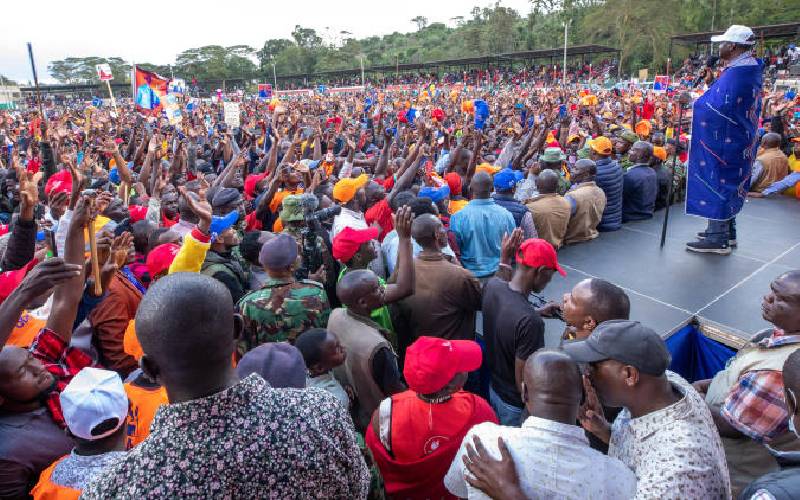 Azimio la Umoja One Kenya Presidential candidate Mr Raila Odinga yesterday reignited the Mau Forest debate that cost him Rift Valley votes in the 2013 General Election.
Mr Odinga, who for two days camped in Narok County, took credit for the conservation of the Mau Forest.
Yesterday Mr Odinga and his running mate Ms Martha Karua attended a service at KAG Church, Loita, before they addressed a rally at Narok William Ole Ntimama Stadium.
He promised to continue championing conservation of Mau and Loita forests. "I fought for conservation of the Mau Forest with the late Ntimama. People had invaded the forest and had declined to leave. I asked them to leave and they vowed never to vote for me. I told them I better go and sell mandazi in Kibra, and have the forest protected. They did not vote for me, but Mau has been protected," he said.
In apparent reference to Deputy President Dr William Ruto's Kenya Kwanza Alliance, Mr Odinga said voting for them would lead to a drawback in achievements made. "They are waiting to have their man get to government and they will be back to the forest land. We protect, they destroy," he said.
Responding to concerns by a section of Narok leaders that the Maa community had been sidelined over the years, Mr Odinga said Kenyans would start seeing change in the first 100 days of his government. The leaders had said they opposed plans to demarcate Loita Forest land and sought a border post.
The Loita land dispute has lasted more than 20 years, with locals differing over the manner of its subdivision while others oppose demarcation.
Mr Odinga's decision to revisit the Mau issue is seen as a huge political gamble that could determine the Maa support for him or Dr Ruto.
The Azimio leader was accompanied by Environment CS Mr Keriako Tobiko, Kitui Governor Mrs Charity Ngilu, Nairobi Governor Ms Ann Kananu, Narok Senator Mr Ledama ole Kina, Narok North MP Mr Moitalel ole Kenta, Nyeri Deputy Governor Ms Caroline Karugu and Gender CAS Mrs Rachael Shebesh.
Others were MPs Mr Junet Mohamed (Suna East), Mr Gideon Konchellah (Kilgoris), Ms Naisula Lesuuda (Samburu West), former Gatanga MP Peter Kenneth, and former Westlands MP Mr Fred Gumo, among others.
Ms Karua said the Azimio government would ensure equity. She said Mr Odinga had been fighting for the rights of the Maa community and that his focus was to serve Kenyans.
The Narc-Kenya leader promised to champion women and girls' rights. She said proposed demarcation of Loita land should wait until after the elections to avert chaos.
She assured the Maa community that their land would be protected by the Azimio government.
"Between team Karua and Raila and the other team; who can you entrust. You all know an animal is identified by the sound it makes and it's walking style, but a human being is identified and known for his deeds," she said, adding that Mr Odinga was a selfless leader who had been fighting for the rights of Kenyans.
She said Mr Odinga rallied behind former President Mwai Kibaki (deceased) in 2002 to unite Kenyans, and in 2017 his handshake with President Uhuru Kenyatta was for the sake of peace in the country.
"You vote for Raila and your issues will be considered first. Look at his record. Some have had chances in government and nothing tangible can be seen from them except corruption following them everywhere," she said.
Ms Karua urged Narok residents to make the right choices just as a parent does when deciding which child to entrust with money and send to the shop. "Ours is the best team. You all know this lady (Ms Karua) is no joke during work hours and being Raila's deputy we will work to change your lives. Vote for us, we will work for you," she said.
Ms Karua exuded confidence that Azimio had overwhelming support in the Mt Kenya region.
Mrs Ngilu assured Narok residents that Mr Odinga and Ms Karua would protect their land and forest and claimed that their political competitors would steal the same if elected. She urged President Kenyatta to order the Land CS not to address the Loita land matter until after the right government takes over. "They (political rivals) are moving around aboard choppers to survey what to steal," she claimed.
Mr Kenta, the Narok governor aspirant, said the Maa community would rally behind Mr Odinga and Ms Karua. He said Loita, the heart of Maa community, had been sidelined.
Mr Konchellah said Mr Odinga understood the Maa community problems and thanked him for picking Ms Karua as his running mate.
Mr Ledama said Mr Odinga and Ms Karua would fight corruption until Maasai get what is rightful theirs. "We have over 1 million votes and we assure you of our support. Remember us and give us 10 per cent in government when elected," he said.
Mr Kenneth said they would work to bring down the cost of living. He said the Narc-Kneya leader was no push over and should not be underrated.
Related Topics