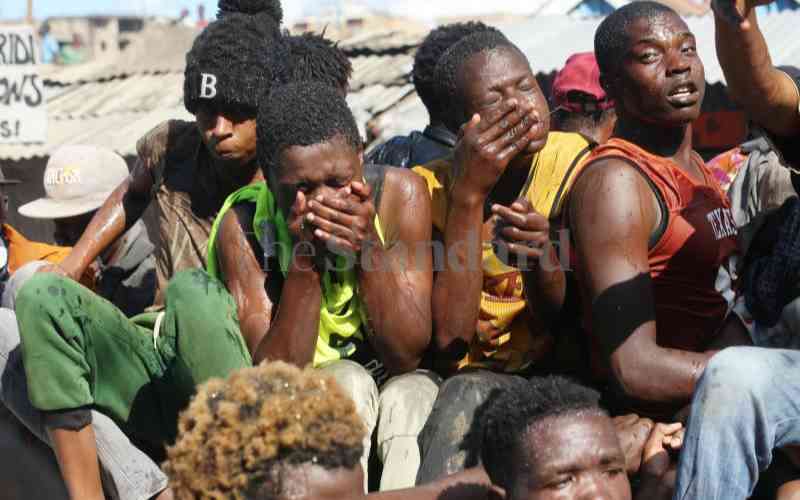 Let us ignore, just for a moment, Majority Leader Kimani Ichung'wa's toilet politics-he claims no one can access former Prezzo UK's toilet, just like that-and he says so with such vehemence, he could break at the seams.
Perhaps when one's in that state, he'd often think of toilets, especially following a heavy bout of verbal diarrhoea, just a week earlier, when Ichungwa spewed a diatribe against "none other than Uhuru Kenyatta."
That's our former Prezzo UK and whom Ichungwa warned would "pay a price," before specifying the form and shape of his retribution: It would involve invading Prezzo UK's mashamba (farms), if he continued to sponsor anti-government demos, as alleged by Ichungwa.
This came to pass on Monday, when some 2,000 goons descended on a Kenyatta family land in Kiambu county and carted away some 1,500 goats and sheep in broad daylight. Most of the livestock were sold in a makeshift market by the roadside before the goons returned for more, cutting down trees and ultimately razing down the place.
Police took 24 hours to respond. Kenyans see this as complicity, as the Kenyatta property is well within reach by the officers based at the nearby police stations and camps, or even soldiers domiciled at the nearby Kahawa barracks.
All this while, Prezzo Bill Ruto was away in Europe. I resist the temptation to read his absence as happy coincidence, so to speak, as the mayhem raged in Ruiru. As Prezzo is wont to say, Kenya kuna upungufu wa wajinga, meaning ours is not a fools' paradise.
In any case, Prezzo Ruto left his able Deputy Riggy G in charge, and it would be hard to imagine that the mayhem witnessed this week is his idea of order. In the absence of any rational explanation for the police ineptitude, despite Ichungwa's ominous warning, let us imagine possible scenarios that may have militated against their swift action.
Firstly, the goons were probably not ordinary thugs but experienced cattle rustlers who have relocated to the city to escape the Kenya Defence Forces onslaught in Pokot, Marakwet and other remote reaches of our land.
Secondly, their choice of Northlands, the abode of the Kenyattas, was not actuated by malice but by its strategic location that ensured easy and swift access to the livestock market. As many Kenyans saw on TV, many motorists stopped by to pick a goat or two, before driving on.
One unintended consequence of this is that hustlers, to use the political term in vogue, had their domestic budget subsidised with the good supply of cheap, but high-quality mutton. The only drawback is that many of them might not have fridges to shore up their reserves, or even cars to have driven to the goat market at Northlands.
That does alter the argument somewhat; if someone was stoking class wars by stealing from the Kenyattas to feed the masses, those who secured the Northlands goats on Monday (I'm avoiding labelling them thieves) did not receive the desired cushioning. But again, if one eats plentiful of meat from well-fattened sheep, they might not need to eat for a long, long time.
As for the police absence from the Northlands grounds, I do not think they had a sinister motive, like teaching Prezzo UK a lesson, whatever one would hope to teach a man in his 60s. I suspect they were simply overwhelmed, with most of the officers deployed to the library to look for file pictures to illustrate their reports on the Azimio protests.
And when Northlands images surfaced online, the police mistook them for post-poll pictures from 2008, which explains why they did nothing at all. Verdict: Blame Kenyans on Twitter for "confusing" police!
Related Topics