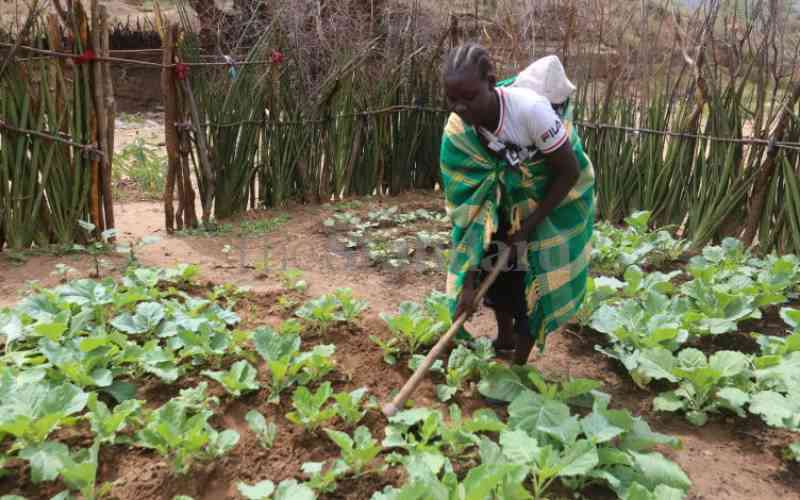 The intensity of climate change-induced disasters continues to increase in Africa while thousands traverse the unprecedented shocks caused by the impacts of climate change.
One of the sectors hit the most is agriculture. It is also the most reliable and highest in generating revenue. According to recent figures, agriculture is expected to raise US$280 billion this year while the prediction estimates it to reach US$1 trillion by 2030.
But what will be the driving factor for Africa to be the most agricultural-productive continent? To reach that threshold, agriculture should be at the centre of climate adaptation plans that help farmers and other agricultural systems alleviate and respond adequately to challenges induced by climate change.
It is important to introduce climate-resilient crop varieties suited to regional climatic characteristics such as drought-prone areas, or wet-prone areas. For many years, change in weather patterns, soil erosion and poor environmental protection has affected healthy soil.
This is in addition to pests that have been ravaging crops affecting the agricultural yields. African governments and development partners must support and promote crop rotation and diversification to lessen the impact of pests, crop diseases, and adverse weather events.
Though pests and diseases are among the key challenges, dependency on rain-fed agriculture has become a niggling problem. Irrigation technologies and rainwater harvesting are proposed solutions for continuous food production.
Africa has approximately 60 per cent of th world's uncultivated land only 6 per cent of its total surface representing slightly more than 13 million hectares is irrigated as statistics by AGRA indicate.
The investment by governments and private sector in irrigation technologies with a preference for solar-power should be used to step up food production and adaptation to the changing climate.
In relation to irrigation systems, it is important to have a look at agriculture and farming infrastructure in African countries. The IPCC WGII report, through the Africa Chapter, has indicated that agricultural productivity has reduced by 34 per cent since 1961 due to climate change, more than any other region.
A recent example of Cyclone Freddy, which affected countries such as Malawi and Madagascar, has left a huge loss in agriculture infrastructure. And in the face of harsh climate events, countries should invest in modern farming, sustainable and affordable equipment, smart agriculture technologies and infrastructure to allow smallholder farmers embrace the change.
The use of technologies should not exclude agriculture extension services. This includes provision of timely, well-translated information on agriculture, weather and climate information to farmers by national meteorology agencies. Research in agriculture practices, soil and crop adaptabilities, policies and agriculture programming should be part of Africa's response.
-The writer is communications and knowledge manager at PACJA
Related Topics