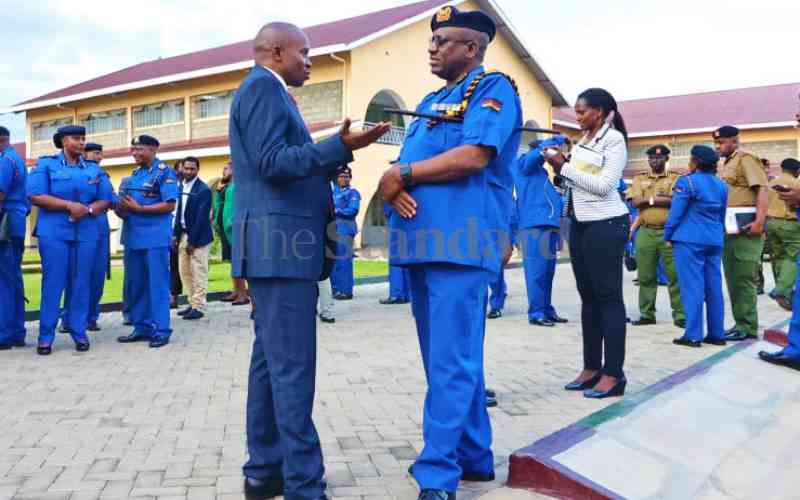 The deployment of a specialised multinational police force under Kenyan police commanders to troubled Haiti took a step forward this week.
What might our police officers face and what lessons might they learn from the last six months of responding to our own civil strife and maandamanos?
On the margins of the United Nations General Assembly, Haitian Cabinet Minister Jean Victor Génus and Foreign Affairs CS Alfred Mutua in the presence of Prime Minister Ariel Henry and President William Ruto, signed a cooperation agreement this week.
Central to this agreement is Kenya's aim to deploy 1,000 police officers to head a policing and stabilisation operation in Haiti. While public safety and stability of the Haitian state has been of concern for decades, world attention was pricked by the daring 7 July 2021 attack that assassinated President Jovenel Moïse in his home.
Some 40 suspects including 18 former Colombian soldiers remain in remand, but the case has stalled. Last month, the Haitian Office of Citizen Protection expressed real concerns that delayed justice fuels further lawlessness and impunity.
Over the last year, criminal gangs have seized 80 per cent of the capital city Port au Prince.
With only 10,000 police officers to protect 11 million citizens and 400 police stations abandoned due to safety concerns, over 2,000 people including 30 police officers have been killed.
Over 1,000 women and girls have been raped or sexually assaulted, and a similar number kidnapped. Some 190,000 people have fled their homes and cholera is rife. Haiti has descended into hell.
It is in this context that UN has called for a capable specialised multinational police force, and I would like to think, the Kenyan government has offered to participate.
Unfortunately, the request comes at a time public faith in our police is at one of its lowest.
Five months of violent protest policing this year has left over 50 dead and 100s injured. With no commission of enquiry, apology by the Head of State or a public statement of lessons learned, it is difficult to have confidence in what might happen in Haiti.
The still outrageous declaration by the Police Inspector General that bodies had been imported by the opposition remains un-retracted.
It is moments like these that continue to fuel that Distressed yet Defiant: A Citizens' Scorecard on the First Decade of the Constitution poll finding that Kenyans fear the police twice as much as they fear poverty.
That Haiti needs continental and international solidarity is incontestable. What we must demand is that the mission is guided by clear, mandatory, and enforceable parameters that prevent the use of excessive and lethal force, corruption, and sexual exploitation.
Haiti neither has a strong media, civil society or an Independent Policing Oversight Authority empowered to oversight the proposed force.
The UN must introduce an UN oversight mechanism accessible to Haitian complainants. There must be accountability, access to justice and remedy for victims of abuses. All this must be put in place prior to deployment and announced publicly.
Given Kenya's policing human rights record, close assessment of all the commanders not just the experienced Deputy Inspector General Noor Gabow who led the assessment recently, is necessary.
Given Haiti's volatility, we must carefully consider how to protect lives of the Kenyan officers who take up this assignment.
Rumblings of discontent with "an occupation force from the land of our ancestors weaponised by old slaveholding powers (i.e. US)" have started already.
Haitians deserve a human rights-based policing mission. They have suffered enough violence. While Kenya has a successful history of police stabilisation and policing support in Sierra Leone, Liberia and Somalia, our officers, linguistically ill-equipped in a French and creole speaking country, must not be placed in harm's way.
What ails Haiti is not only crime, but an economic crisis, poverty, and a collapsed democracy. As the UN seeks to restore safety, perhaps it should compel the US to stem the flow of narcotic drugs, weapons and ammunition to criminal gangs as well.
Related Topics