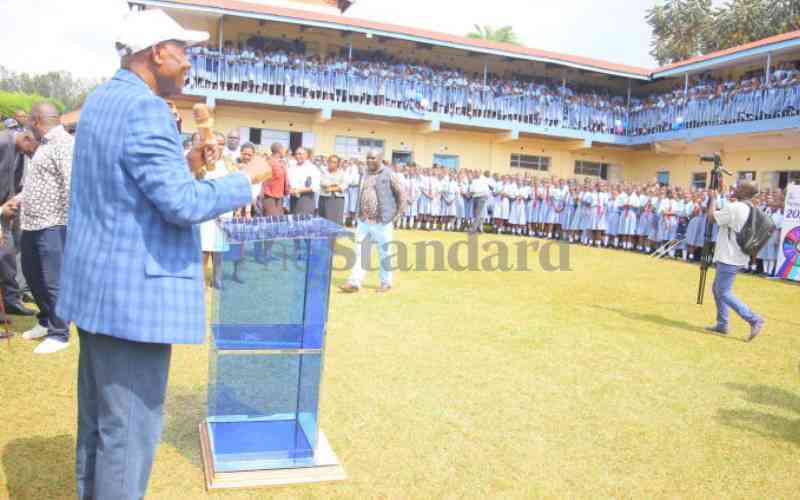 The Ministry of Education and the Teachers Service Commission (TSC) must move with speed and address the runaway breach of government guidelines, largely attributed to abuse of acclamation, as a way of endorsing issues.
Headteachers have thrown reason to the wind and are in business, subjecting parents to unnecessary financial demands in the guise that it is the parents who have nodded in agreement, to the calls to fleece them.
The increasing cases of bright but needy students who cannot afford to transition to Form One without appealing for help from well-wishers and the public have been made worse this year by head teachers who have turned Form One admissions into a money-minting opportunity.
This is after they looked the other way as the government warned them against charging way above the stipulated school fees and going further to impose additional levies. Parents admitting learners to schools were confronted by additional charges that are nicely packaged as money for projects approved by the Ministry of Education.
"The Ministry State Department of Basic Education approved the parents' project of construction of a dormitory. The amount Ksh. 10,000 is payable to the PA main account Equity Bank," the admission letter for one of the schools, indicated and the account number that is different from the one for school fees is provided.
Despite the clarion call by the Cabinet Secretary for Trade Moses Kuria that parents be allowed to purchase uniforms and other school items from their preferred supplies, head teachers went ahead and indicated in the admission letters that some of the items will be purchased from a supplier who will be in school.
The items were expensive compared to retail prices in supermarkets and other retail outlets, yet the supplier was expected to take advantage of economies of scale and dispose of them at wholesale prices.
In a circular dated February 8, this year, Education Principal Secretary, Dr Belio Kipsang revisited the issue of charging illegal levies, drawing the attention of Regional, County and Sub-County Directors of Education to regulation 44 of the Basic Education Act, 2013, which states that "No public school or institution shall issue alternative structure other than those approved by the Cabinet Secretary."
Government policies and directives are meant to be adhered to, to promote a seamless, orderly and structured working environment. Authorised officers should not sit and wait for parents to complain over what they could have prevented, in the first place.
They should not sing and dance to the tunes of acclamation and turn a blind eye to cases of teachers deviating from their call to duty and embracing a culture of being record keepers of the illegal levies.
The idea of teachers waiting for parents with an exercise book to record those who have paid for motivation fees, shaving charges and remedial classes fees is an absurdity. They are hired to teach and not to collect money. There is a reason the school has an accountant commonly referred to as a bursar to handle all financial matters.
The usually reluctant approval of the illegal levies, which is usually orchestrated by a handful of predetermined parents and pushed down the throat of the rest of the population is a con mission that the relevant state departments cannot pretend to be unaware of. A child who reports to school well-shaven can comfortably stay up to mid-term without the need for a barber. Let parents appreciate teachers or pay for the remedial classes at individual level but not through a standard fee that is paid religiously, each term.
What if all public servants and other employees were to demand for a token of appreciation to deliver quality services? The country will radically delve into widespread corruption. The curriculum developers usually ensure the curriculum fits into the learning cycle so that teachers can complete it within the school calendar.
This explains why Education Cabinet Secretary Ezekiel Machogu reminded schools that learning starts from 8 o'clock in the morning to 3.45 o'clock before learners step out classrooms, for extra-curricular activities.
But, teachers have perfected the game of intimidating parents that their children need to study for long hours under the care of none other than teachers, to post impressive grades.
This must stop, to save parents a stressful educational trip that risks exposing some to health complications as they struggle to meet their children's educational needs.
-The writer is a parent who comments on topical issues. Email:[email protected]
Related Topics