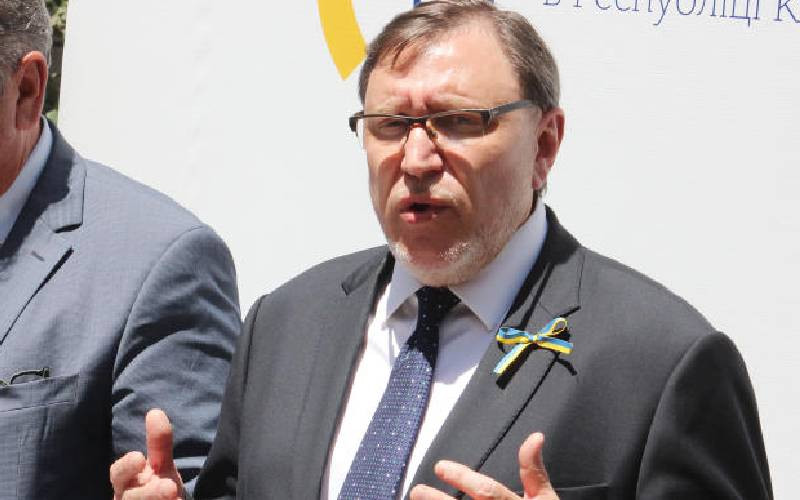 The Russian full-scale invasion of Ukraine started on February 24, 2022 with missile strikes in the capital Kyiv and other major Ukrainian cities.
This invasion began after Russian President Vladimir putin said in a televised address that he had approved a "special military operation". The move came after Moscow earlier recognised rebel-held areas in Luhansk and Donetsk regions as "independent entities" and said they had asked for "its military assistance".
Ukrainian citizens woke up to devastation and death that morning. Cities across the country were hit with shells overnight, with harrowing pictures showing bodies on the streets and residential buildings destroyed.
This unprovoked aggression is an unprecedented breach of international law since World War II. As a result of this barbaric and brutal Kremlin war, millions of Ukrainians were left without electricity, water, and heating. About 8 million Ukrainians were displaced within their country and almost 8 million fled Ukraine. The war has unleashed a devastating humanitarian toll and claimed thousands of lives.
For almost a year, Russia is continuing its bloody terror by shelling Ukrainian cities, striking civilians and critical infrastructure, in particular the energy one.
Since October 10, 2022, Kremlin's minions resorted to the bloodiest phase of their atrocities, launching unprecedented massive missile attacks over all territory of Ukraine. The enemy has been attacking Ukraine from various directions with air-and sea-based cruise missiles from strategic aircraft and ships and also using kamikaze drones.
Beginning this year, Moscow unleashed a new wave of major attacks on Ukraine, by far one the war's deadliest. One of the tragic results of these devastating attacks was a missile hitting a nine-storey apartment block in Eastern Ukrainian city Dnipro on January 14 with a 950kg warhead, which is designed to destroy aircraft carrier groups at sea. As a result, at least 44 people died (including five children), 47 people are considered missing and 79 people, among them 16 children, were injured.
All these inhuman, barbaric actions of the Russian military show that the Kremlin, despite the statements of its leader, does not seek to stop the war. These atrocities clearly prove that Moscow wants to destroy Ukraine, wipe it off the face of the earth, destroy the entire Ukrainian nation.
Announcements about negotiations declared by the incumbent authorities of the Russian federation are ordinary manipulation and an attempt to win time for further aggression.
However, Ukraine is always ready for negotiations. We want this madness to end as soon as possible. But we are not ready to give up our people, our territory, and our freedom. The peace should be fair, lasting and based on international law, in particular the principles of inviolability of sovereignty and territorial integrity of Ukraine.
Ukraine proposed a real mechanism – Ukraine's Peace Formula that was presented by President Volodymyr Zelensky on November 15, 2022 at the G-20 Summit.
It consists of 10 steps to put an end to Russian aggression, restore peace, and strengthen respect for international law. These 10 elements include nuclear safety, food security, energy security, release of all prisoners and deported persons, implementation of the UN Charter and restoration of Ukraine's territorial integrity, full withdrawal of Russian troops and cessation of hostilities, restoration of justice, countering ecocide, preventing escalation, and ensuring that aggression does not repeat.
For that reason, Ukraine calls on all nations of the world to join the Peace Formula so that it becomes a universal vision for peace.
We hope Kenya, a leading country in East Africa, will join the Peace Formula and become one of the guarantors for restoration of peace in Ukraine.
The writer is Ukraine's Ambassador to Kenya
Related Topics