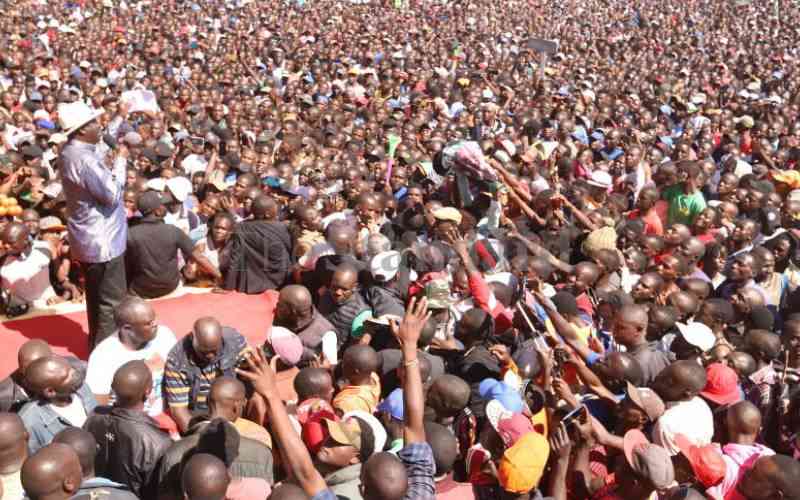 For decades, former Prime Minister Raila Odinga has been the doyen of Kenyan opposition politics.
The bane of authoritarian regimes, he is venerated as a champion of the underdog. He has put his near-cultic following to good use, launching successive bids for the presidency. All his five attempts have come a cropper.
Not for the first time, Raila has disputed last year's presidential elections. He claims the incumbent, William Ruto, won the presidency by sleight of hand. He now advises his followers not to recognise Ruto's presidency saying, "We don't recognise Mr William Ruto as President of Kenya and we equally don't recognise any officials in office with him."
There are many who believe statements of this sort are reflective of a paucity of thought. They term a repudiation of last year's presidential election results absurd. Not after being declared free, fair, credible, and verifiable by a number of institutions, including international observers.
And certainly not after a rigorous Supreme Court appeal process that not only affirmed Dr Ruto's win but excoriated those who sought to subvert the sovereign will of Kenyans by chicanery. Clearly, Raila is not in his element. He cannot be when he continues to entertain claims of impropriety at the Independent Electoral and Boundaries Commission by bogeymen like Jose Camargo.
For one who previously depended on the goodwill of foreign government to sustain his onslaught on repressive regimes, his recent utterances are puzzling. According to newspaper reports, he has "told foreign nations to stop interfering with Kenya's internal matters." He does not give any details on how these nations have involved themselves in Kenya's politics. Nor does he proffer proof that his political fortunes have suffered from such interference.
Prof Peter Kagwanja, Chief Executive at the African Policy Institute, has labelled Odinga's remarks "Azimio's post-truth populism." He defines post-truth politics as, "a political culture in which public debate is framed largely by falsity and appeals to emotions and personal briefs as opposed to policy and real facts."
In a different dispensation, Raila's utterances would have curried sympathy. In an enlightened world with information at everyone's fingertips, however, his unsubstantiated allegations cannot fly. Has he lost hold of the crowds formerly in his thrall? Has he lost his mojo?
As putative head of the Opposition, he does not seem to relish the role and has set his sights, yet again, on the presidency. Rallies, planned demonstrations, and calls for mass action appear to be his gambit in playing the long game; either to keep himself in the psyche of Kenyans to avoid being relegated to the annals of history or for nuisance value so that he wears the Kenya Kwanza administration into a power-sharing arrangement.
Raila's unique form of gunboat diplomacy may have worked in the past. Threats against the Jubilee administration led to a power grab pejoratively known as the Handshake. However, it is unlikely that such an arrangement would prevail currently for the following reasons. For starters, President Ruto has insidiously penetrated Odinga's traditional Luo Nyanza support base. Already, sections of the ruling elite from the former PM's backyard are gravitating towards the Kenya Kwanza administration. A recent visit by the president saw an overwhelming turnout with key allies of Raila vowing to cooperate with the government of the day.
Second, Raila has lost the support of powerful allies. Musalia Mudavadi is now in the Ruto administration as Chief Cabinet Secretary. Moses Wetangula is Speaker of the National Assembly. Former President Uhuru Kenyatta's silence speaks to the dilemma he faces.
Backing Raila's claims of a stolen election would lend credence to notions of incompetence on the part of the former Kenyatta administration in the sense that they were unable to run a free, fair, and credible election. Kenyatta may not want to sully his reputation any further.
Finally, in an economy that is floundering, many Kenyans already in a state of privation feel any calls for mass action will be counterintuitive. Raila's political rhetoric, if translated into direct action, will be at odds with them.
-Mr Khafafa is a public policy analyst
Related Topics