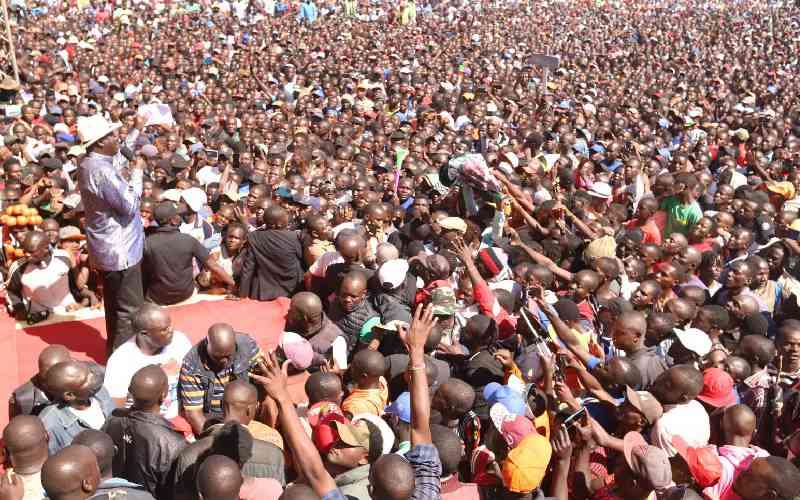 Every country is as great as the leadership its bequeaths itself. History is replete with case studies of countries that had nothing to talk about in terms of natural resources but which today stand tall in the league of successful nations. They have secured their people from internal and external strife; they have availed food and jobs and their men and women are assured of the promise of upward social mobility as long as they are willing to put in the work.
Today, we are in a spot that is precarious at best and explosive at worst. There is a potent cocktail of steep economic decline and fragile political fault lines. But was it supposed to be this way? I wouldn't answer in the affirmative but I would say that what is true for individuals is also true for countries. We are the total sum of our choices, the opportunities we seized, and the challenges we rose to rather than shrank from. That is why our leaders, particularly the political class must now ask themselves these questions: How will that affect the average Kenyan? How will tax increase affect the average Kenyan? How will austerity measures affect the average Kenyan? How will demonstrations affect the average Kenyan?
Allow me to be clearer. I will not take a neutral position. As Che Guevara, once observed, "If you don't stand for anything, then you will fall for anything".
I stand on the side of ungarnished truth.
It has been an anxious one week where the government and the opposition have engaged in a raging war of words. The opposition brigade even went ahead to claim that the government is illegitimate - the very height of recklessness. They know, we know and everyone knows that the president was declared duly elected by the Supreme Court and, together with his deputy sworn in, during a public ceremony in accordance with the law. As such, we must call out political leaders who in spite of knowing better, have no qualms about bandying words that have the potential to incite public disaffection.
Now let me take a minute to speak to Baba directly. I cast my vote for the first time in 2013. That solitary vote was in your favour. However, when your opponent, Uhuru Kenyatta was declared president, we were contented in waiting for the next cycle. In 2017, I again cast my vote for you. When the matter of the presidential elections went to the Supreme Court and we got a nullification, we, the people knew that our democracy had found a lifeline.
That is why we gladly donned fatigues and chanted 'resist'. That is why we went to the streets and engaged the police in running battles, their bullets and water cannons notwithstanding. That is why we trooped into Uhuru Park to have you sworn in as the People's President. We did that because of the love of our country and you had become the sole symbol of our attempts, as a people, to forge a more just and more generous nation.
However, you stunned friends and foes when on March 9, you quietly drove to Harambee House and birthed the now infamous handshake. A lot of our comrades in arms deserted us. David Ndii left, Owalo left, and Mudavadi left. The majority of those that had been with you got disillusioned and jumped ship.
Now let me state the obvious. With the opposition in the throes of passion with the government and with the Covid-19 pandemic checking in, so many Kenyans were knocked out and left behind by the economic train. Those that genuinely believed you were their champion were shocked to see you shout 'Ndugu yangu Uhuru', while commodities that were hitherto zero-rated were being brought into the taxman's radar, while at the same time.
Fast forward to 2022, I still think this was the noisy divorce that Moses Wetangula prophesied about. Those who believed in you did not have the motivation to turn out to vote for they thought it was all a zero-sum game. Those who didn't believe in you also found a new saviour.
I don't want to state the obvious but let me remind you of the lyrics of the song 25 minutes by MLTR, which was my favourite in my younger days…"though you traveled so far, boy, I'm sorry, you are 25 minutes too late". The new game plan by Baba and Azimio is five years too late. We should have forced a revamp of the electoral infrastructure in 2018. To cry wolf in 2023 is not only disingenuous but also reckless. Let hell freeze but the truth is, Baba is late to the party and the horse has galloped.
Mr Kidi is a governance and policy expert. [email protected]
Related Topics