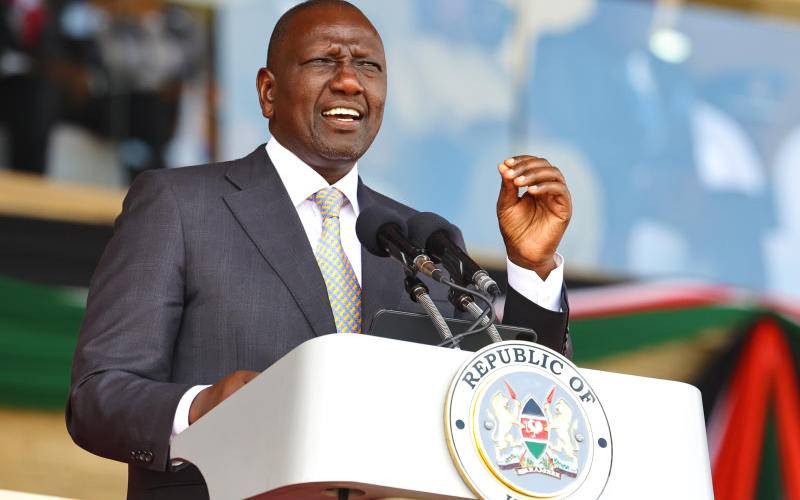 Impunity, greed and regulatory failure have conspired to make Kenyan roads hell on earth. Sadly, it's happening right before our eyes.
In some lingo, they would say it is 'hard small'. Driving in Nairobi seems more like navigating the contours of Gaza Strip where coming out unscathed isn't guaranteed.
The road transport sector mess has simply grown out of hand. The beauty of it, however, is that the authorities are fully aware of the rot and what's at stake.
Interior CS Kithure Kindiki on Tuesday recited the usual chorus that anyone found flouting traffic rules during the festive season will face the music. Prof Kindiki said police will crack heavily and without exceptions on offender. In tow was his Transport colleague Kipchumba Murkomen, who bemoaned the high road fatalities of this year.
Between January 1 and December 13, 2022, some 4,432 road users died in accidents. And 9,315 were seriously injured, while 6,691 were slightly injured, according to official National Transport and Safety Authority (NTSA) data.
It's clear the PSV sector, boda boda included, is huffing and puffing at the hands of cartels. From faulty vehicles, speed limit violations, inspection gaps, reckless crews, bogus driver competence testing and name it, the mess should prick the conscience of those in-charge. In plain speak, they should quit out of shame.
My conversation with countrymen and women while on a trip upcountry reveals apprehension and fear that impunity on the roads has reached a point of no return. Greed holds a huge sway. In full view of everyone, police imbibe bribes at the expense of safety. Bribe givers too have no qualms.
This being the season when many avoidable road crashes occur, it is crucial to note that the rot is not about lack of laws. One of Uhuru Kenyatta's next-to-last engagements was to assent to the far-reaching Traffic Amendment Bill 2021. Not only, crews are fully aware of traffic offences, consequences and penalties but few care.
Impunity has no bounds. One would be forgiven to conclude that anything progressive in the PSV sector long died with John Michuki – the architect of the 'Michuki rules.'
No way. Kindiki and Murkomen shouldn't expect miracles out of decrees in press conferences. Let them draw a radical action plan that will end contempt of the law that has defined the transport industry. Albert Einstein warned that the definition of insanity is doing same thing over and over again, but expecting different results.
Meanwhile, this being a culture crisis, it is important to consider a stringent public transport code of conduct setting behavioural standards for PSVs, saccos, owners, crew and critical partners like the traffic police and NTSA enforcers. A sector so crucial to the economy requires order to thrive, and professionalism and discipline are at the core of it all. Similarly, the public must not sit back as crews make a mockery out of traffic rules. Between 2002 and 2003 during Narc's early days, ordinary Kenyans – very optimistic then – would confront bribe-munching officers and other law breakers and frog-march them to police stations.
Today, however, citizens seem to have given up yet the traffic sector expands day by day. As per last year's KNBS data, Kenya had 3,954,839 registered vehicles. Of these, we had 1,967,250 motor and auto cycles and 1,196,054 motor cars, the remainder being trucks, buses and trailers. As the sector swells, we must be in-charge of our own safety.
Over and above, the best Christmas gift President William Ruto can offer Kenyans is to prevent deaths by ensuring the law is fully enforced this season followed by sweeping sector-wide reforms. The Sh30 billion Nairobi rail city project meant to enhance railway transport while decongesting the CBD is a welcome start. But restoring sanity in the PSV industry is of top priority.
The writer is an editor at The Standard. Twitter: @markoloo
Related Topics