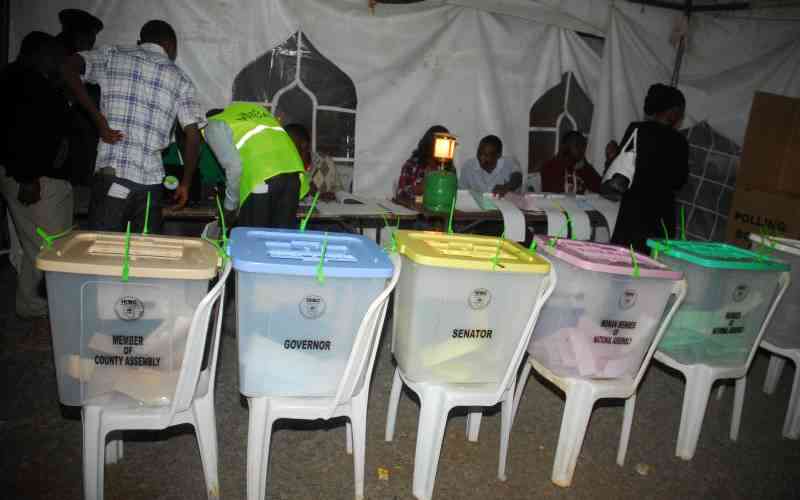 On Tuesday next week, we will wake up early and queue to hand over our sovereign power to politicians! I say hand over because article 1 of the constitution states, "All sovereign power belongs to the people of Kenya..." Therefore, sovereign power is of little use to the people and perhaps that is why we elect fellow Kenyans to rule us.
However, if politicians fear that their political cousins will steal their votes, to protect them themselves.
During every election, politicians urge the votes to remain in polling stations and guard ballot materials. The Tuesday elections are not likely to be different—politicians will insist that voters stay put. This contradicts the Independent Electoral and Boundaries Commission's directive that voters should go home and await the results after casting their ballot.
I say this; it is not the work of electorate to protect politicians' votes. Let politicians protect their votes. If their opponents steal the votes, it's up to them because they end up together irrespective of who wins. Day after day, our eyes are opening regarding our politicians!
Mr Lee Njiru, former President Daniel arap Moi's press secretary, uncovered some political truths while launching his seminal book, 'Presidents' Pressman: A Memoir'. He's blasted fallacies that William Ruto will go to Sugoi, Raila Odinga will going to Bondo, or Uhuru Kenyatta will go to Ichaweri after next week's elections. Instead, Mr Njiru, having worked at State House for over 40 years advised Kenyans to peacefully return home after voting.
Njiru's wise message resonates with Niccolò Machiavelli's clarion call in The Prince. Machiavelli maintained that "men change their rulers willingly, hoping to better themselves, and this hope induces them to take up arms against him who rules, wherein they are deceived because they afterwards find by experience they have gone from bad to worse." That's a familiar political doctrine of the status quo.
Babylonians
In history, we read of the Battle of Carchemish of 605 BCE. The battle saw the Jewish people taken captive by Babylonians. Fresh in captivity, the Jews needed help, solace and hope. Some messages came to them assuring them that the captivity would end in two years, one year and many other sweet stories.
These were false hopes! A man called Jeremiah told them the naked truth that they should not expect freedom soon—that they should settle, marry, build houses and get used to captivity because it would not end quickly. Fast forward to 2022 in Kenya, we have had three years of politicking—oh, we are changing the government for the better, this politician is this and that, and so on. Njiru, against the chagrin of many, has told Wanjiku that the political cousins are here to stay, and we should get used to their countenances.
That aside, the followers of Raila and Ruto should start taming their expectations. We have been changing governments since 2002—those who have experienced the political hubris, braggadocio, mudslinging, and "freedom has come" moments that followed 2007, 2013 and 2017 know that the more things change, the more they remain the same—a good reason as to why no sane Kenyan would brave the cold to protect politicians' votes.
In conclusion, after voting on Tuesday next week, each Kenyan should go back to their homes, pick a packet of popcorn and await the results. Politicians should have already put measures in place to ensure the sovereignty we charter to them is secure.
Remember, in his analogy of hunting Jackals, Njiru posits that the hunter dogs, jackals, wolves and foxes are in one Whatsapp group. Thus, he reveals that Ruto, Uhuru, Raila, Kalonzo, Musalia and the rest are closer amongst themselves than any of them is to mwananchi.
Dr Ndonye is a senior lecturer in the School of Music and Media at Kabarak University
Related Topics