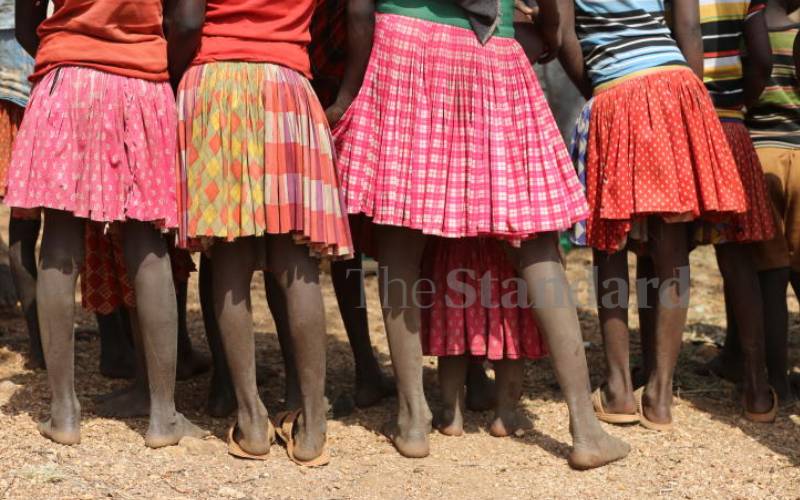 The Day of the Africa Child (DAC) is commemorated annually on June 16 by Member States of the African Union. On this day, the member states take stock of the implementation of practices, policies and programmes that contribute to the rights, protection and welfare of children in their countries.
This day also honours children who died while protesting against the discriminatory apartheid system during the Soweto uprising in South Africa in 1976. This year's theme is 'Eliminating harmful cultural practices affecting children: Progress on policy and practice since 2013'.
Kenya has put in place legal and policy frameworks to protect children from harmful cultural practices. The Constitution in Article 53 (1) (d) provides that every child has a right to be protected from abuse, neglect, harmful cultural practices and other forms of violence.
Section 14 of the Children Act (2001) provides for the protection of children from harmful cultural rites including Female Genital Mutilation (FGM), early marriages or other cultural rites, customs and traditions likely to negatively affect the child's life, health, social welfare, dignity or physical or psychological development.
Other related laws and policies include the Sexual Offences Act (2006) being reviewed, the Basic Education Act (2014), the Marriage Act (2014), the Prohibition of Female Genital Mutilation Act (2011), the Framework for the National Child Protection System for Kenya (2011) and the County Child Protection Systems Guidelines.
The 2014 Kenya Demographic Health Survey estimates that 21 per cent of women and girls aged between 15 and 49 years in Kenya are affected by FGM, with the percentages varying from different ethnic groups and geographical areas. Child marriages account for 23 per cent nationally.
Harmful cultural practices lead to among other things, deprivation of childhood, poor outcomes in health and education, high prevalence of sexual and gender-based violence, child labour, the spread of HIV and Aids, early pregnancies and stigma. In a nutshell, they inhibit children from the enjoyment of the rights to survival, development, participation and protection, which the government has guaranteed, and as enshrined in the earlier mentioned legal frameworks.
There is need to urgently address these practices by enacting the Children Bill (2021) into law as it makes provisions for the safeguards for the rights, welfare and best interest of the child as well as the establishment of child protection mechanisms for prevention and response such as child protection centres, child protection units, rescue centres and child welfare programmes.
In addition, the implementation of the National Prevention and Response Plan on Violence against Children in Kenya (2019-2023) will accelerate efforts in eradicating and ending harmful cultural practices against children.
The social workforce needs to be equipped with the necessary skills, knowledge and resources to respond to the protection needs of children. This can be done through established structures such as the Area Advisory Councils, Child Protection Volunteers, Community Health Workers, Lay Volunteer Counsellors and Court Users Committees.
This will improve the identification of potential/survivors of harmful cultural practices and linking them with other referral systems for access to services such as psychosocial support, legal aid, health care, education and social protection.
Allocation of adequate human and financial resources towards child protection services is necessary. This will ensure the effective and efficient running of state-established mechanisms such as the Child Help Line 116, the Child Protection Information Management System, Anti-FGM Board and the social protection funds that promote family and community-based care for children.
There is need for raising awareness and conducting community and national-based campaigns and sensitisation targeted at policymakers, the community and children on the negative effects of harmful cultural practices.
This will also focus on change of attitudes, norms and behaviours towards the same. In order to achieve this, there is need for joint efforts between state and non-state actors to realise full commitment toward the eradication of harmful cultural practices.
Lastly, not much can be achieved without serious political will. In some of the geographical hotspots of these practices, the key promoters are cultural, political and other opinion leaders. Civil society and other actors need to mobilise for the signing of national, county level, constituency and ward charters by all political aspirants committing to strengthen the fight against these practices if elected in the upcoming elections.
Related Topics