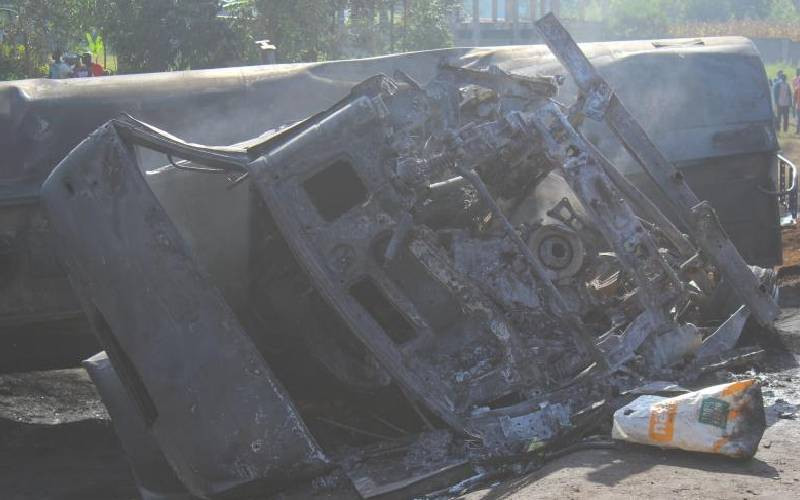 A senior police officer has died while eight passengers sustained serious injuries following a road accident in Homa Bay County.
John Otieno Opiyo, who is the Critical Infrastructure Protection Unit (CIPU) Commander of Trans- Nzoia County died in the accident near Miranga trading center along Ndhiwa-Sori road in Ndhiwa Sub-county on Friday night.
The accident occurred when a Nissan Matatu which was travelling to Sori collided with Opiyo's vehicle which he was driving.
The 55-year-old officer who is a resident of Miranga village was driving from Sori towards his home before the head on collision occurred.
According to Opiyo's elder brother Charles Opiyo, the police officer suffered a number of injuries after the accident. These included broken legs and deep cut wounds on the head.
"Medical officers at Ndhiwa Sub-county hospital told us that my brother was taken to the hospital when he was already dead," Charles said.
Charles who is also a medical officer, said they suspected that Opiyo suffered haemorrhage during the incident.
"It is seems he had internal bleeding and his spleen might have been raptured but all these will be confirmed during the postmortem," Charles said.
Charles described Opiyo's demise as a setback to their family and their village.
He said Opiyo was an outgoing man who was generous and could easily assist people at a time of need.
"His death is a serious setback to our family and a number of people who depended. His generosity will make many people miss him," Charles said.
Opiyo's body was moved to Kirindo MED 25 mortuary for mortem.
Ndhiwa Sub County Police Commander Paul Rioba said Opiyo had taken some days off to enable him to participate in a wedding last Sunday
Eight people who sustained serious injuries were admitted in various hospitals in the area.
They included seven passengers who were taken to Ndhiwa Sub County hospital and the Matatu driver was admitted in Sori Lake Side Hospital.
"Some of them suffered fractures while others suffered head injuries. It is a very sad incident," Rioba said.
Police boss urged road users in the area to adhere to traffic rules.
"Let motorists adhere to traffic rules to prevent accidents on our roads," Rioba said.
The vehicles were towed to Ndhiwa Police Station.
Related Topics