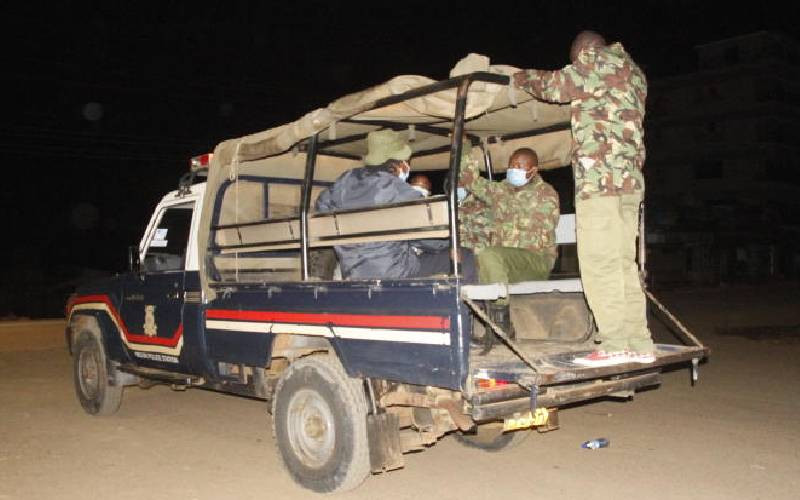 An OCS in Migori County is nursing injuries after he was attacked by a mob.
While confirming the incident, Kuria West Sub-County police commander Cleti Kimaiyo said the office identified as John Bonyo, was on Monday night injured after they went on a rescue mission as a mob that bade for the blood of a suspected motorcycle thief stormed a hospital in Kehancha town, Kuria West.
Kimaiyo said the officers received a distress call from Mother and Child Hospital's management that a rowdy mob allegedly led by boda-boda riders had stormed the facility baying for the blood of a suspected motorcycle thief who was admitted at the facility.
As a result, 14 police officers led by the OCS based at Kehancha Police Station were deployed to go and calm the situation and rescue the suspect from being lynched by the mob.
The mob wanted to burn down the facility, as the hospital's administration was hesitant on releasing the suspect to them.
"When our officers got to the hospital, they found the mob which was preparing to burn down the hospital, and they intervened," Kimaiyo said.
He said the officers had managed to enter the facility and rescued the suspect from the roof ceiling where he was hiding, as he feared for his life.
However, as they were headed to a police vehicle with the suspect, hell broke loose as the angry mob started stoning them amid efforts to snatch the suspect from their hands.
"In a 15-minute struggle, the mob tried to prevent the police from driving away with the suspect," said the police boss.
The officers were forced to fire in the air as they lobbied teargas to disperse the rowdy mob.
Kimaiyo said the officer who sustained an injury on his left ankle was treated at the same facility and discharged in a fair condition.
Although the suspect is currently in police custody, no arrests have been made as a result lof the confrontation.
This comes a few days after another officer died after a mob attacked him for intercepting bhang at Kaler area in Nyatike Sub-County.
The police officer, who was on night duty with his colleague, had intercepted a boda-boda that was carrying bhang at around 9pm on Saturday night.
According to Migori police commander Mark Wanjala, the boda-boda rider raised an alarm after he was intercepted attracting a crowd that descended on the officer.
"The boda-boda man had a motorbike which was carrying bhang and they arrested him. One person raised the alarm and the community came to his rescue," Mr. Wanjala said.
Wanjala said the mob physically assaulted the officer with machetes, cut him several times on the head before stabbing him.
Related Topics