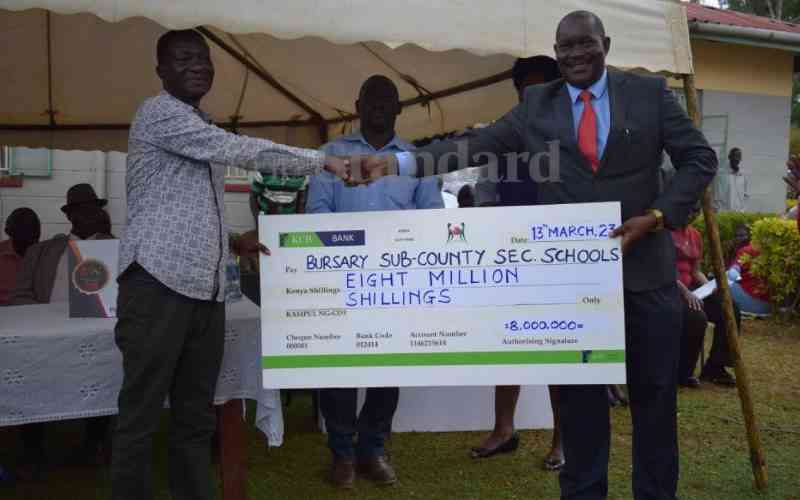 More than 4,695 vulnerable students in Kasipul Constituency can now breathe a sigh of relief being given school fees worth Sh30.8 million.
The money was distributed by the area NG-CDF to students of secondary schools and tertiary colleges.
Kasipul MP Ong'ondo Were distributed the cheques to various institutions. He said the students were selected from various polling stations in their villages to ensure fair distribution of the money.
"We observed equity in the distribution of the funds to enable all needy students to benefit. We took applications from villages at every polling station in the constituency," he said.
Speaking at the NG-CDF offices in Oyugis town, Were challenged school principals in the area to utilise the funds well to produce good academic results.
He told the school principals to reduce cases of sending students back home for school fees.
"Distribution of the money is aimed at doing away with sending students back home for school fees. This will cushion students from wastage of time," Were said.
The MP said the project is aimed at making Kasipul constituency have productive people in future. He argued that education is the key to economic development in society.
"We are investing in the education of students to enable Kasipul people who can contribute significantly to economic development in this region," Were said.
The MP urged residents to support the education of their children as a way to ensure that the constituency has a prosperous future generation.
Former Nominated MCA Mary Gaya said the programme will boost academic standards in the constituency.
"There are many bright children but they cannot acquire education due to poverty affecting their children," she said.
Gaya urged the students to work hard to ensure that money transforms their lives.
Related Topics