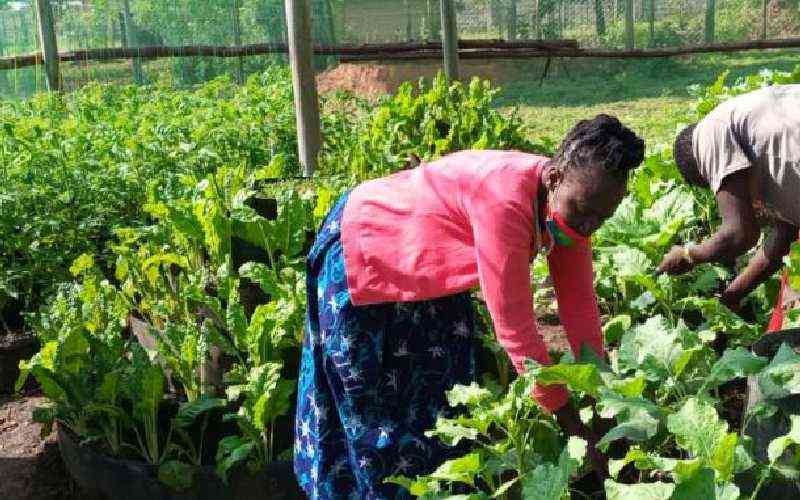 It is 8am and Rosemary Atieno is tending to her kitchen garden.
Ms Atieno from West Uyoma, Siaya County, uses a small portion of her home compound to grow food. She grows vegetables and fruits which are consumed by her family.
Today, she is weeding her garden. The vegetables will be ready for harvest in a month. Atieno is among women who have embraced kitchen gardens, a climate-smart initiative, to increase food production.
Many households have adopted the concept to respond to climate change which has led to crop failure.
Unlike the vast farms which Atieno used to cultivate in the past, the kitchen garden is easier to manage.
Atieno says she does not need much space or a lot of water for her crops.
"This makes it easier for me. A lot of people are shying away from farming because they do not have huge tracts of land. They also lack water. I use little water from our community borehole in my garden," she explains.
Siaya County is among the areas affected by climate change which has resulted in drought and hunger.
Atieno works for Community Mobilisation for Positive Empowerment where they are training women on climate-smart agriculture at the grassroots level. She says increased dissemination of climate action information to the community has been their greatest saviour, and now many households have embraced kitchen gardens.
The concept has increased food production, with some of the families selling their surplus.
"We are promoting agriculture that requires a very small space and is water efficient. With rapid climate change, water is now an issue and people cannot do the big farms that need irrigation water. We have started to train them using sacks, bottles and any pieces of items in the compounds for planting," she says.
Many women have emulated her after seeing her success.
The women have been trained on how best to make use of resources; for example, collecting leaves to make compost to avoid using synthetic fertilisers.
"We are encouraging each other to create awareness on climate-smart agriculture and to disseminate climate action information to their neighbours," she adds.
She says women are agents of change for sustainable development.
She however regrets that women continue to bear the brunt of climate change because they are still excluded from decision-making.
Monica Auma from Barding village in Alego says she no longer worries about feeding her family thanks to her kitchen garden.
"I have been encouraging friends and neighbours to start vegetable gardens. We do not need much water and land for this. A majority of our people have not been doing any agriculture because they lack land but this is very easy. Now we are requesting our county government to give us a little support so that we can do more in agriculture to ensure food security," she adds.
The women under the umbrella of Siaya Muungano Network now want Siaya Governor James Orengo to implement more gender-responsive climate actions, budgets, policies and plans.
"We want the county government to promote women's equal representation in leadership and climate change decision-making processes, as well as inward climate change committees," Millicent Nyanja a community climate champion.
They asked the county government to disseminate climate change information, policies and finances at the grassroots level.
Ms Nyanja asked Governor James Orengo to fast-track the implementation of the county climate change Act and the climate change funds and ensure women benefit.
"Formulate the county climate change fund regulations and prioritise two per cent of the development budget in each sector to support climate change adaptation. Also, increase women's access to resources including land and financial resources. The county must also ensure food security through the provision of farm inputs including seeds, fertilisers and machinery," adds Nyanja.
Siaya Agriculture Executive Elizabeth Odhiambo says the number of farming households in Siaya is about 220,000 and most are practising subsistence farming.
Related Topics