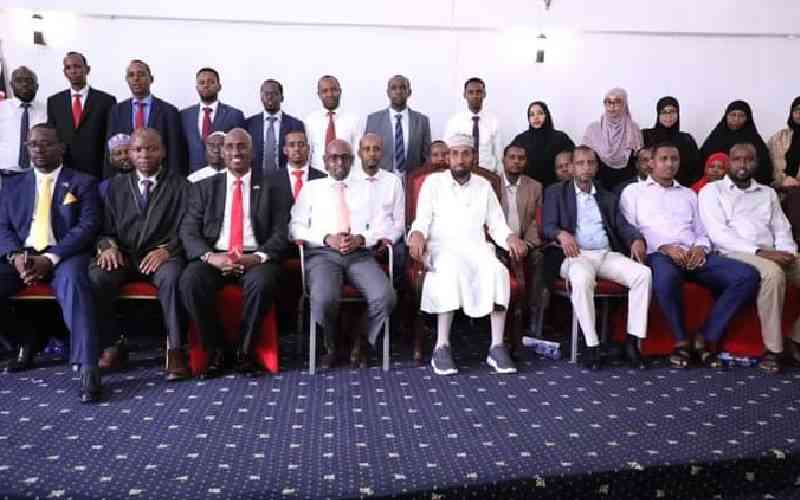 Mandera Governor Mohamed Khalif has directed his newly sworn-in County Chief Officers to deliver on their mandate in accordance with the constitution and uphold service delivery.
Speaking during their swearing-in ceremony, Governor Khalif observed the process had its fair share of challenges and said it was a relief that orders restraining their appointment were vacated by the Employment and Labour Court.
"Every chief officer knows what is required of them, at all times. Abide by the oath of office that you have taken today. Be professional and adhere to set guidelines," said Khalif.
Governor Khalif warned that even though the Chief Officers were appointed by virtue of 'negotiated democracy' based on agreed clan shares, he will not hesitate to make changes to ensure he delivers on his agenda.
"I would want all of you to help me deliver on my campaign manifesto. Remember, when you fail to deliver; you are failing my manifesto," said Khalif.
Sentiments shared by County Speaker Omar Maalim who assured the senior county officers and Khalif's administration of the Assembly's support.
Omar said the Assembly and the Executive serve the electorate's interests and hence should work together to enhance service delivery.
Governor Mohamed Khalif retained a significant percentage of his predecessor's Chief Officers but expanded the dockets by five.
The ceremony was graced by, among others, County Executive Committee Members, security officials, a section of government officers and members of the public.
Related Topics